Did you know that if you leave a review of your most recent book purchase on Booktopia, you could win a $100 gift card?* Because you can!
Rate your recent book purchases (books, eBooks, and audio books are all included) with a review of between 115-350 words and you'll automatically enter the draw. Our panel of book-loving judges will then choose the best three reviews every month and the reviewers will receive a $100 Gift Voucher.
So, what's your verdict on your recent book purchase? Your fellow Booktopians would love to hear what you think!
Make it fun, make it sad, make it dramatic or make it rhyme. The choice is yours, as long as you impress our panel of judges with your unique take on your last read.
Here are some handy tips for writing a good book review:
Hook your readers in with a snappy first sentence that captures exactly how you felt about the book.
Tell us why you loved the book – was it the fantastic writing? The compelling story? The richly drawn characters?
Was there anything really unusual or interesting about how the story was told? Tell us!
Tell us why you think other people might love it too.
Don't just tell us the plot – give us a general idea of where the story goes without revealing any spoilers.
Did it remind you of any other books you've read and loved? Name them!
When you're done, check for any spelling mistakes.
Scroll down to read the three winning reviews for October!
---
Review by Rach the Reader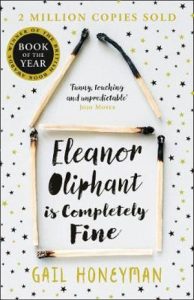 A testament to resilience
This is a testament to the resilience of people badly damaged by unspeakable childhood trauma. It is also a beautifully rendered and insightful account of how small kindnesses and random moments can transform us and set us on a path to rehabilitation, self respect, and dignity.
Eleanor Oliphant lives in a strange world, alone, isolated and friendless. Her life consists of days spent at her office desk, surrounded by others who treat her as an object of fun, where her only relief is eating her lunch alone and spending her weekends locked away in her small, minimally furnished flat drinking the two bottles of Vodka she habitually purchases on the way home each Friday evening.
The only connection with the outside world she seems to have are the calls she receives from Mummy who calls her as regular as clockwork each Wednesday evening…
Eleanor Oliphant is happy with her life, its regularity, its sameness. Everything is completely fine in her world: Work, Wednesdays with Mummy, and weekends with Vodka. Anything else would be asking for too much. More than she could bear. She knows better than to reach out, better than to try connecting with other people or let other people in.
And then an old man falls on the footpath in front of her and slowly Eleanor Oliphant's perfectly fine world begins to unravel.
This book will shock you, make you laugh out loud, and have you sobbing. In spite of the shocking reality behind Eleanor's childhood, this is an antidote to despair. I can't stop recommending this book to people around me because it speaks to so many issues: human connection, love, child welfare, interpersonal relationships, workplace bullying, mental illness, and so on. It deserves its Best Seller status.
Buy it here
---
Review by newagelibrarian
A glimpse into a parallel world
What a thrill it is to get my hands on a new Ian McEwan novel, and this is one of his best.
Somewhat like one of the best episodes of Dr Who, Machines Like Me is set in a parallel reality in 1980's London, where some things remain the same but a few small details in history have changed together to create quite a different reality at that pinpoint in time. One of those being that the mathematical genius and the man who solved the Enigma Code that finally deciphered the encrypted messages from the German army — Alan Turing — is still alive. This fact alone leads to society being in a much more advanced technological state than was actually the case.
Another slight shift in reality is that Britain had lost the Falklands war, and Margaret Thatcher was then battling Tony Benn for power. This all makes for an intriguing and fascinating backdrop for the main story, where Charlie, an intelligent and mildly affluent drifter, averse to full time employment, on an impulse splurges a recent windfall on one the first batch of 'synthetic humans'. He was somewhat too late to buy an 'Eve' (these having all been purchased by wealthy sheikhs) so somewhat reluctantly settled on an 'Adam'. Coincidentally, Charlie has met a willowy, free-spirited young woman who lives in the flat above him, Miranda, and he seeks her help in programming and sculpting the personality and parameters of Adam, a strong, handsome and clever robot, capable of independent thought. However Adam is so lifelike, so sophisticated that he moves beyond the realm of a machine and just like us, he can get depressed, fall in love and ponder existential problems, all the while being physically and mentally superior to us in his capacities. Charlie quickly finds himself becoming somewhat jealous of Adam, as he starts to charm Miranda with his superior physical and mental powers.
Artificial intelligence is very close to such a reality which makes this novel all the more fascinating.
Buy it here
---
Blue Lily, Lily Blue (The Raven Cycle: Book 3) by Maggie Stiefvater
Review by Sophia
Best book of the series by far
If you already loved the first two you will love this one.
All I can say is, this book exceeded my previous views. This purchase was a re-read from about 3 years ago and I am still just as in awe as I was before.
The book was rich in story and plot and continues to build the amazing world of Henrietta and Cabeswater and it is just beautiful. You really start to get to the depth of the main characters, all of the gangsey on their own and together are just fantastic.
Personally, for me nothing was obvious and nothing was underwhelming. It was a fantastic read and I will continue to recommend this novel for the rest of my life.
Buy it here
---
Congratulations to all of our winners!

About the Contributor