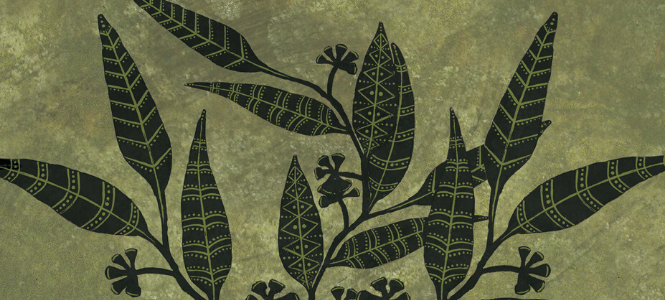 We asked author Jasmine Seymour and the illustrator/artist Leanne Mulgo Watson – both of the Darug people – a couple of questions about their beautiful new picture book, Cooee Mittigar.
Read on!
---
Why did you create Cooee Mittigar?
JS: We created Cooee Mittigar because we wanted people to learn about Darug people's culture and language. The Darug people are the people of the Sydney basin area from the mountains to the sea. Cooee Mittigar is an invitation to come and experience some of its rich Aboriginal geography. The audience is invited to follow along with Mulgo (one of our custodians) on the path of our creation ancestors.
We were wanting children to grow up knowing the language of the Darug people. We want to hear it on people's tongues. Many of the most common Indigenous words that Australians use come from the Darug language.
What is the meaning of the book's title?
JS: "Cooee" is the call of the whip bird – Gaawii. It means "Come here". "Mittigar" means friend. "Cooee Mittigar" means "Come here, friend". It is a welcome to Country. Cooee is an iconic Australian word, one that International visitors instantly recognise as being Australian. It is an Aboriginal word first. A Darug word first. A greeting call.
In the context of the book it is a greeting and a welcome, it is a call to come here and notice this land. This ancient Darug land upon which the Sydney area calls home.
The subtitle of the book is "A Story on Darug Songlines'. What does that mean?
JS: Mulgo walks the reader along one of the Darug Songlines, she shows us its path. She asks the reader to take notice of the seasons, the animals and plants, the weather and the skies. Mulgo is showing you what you might see along the Songline as you walk on Darug lands.
How important is it, to you, to keep the Darug culture alive and why do you feel it's important for everyone to know about the Darug people?
JS: The Darug mob are sometimes referred to as the first colonised and the last recognised. The effects of colonisation are still about. Many Darug descendants still live on Country and actively continue culture, although some dispute this and say that we are gone from this place. This view is an active act of colonisation still working against Darug families.
All school children deserve to know the true history of the place in which they live. This book gives a view into how it was, how it is, and how it will always be to Darug people.
Sydney is the largest city in Australia but the Darug lived here first. Acknowledging and recognising our history is important for reconciliation. Our culture deserves to be championed by all people who live on Darug lands. We all belong to this beautiful country.
Leanne, this is your first children's book and it's so beautifully illustrated. What did you have in mind when creating the art for Cooee Mittigar?
LW: When I created the illustrations for Cooee Mittigar I wanted to show how beautiful Darug country is and how strong our connections are. Jasmine and I wanted to show that our songlines are a part of us and that our language and culture is still here and always has been.
All of my art is created to represent our culture, country and all that is connected within our country.
Your books are fantastic for teaching children Aboriginal language. Is that what you had in mind when creating your first two books?
JS: I wanted the language to appear seamlessly with the text, so that the reader almost effortlessly reads it. The pictures tell you what the words mean. This visual type of literacy is important to Indigenous people. Indigenous people can read the changes in seasons and weather and use this information to inform them what and how to do. Children learn to read by interpreting meaning from picture with words. Language is a song, and I wanted the rhythm of the text to roll off the tongue the way the beautiful Darug words sound.
As a primary school teacher Jasmine, how important is it for kids to learn other languages?
JS: We should all know some of the Aboriginal language upon the land we live. Aboriginal histories, languages and resources are one of the most searched for items for school teachers. Knowing the language of the land upon which you belong helps you to understand it. All students should have exposure to the Elders and Custodians of the land upon which they live. By learning a language you can understand its people. I would encourage all that wish to do so to create a relationship with the Elders and Custodians of the land upon which they live.
What is your ultimate goal in weaving Darug language into your books?
JS: Weaving is a wonderful word to describe this. The goal is to weave Darug culture into everyone who reads these books. Words have power and knowing the words of this ancient land we live on shows it we care for it. It sings up Country and helps to reawaken it.
Your art is beautiful and so captivating. How much joy do you get creating illustrations with children in mind and will there be more to come from you?
LW: Illustrating for children gives me a lot of joy. I have really enjoyed working with Jasmine on Cooee Mittigar and the end result is wonderful. I feel that Cooee Mittigar is a great way for us to teach children and adults our language in a captivating way.
We are hoping there will be many more books to come.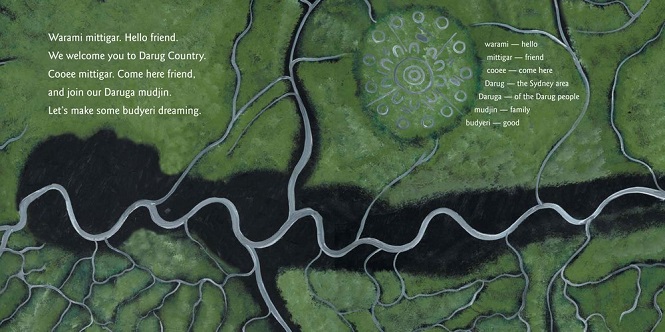 Do you, or anyone you know, personally relate to the story of Cooee Mittigar? What is its link to you?
JS: Hopefully many people will relate to Cooee Mittigar. Many people have walked on Darug lands and have been awed by its beauty. Cooee Mittigar is a way to go there and understand. For me personally, it is the land of my ancestors. It is the place where they and we continued and continue our connection to culture despite the effects of colonisation.
LW. I have shown Cooee Mittigar to our Elders and it makes them really happy to see our book, it brings a lot of emotions to them to see the language in a book that is going to share the language with our children and all of our communities.
What does Dreamtime mean to you and how do you connect with the Dreaming in the modern day?
JS: The Dreaming is in the now, the then and always. I connect through being on Country.
LW: The Dreamtime is where we all came from and is where we all go, I feel connected to the Dreaming in my daily life as this is who we are.
Do you have any interesting stories or anecdotes from when you wrote this book?
JS: I asked for a sign from Country one day about the future of Cooee and I received the whipbird call in return. Many whipbird calls. Wonderful.
LW: Showing the book to my mum for the first time was something I won't forget, she was very emotional and proud and also very happy to see the language in a book for everyone.
---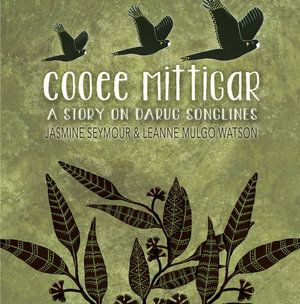 Cooee Mittigar
A Story on Darug Songlines
Cooee Mittigar, meaning Come Here Friend, is an invitation to yana (walk), on Darug Country.
In this stunning picture book, Darug creators Jasmine Seymour and Leanne Mulgo Watson tell a story on Darug Songlines, introducing children and adults-alike to Darug Nura (Country) and language. Greeted by Mulgo, the black swan...
About the Contributor