When it comes to crime fiction, you can't get more legendary than Michael Connelly. An internationally bestselling crime author with over thirty novels to his name, Michael built his brand by writing tough, compelling and memorable characters like Harry Bosch that went on to become firm fan favourites. The Night Fire is his latest book, the third in a series that follows the partnership of Bosch and Detective Renee Ballard, the underdog LAPD cop we first met in The Late Show.
At nearly 70 years old, Bosch is having quite a busy retirement, spending his time mentoring Ballard as she navigates the politics of the male-dominated bureaucracy of the L.A.P.D. (all while taking down the very worst criminals that Los Angeles has to offer). The dynamic of their relationship really drives this book, which sees the pair taking on an unsolved murder case that obsessed Bosch's former mentor, Jack Thompson.
"It's a busy book, there's a lot of story going on," says Michael. "I think the overarching thing … there is a theme about mortality."
More than just another crime mystery, The Night Fire is the kind of book that looks at what kind of legacy you leave behind, as Ballard and Bosch delve deep into just what kind of man Jack Thompson was on the eve of his death.
Last week, Michael visited Booktopia for a book signing before sitting down for a chat with Booktopia's Sarah and Ben about The Night Fire. They talked all about his approach to character with Ballard and Bosch (did you know Ballard is based on a real LA cop?), where the series might take them in the future, and why the police procedural genre is one that won't be dying off anytime soon.
It's a podcast you won't want to miss – listen below and grab a signed copy of The Night Fire here!
---
*available while stocks last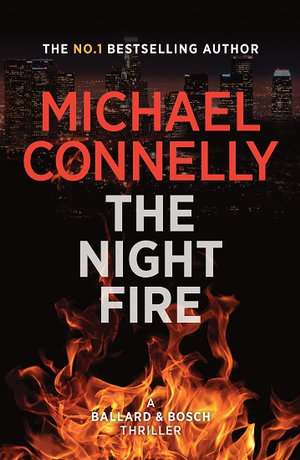 The Night Fire
Ballard and Bosch: Book 3
Harry Bosch and LAPD Detective Renée Ballard come together again on the murder case that obsessed Bosch's mentor, the man who trained him - new from #1 New York Times bestselling author Michael Connelly.
Back when Harry Bosch was just a rookie homicide detective he had an inspiring mentor, John Jack Thompson, who taught him to take the work personally and light the fire of relentlessness for every case. Now John Jack is dead and Harry inherits a murder book that...
About the Contributor
Olivia Fricot is the Editor of the Booktopian Blog. After finishing a soul-crushing law degree, she decided that life was much better with one's nose in a book and quickly defected to the world of Austen and Woolf. You can usually find her reading (obviously), baking, writing questionable tweets, and completing a Master's degree in English literature. Just don't ask about her thesis. Olivia is on Twitter and Instagram @livfricot - follow at your own risk.
Follow Olivia: Twitter