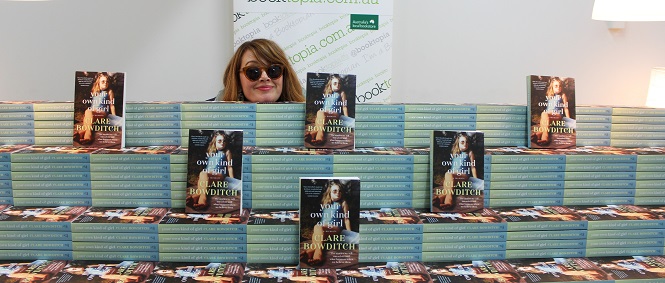 Clare Bowditch is a storyteller who lives in Melbourne with her husband Marty, their three teenage children, a white groodle, and one lone surviving free-ranging guinea pig. In terms of 'the fancy stuff', Bowditch is a bestselling ARIA Award-winning musician (Best Female Artist), Rolling Stone Woman of the Year (Contribution to Culture), Logie-nominated actor (for her role as 'Rosanna' on hit TV show Offspring), and a former ABC broadcaster who still misses her talk-back callers very much, and hopes they're doing okay out there. In her spare time, Bowditch does a lot of public-speaking and event-running.
Today, she's on the blog to answer our Ten Terrifying Questions. Read on!
---
1. To begin with, why don't you tell us a little bit about yourself – where were you born? Raised? Schooled?
Hello and how do you do? My name is Clare Bowditch, I was born and raised in Sandringham ("Sandy") in Victoria in a big, highly loving, super Catholic family (pluses and minuses, people), and I continued in a highly Catholic tradition until a Major Teenage Rebellion at age fifteen, after which my parents surprised us all by sending me to one of the most progressive, alternative schools in Australia (Preshil). There, I got my ART ON! Still, I struggled to get my ART OUT and floundered for many years, which is really one of the reasons I wrote the book I wrote – to let people know that it doesn't matter where or how we start, just that we do start. As an example, yes, I just published my first book, aged 44 (although it's a book I've been promising myself I would one day write, since I was 21) – which brings us to today. Hello again!
2. What did you want to be when you were twelve, eighteen and thirty? And why?
At eight I was stuck between fantasies – did I want to be Miss World, or the Virgin Mary Mother of God (Mark II)? It felt like a big decision, I guess I kinda stalled, and somewhere in the stalling, it occurred to me that perhaps I'd like to be a writer, and a singer/song-writer, which were the two thing I always seemed to be doing as a kid, without prompting. At twelve, things stalled – I still wanted to be an author and a singer/song-writer, but I also secretly wanted someone to be Dolly Cover-girl 1987, and I was constantly shocked that no one, NO ONE, had sent in my photos and nominated me! (In the end, because I was not nominated at all, the title went to some young upstart called Kate Fischer? She's just lucky we didn't go to the same high-school, I tell you what!). By eighteen, I'd finally worked out my destiny – clear and simple: I wanted to (ahem) save the entire world. It's still a mystery to both myself and my family how, as someone who wanted to save the world, I ended up studying a Bachelor of Arts in Public Relations (just ticked the wrong box, I think), but anyway. Here's the truth: I wanted to be a story-teller, I just didn't know it was possible for a girl like me to do a thing like that. I suppose my new book is, in part, the abridged story of how I worked that bit out.
3. What strongly held belief did you have at eighteen that you do not have now?
That in order to matter in the world, I had to get really thin, AND QUICK! This was not something I said out loud, but this thought is possibly eight-tenths of the reason I did, just a few short years later, have a total and utter nervous breakdown (this is a fun old story that I tell in my book! Oh, what cheer! No really – I do have to speak these hard bits because we all go through hard stuff and it is not the end of us – promise).
4. What were three works of art – book or painting or piece of music, etc. – you can now say had a great effect on you and influenced your own development as a writer?
Jesus – can you ask an easier question please? What do you want – blood?
5. Considering the innumerable artistic avenues open to you, why did you choose to write a memoir?
My memoir is not about my success, it's about the stories we tell ourselves and what happens when we believe them. I wrote this book because I promised my childhood self (age 21) I would one day have a better story to tell than the one I had lived to date, and that turned out to be true. Things make sense to me now in a way they could not have then. Part of what makes the most sense is that when we learn cool stuff, we pass it on. Consider this book like a baton, if you like… (it's okay if you drop it, by the way. Just pick it up again and keep doing).
6. Please tell us about your latest book, Your Own Kind of Girl.
It's about the stories we tell ourselves, and what happens when we believe them. There is not much here by way of the Clare Bowditch you know – it's really about the people we are before our dreams come true, and how we get on track when the dreams don't look or feel the way we imagined they might. For a coming-of-age-memoir, there's probably not nearly enough drug-taking, although there is lots of folk music and some crafting and also, if I'm honest, a moderate amount of shagging (sorry – you can skip those bits if you're not into that sort of thing). It's about all the stories I tried to keep to myself, but don't want to any more, because they're common stories, and they're better out than in.
7. What do you hope people take away with them after reading your book?
One day I will write a delightfully light fiction, or an inspiring cook-book: things that exist purely to entertain, inform, or elicit life-style envy. This book, however, is quite different to that. I cannot say this without dipping into potential wankery so please excuse me, but to drive home the point, I wrote this book to change someone's life for the better, and that's the hope that kept me writing. I want to pass on what was given to me. I want them to know that you can have a rough start in life, and then a rough early adulthood, and still live a life of your big fat dreams and feel lots of love and belonging and adventure in between all of that.
8. Who do you most admire in the realm of writing and why?
Virginia Woolf. Besides Virginia Woolf, and for the purposes of this interview, for the purposes of the reader, I am going to say Dr Claire Weekes. At the time she wrote her radical little book, Self Help For Your Nerves, it seemed silly to most professionals, yet she didn't write it for them, or the critics – she wrote it because she cared about people, and she suspected she could help them. She helped me! Saved my little 21 year old life, in fact!
9. Many artists set themselves very ambitious goals. What are yours?
My first goal as an artist when I got REALLY serious was … to make enough money to be able to keep making art. Now my goals are to be useful, and give people places where they can feel more comfortable being who they are, and who they want to be. I don't need any more clapping – I've had heaps and I'm very satisfied. I want to do something useful with my life, and keep moving forward in interesting ways and art and music and writing and this chat we're having right now all allow me to do that (and by the way, why are you the one asking all the questions, and me doing all the talking? That hardly seems fair?).
10. What advice do you have for aspiring writers?
According to your head, your work never ever ever ever ever ever ever going to be good enough.
Who gives a shit what your head says?
Write it anyway.
Also – come to my book launches. I'm travelling everywhere. It would be good to see you there. Thank you BOOKTOPIA! I LOVE YOU!!!!
We love you too – thank you for playing!
---
Listen to our podcast with Clare Bowditch!
---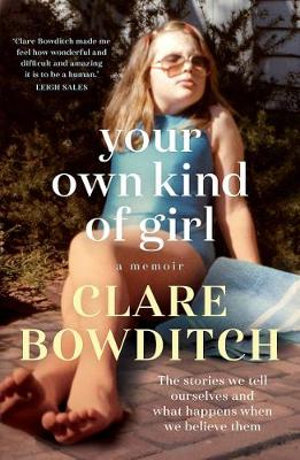 Your Own Kind of Girl
This is the story I promised myself, aged twenty-one, that I would one day be brave enough - and well enough - to write.
Clare Bowditch has always had a knack for telling stories. Through her music and performing, this beloved Australian artist has touched hundreds of thousands of lives. But what of the stories she used to tell herself? That 'real life' only begins once you're thin or beautiful, that good things only happen to other people. Your Own Kind of Girl reveals a childhood punctuated by grief, anxiety and compulsion, and tells how these forces shaped Clare's life for better and for worse...
About the Contributor