We are in the midst of an Australian crime fiction renaissance.
From ominous "bush-noir" to suburban psychological thrillers, Australians are seeking mystery, suspense and menace in their own fictional backyards.
So we're partnering with Hachette Australia to bring you Australian Crime Story – the inside scoop on how the best crime fiction gets made with three Aussie writers: Michael Robotham, Mark Brandi and Tony Cavanaugh.
There's heaps of exciting content coming soon, but today you can check out Michael, Mark and Tony's three latest novels and read an extract from each of them.
Read on …
---
Michael Robotham
The girl with no past.
Six years ago, Evie Cormac was discovered, filthy and half-starved, hiding in a secret room in the aftermath of a shocking crime. Now approaching adulthood, Evie is damaged, self-destructive and has never revealed her true identity.
The boy who survived.
Forensic psychologist Cyrus Haven, a man haunted by his own past, is investigating the death of champion figure-skater Jodie Sheehan. When Cyrus is called upon to assess Evie, she threatens to disrupt the case and destroy his ordered life.
Because Evie has a unique and dangerous gift – she knows when someone is lying. And nobody is telling the truth …
Buy it here
Listen to our podcast with Michael
---
Mark Brandi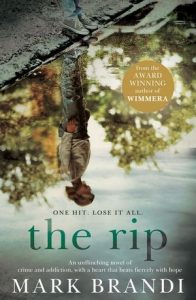 A young woman, living on the street has to keep her wits about her. Or her friends. But when the drugs kick in that can be hard.
Anton has been looking out for her. She was safe with him. But then Steve came along. He had something over Anton. Must have. But he had a flat they could crash in. And gear in his pocket. And she can't stop thinking about it. A good hit makes everything all right.
But the flat smells weird. There's a lock on Steve's bedroom door. And the guy is intense.
The problem is, sometimes you just don't know you are in too deep, until you are drowning …
Buy it here
Listen to our podcast with Mark
---
Tony Cavanaugh
Brisbane 1999. It's hot. Stormy. Dangerous. The waters of the Brisbane River are rising. The rains won't stop. People's nerves are on edge. And then …
A body is found. And then another. And another.
A string of seemingly ritualised but gruesome murders. All the victims are men. Affluent. Guys with nice houses, wives and kids at private schools. All have had their throats cut. Tabloid headlines shout, THE VAMPIRE KILLER STRIKES AGAIN!
Detective Constable Lara Ocean knows the look. The 'my-life-will-never-be-the-same-again look'. She's seen it too many times on too many faces.
And staring into the eyes of a murderer, yet doubting you've got it right. That's the worst look of all – the one you see in the mirror. Get it right, you're a hero and the city is a safer place. Get it wrong and you destroy a life. And a killer remains free. Twenty years down the track, Lara Ocean will know the truth.
Buy it here
Listen to our podcast with Tony
---
Stay tuned for more exciting Australian Crime Story content – coming soon!
About the Contributor