It's been 6 years, but Erin Morgenstern is back with a stunning new novel that is worth the wait – The Starless Sea.
Like thousands of readers across the world, I adored The Night Circus, the evocative fantasy novel that made Erin Morgenstern a household name. That book about an enchanted circus and the battle of sorcery at its heart was a slow and heady fantasy that built up to a brilliant finish, and to this day no other book has given me quite that same feeling. It's indulgent fantasy writing to be sure, but it's a case of style perfectly matching story – The Night Circus came to life through Morgenstern's luscious writing.
Eager fans of her immersive, slowburn brand of fantasy will therefore not be disappointed by The Starless Sea, a wholly unique fantasy story about a mysterious library hidden far beneath the surface of the earth and the boy who stumbles upon it. It's a different novel than its predecessor, but is all the richer for it.
Zachary Ezra Rawlins (always Zachary, never Zach) is a graduate student living in Boston, writing a thesis on video games. He spends more of his time feeling like a background character than a hero in his own story, but when he comes across a mysterious book called Sweet Sorrows in his uni library, he is drawn into a world that is at once familiar and strange, harkening back to a peculiar encounter with a door in a wall that he experienced as a child. Zachary is led head and heart first into a world of danger and intrigue with roots far beyond his wildest imagination, where the simple act of telling a story can be as dangerous as firing a gun.
A kind of ode to storytelling in all its forms, with a romance that smoulders quietly in the background, The Starless Sea is a story that seems suspended in amber. It's the kind of book you read when you're in a reading slump and you need to be reminded of just how magical it can be to open a book and lose yourself in its pages. Much like the Starless Sea itself, it's easy to do just that in Morgenstern's prose or in one of the intertwining stories that run parallel through this book, but much of the joy of this book comes in pulling on certain threads and seeing how the story comes together.
Simply gorgeous.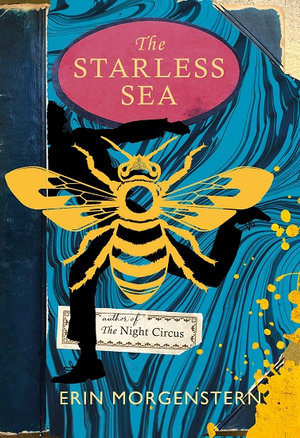 The Starless Sea
The author of international bestseller The Night Circus returns with a magical, timeless and wholly original love story set in a secret underground world.
Zachary Ezra Rawlins is a graduate student in Vermont when he discovers a strange book hidden in the library stacks. As he turns the pages, entranced by tales of lovelorn prisoners, key collectors, and nameless acolytes, he reads something strange: a story from his own childhood. Bewildered by this inexplicable book and desperate to make sense of...
About the Contributor
Olivia Fricot is the Editor of the Booktopian Blog. After finishing a soul-crushing law degree, she decided that life was much better with one's nose in a book and quickly defected to the world of Austen and Woolf. You can usually find her reading (obviously), baking, writing questionable tweets, and completing a Master's degree in English literature. Just don't ask about her thesis. Olivia is on Twitter and Instagram @livfricot - follow at your own risk.
Follow Olivia: Twitter