"I am absolutely terrified of losing a job I absolutely hate."
These are the words with which readers of Maybe the Horse Will Talk, the newest novel by Elliot Perlman, are greeted by its protagonist Stephen Maserov.
Stephen is a harried teacher-turned-lawyer who is struggling to pay off the house that his wife has recently kicked him out of. He's only in his second year of working for the corporate law firm Freely Savage Carter Blanche when he becomes aware of impending disaster: he's about to lose his job. After some quick thinking, Stephen maneuvers himself into a position of safety, only to find himself having to defend allegations of sexual misconduct in the workplace for a powerful corporate client.
This is a novel that is deeply uncomfortable yet strangely hilarious, one that works in extremes to explore the horrible things that people can do while trying to hold onto jobs that they loathe. It's a feeling that Elliot knows firsthand, having worked as a lawyer himself for years. It was during that time that he witnessed a parade of absurd and often cruel behaviour from the people he worked with, watching them become devotees to the ruthless grind of the modern workplace.
"I couldn't believe that people really live like this," says Elliot. "I knew that obviously I needed a job desperately like everybody else, but I knew that the rest of my life could not be like this. I had to figure out an alternative."
That alternative was writing, and Elliot went on to become one of Australia's most successful and acclaimed novelists. Maybe the Horse Will Talk is his fourth novel, and much of it is inspired by his years spent in the legal profession. It's an examination of why we compromise our humanity in order to get ahead in the workforce and pay the bills – the ways in which the idea of "making budget" becomes much more important than being home in time for family dinner (or indeed of defending the victims of sexual assault, rather than its perpetrators).
It's the absurdity of this idea that gives the novel its potent humorous kick, one that is deftly employed in order to highlight the novel's darker elements (the scenes dealing with sexual assault are purposefully devoid of humour).
"I'm trying to use humour to make these points, and I've done that because I think people really need it," says Elliot. "And I think it makes people feel so much better if you can laugh at the problem and then it's sort of like saying, you know, 'The Emperor really has no clothes' and you've sort of slain the dragon by making fun of it."
For Elliot, if we can laugh at the problem first then we might then feel more empowered to actually deal with it.
Elliot came to Booktopia to sign copies of Maybe the Horse Will Talk, before sitting down for a podcast with Ben Hunter and myself. Listen below and grab yourself a signed copy of the book here!*
---
---

*While stocks last.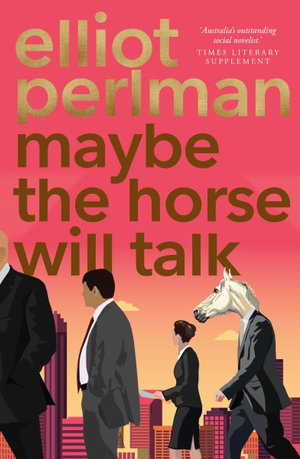 Maybe the Horse Will Talk
What if the only way to keep your job was to antagonise your boss?
Stephen Maserov has problems. A onetime teacher, married to fellow teacher Eleanor, he has retrained and is now a second-year lawyer working at mega-firm Freely Savage Carter Blanche. Despite toiling around the clock to make budget, he's in imminent danger of being downsized. And to make things worse, Eleanor, sick of single-parenting their two young children thanks to Stephen's relentless work schedule, has asked him to move out...
About the Contributor
Olivia Fricot is the Editor of the Booktopian Blog. After finishing a soul-crushing law degree, she decided that life was much better with one's nose in a book and quickly defected to the world of Austen and Woolf. You can usually find her reading (obviously), baking, writing questionable tweets, and completing a Master's degree in English literature. Just don't ask about her thesis. Olivia is on Twitter and Instagram @livfricot - follow at your own risk.
Follow Olivia: Twitter