I was lucky enough to read an early draft of Relic. I begged the author (none other than my amazing co-worker and good friend, Bronwyn Eley) to let me read it after she told me she was writing a dark fantasy about a young woman who was also a blacksmith. This description of Kaylan, the main character of Relic, had me 100% sold. I loved the idea of a blacksmith heroine in a fantasy setting – it was something I hadn't read before and I needed it!
I have since had the pleasure of reading Relic several more times and find myself most impatient to get my hands on the second book. Being careful to keep things spoiler free, I will say only that the ending of this book left me reeling and I am beyond desperate to find out what happens next.
Set in a world where the only magic resides in destructively powerful stones known as "relics", the story follows Kaylan as she is forced to leave her friends and family behind to become the new Shadow. Becoming the Shadow means her days are numbered – it's a position that ensures an inescapable death.
This book is full of complicated and vividly imagined characters. Kaylan is a wonderful main character, with an amazing ability to endure hardship and a truly indomitable spirit. There is also a fantastic cast of supporting characters to love (and a great villain to hate!).
Relic is a compelling dark fantasy about the corrosive and addictive nature of power. The story is full of tension, fraught with danger and starring a badass blacksmith heroine with an iron will. And that ending! Holy smokes that ending left me absolutely stunned!!
Perfect for fans of Maria V. Snyder, Sarah J. Maas and The Hunger Games.
---
Listen to our podcast with Bronwyn!
---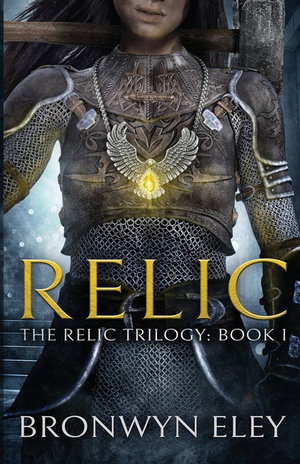 Relic
The Relic Trilogy: Book 1
In the city of Edriast, there is no deadlier duty than to serve as the Shadow.
As the personal servant of the powerful Lord Rennard, the Shadow's life is all but forfeit. Rennard possesses one of five rare and dangerous Relics - a jewel that protects his bloodline, but slowly poisons everyone else in its proximity. When the current Shadow succumbs to its magic, nineteen-year-old blacksmith Kaylan is summoned to take his place. It's an appointment that will kill her...
About the Contributor
Sarah McDuling is Booktopia's Category Manager for Children's and Young Adult Books. She has been in the bookselling game for almost a decade and a dedicated booklover since birth (potentially longer). At her happiest when reading a book, Sarah also enjoys talking/writing/tweeting about books. In her spare time, she often likes to buy a lot of books and take photographs of books. You can follow her on Twitter and Instragram @sarahmcduling
Follow Sarah: Twitter