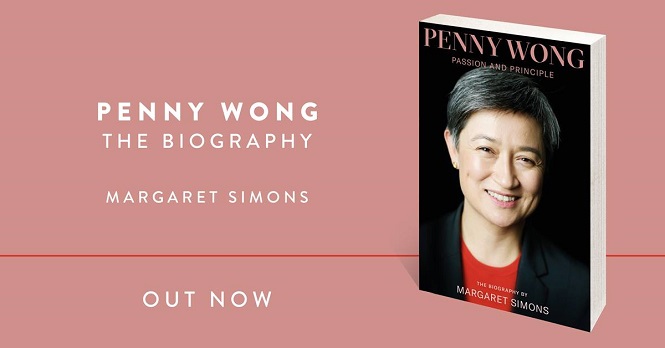 Margaret Simons is an award-winning journalist and the author of thirteen books, including a new biography of Penny Wong called Penny Wong: Passion and Principle, a scintillating portrait of an Australian politician without precedence. Margaret is the recipient of the 2015 Walkley Award for Social Equity Journalism and has been honoured with several Quill Awards. Simons is an associate professor in the School of Media, Film and Journalism at Monash University, and a board member of the Public Interest Journalism Foundation.
Today, Margaret is on the blog to answer some of our questions about her new book. Read on!
---
Tell us about your book, Penny Wong: Passion and Principle!
MS: My book is the first biography of Senator Penny Wong, one of Australia's most intriguing politicians. It was written after dozens of interviews with Labor party figures, people who knew her as a child and with Senator Wong herself.
How did you come to write this biography?
MS:It was the publisher's idea but I was a willing recruit. I thought, and still think, that Penny Wong is interesting and important. As I wrote the book I also came to think that her career tells a story about how politics works – and doesn't work.
What was the biggest challenge you faced while writing this book?
MS: Penny Wong was initially very reluctant to cooperate, and she was never delighted by the project, even though we got on quite well on a personal level. Her shyness and reluctance was the main challenge – that and the time pressures it imposed.
What is it, do you think, that is so compelling about Penny Wong as a politician and public figure?
MS: She seems "different" and of course she is – an Asian, gay woman is an unusual thing in Australian politics. But I think she also comes across as a person of integrity, even if people disagree with her politics. There is a lot of curiosity about her. One of the things I explore in the book is whether her public image really reflects who she is.
Was there anything you discovered about Penny while writing this book that surprised you?
MS: Yes. Most people know she is gay – but not everyone knows that she didn't always identify this way! She lived with Jay Weatherill for about five years when she was in her twenties. He went on to be Premier of South Australia. They remain good friends and political allies.
How much did your initial impression of Penny Wong change as you wrote this biography?
MS: Another thing that surprised me is how emotional she can be – given that most people think of her as fiercely logical. She is that, but also quick to tears and to anger.
What do you hope readers will discover in this book?
MS: I hope they will gain a better appreciation of what it means for a woman of passion and principle to devote her life to politics – and through that perhaps learn a bit more about how politics works, as well as more about a fascinating woman.
And finally, what's up next for you?
MS: More journalism, and another book – a history of the Australian Broadcasting Corporation!
Thanks Margaret!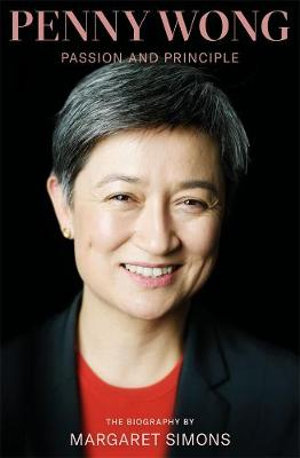 Penny Wong: Passion and Principle
Senator Penny Wong is an extraordinary Australian politician. Resolute, self-possessed and a penetrating thinker on subjects from workplace relations to foreign affairs, she is admired by members of parliament and the public from across the political divide.
In this first-ever biography of Penny Wong, acclaimed journalist Margaret Simons traces her story- from her early life in Malaysia, to her student activism in Adelaide, to her time in the turbulent Rudd-Gillard-Rudd governments...
About the Contributor