Well it's official. The Secret Commonwealth is my new favourite Philip Pullman book.
The His Dark Materials trilogy is one of my all time childhood favourites. I didn't think anything could beat the bittersweet perfection of The Amber Spyglass. Then, so many years after the conclusion of His Dark Materials, along came La Belle Sauvage – the world's most perfect prequel (that's right, I'm calling it!). And now The Secret Commonwealth is here and believe me when I say, Philip Pullman has outdone himself!
In The Secret Commonwealth, we are reunited with Lyra Belacqua (aka Lyra Silvertongue) who has grown into a young woman alongside her daemon, Pantalaimon. Distressingly, a distance has grown between Lyra and Pan – they are no longer as closely connected as they once were and neither of them quite understands why. We are also reunited with Malcolm, the young hero of La Belle Sauvage. It has been twenty years since we last saw Malcolm and seven since we last saw Lyra. Time has changed both these beloved characters – they are the same, yet different – they have left childhood behind. And though they are each launched into exactly the kind of high stakes adventure that readers have come to expect from Philip Pullman, the themes and tone of The Secret Commonwealth are a little darker and more adult than previous books in the series.
Sometimes we forget why we loved the things we loved as children. We grow up and remember our childhood passions fondly – perhaps we even revisit them – but the things that seemed so magical to us in childhood seldom hold the same power over our adult imaginations.
For me, there are only a few notable exceptions to this rule and Philip Pullman is one of them. No matter how many times I read his books, they always completely capture my imagination and leave me feeling as though I've learned something new. His words have a way of creeping into the soul and becoming words to live by. And there are so many words to live by in The Secret Commonwealth, I had to restrain myself from taking a highlighter to the page!
The true genius of The Secret Commonwealth is that it manages to improve upon the story that came before – answering questions I never even noticed had been left open – while also challenging parts of the story I thought were set in stone. There is no solid ground, and it's as exhilarating as it is unsettling!
At almost 700 pages, The Secret Commonwealth is not a quick read, nor a particularly light one. It is, however, a powerful, soul-stirring and thought-provoking story packed full of adventure, mystery and suspense. Not only a worthy sequel to La Belle Sauvage and a brilliant continuation of His Dark Materials, this masterpiece of storytelling is a fierce ode to the power of the imagination and a must read for fans. The only problem is that when you finish it, you'll be in agony waiting for the final book in the trilogy to arrive and complete the story! Luckily we have the HBO adaptation of His Dark Materials on the horizon to help distract us from the pain.
And in the meantime, I strongly urge anyone who hasn't yet read these books to pick up a copy of Northern Lights as quickly as possible and buckle up for an epic ride.
---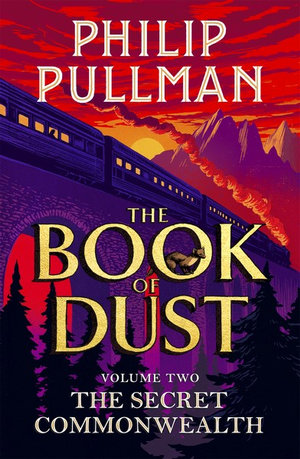 The Secret Commonwealth
The Book of Dust: Volume 2
It is twenty years since the events of La Belle Sauvage: The Book of Dust Volume One unfolded and saw the baby Lyra Belacqua begin her life-changing journey. It is seven years since readers left Lyra and the love of her young life, Will Parry, on a park bench in Oxford's Botanic Gardens at the end of the ground-breaking, bestselling His Dark Materials sequence.
Now, in The Secret Commonwealth, we meet Lyra Silvertongue. And she is no longer a child...
About the Contributor
Sarah McDuling is Booktopia's Category Manager for Children's and Young Adult Books. She has been in the bookselling game for almost a decade and a dedicated booklover since birth (potentially longer). At her happiest when reading a book, Sarah also enjoys talking/writing/tweeting about books. In her spare time, she often likes to buy a lot of books and take photographs of books. You can follow her on Twitter and Instragram @sarahmcduling
Follow Sarah: Twitter