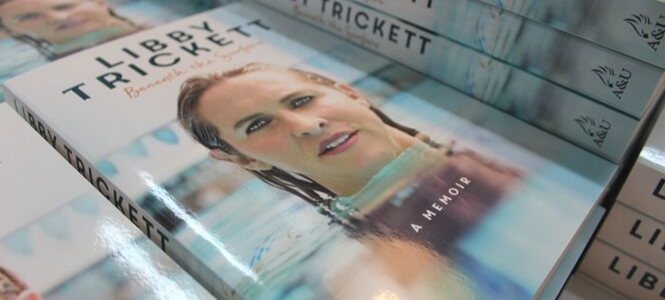 She may be one of the original golden girls of Australian swimming, but Libby Trickett never wanted to write a sports memoir.
Instead, sport is what she calls a narrow part of who she really is – an athlete yes, but also a woman and a mother who suffered from a severe battle with depression. In short, a complex human being.
So Libby wrote Beneath the Surface, a memoir that accounts for her life as a whole from her time spent as an elite swimmer to everything that came after. This week, she came to Booktopia to sign some copies of it and to sit down for a podcast with Joel Naoum and Shanu Prasad where they talked all about the book and where it came from.
"You're incredibly intense as an elite athlete, you are incredibly fierce and focused and driven. You have this one singular goal that you're after – for me, I was training 35 hours a week for 50 weeks a year for the better part of a decade," says Libby. "That amount of focus and dedication … I find it remarkable now and I did it."
But even at her best, Libby never felt 100% good enough and it was a mindset that carried itself into her life outside of swimming after she retired in 2013. Decades of intense training, where milestones could be measured and progress tracked, had left Libby with extremely high standards for what she should be achieving. The "real" world, she found, came with no such guide.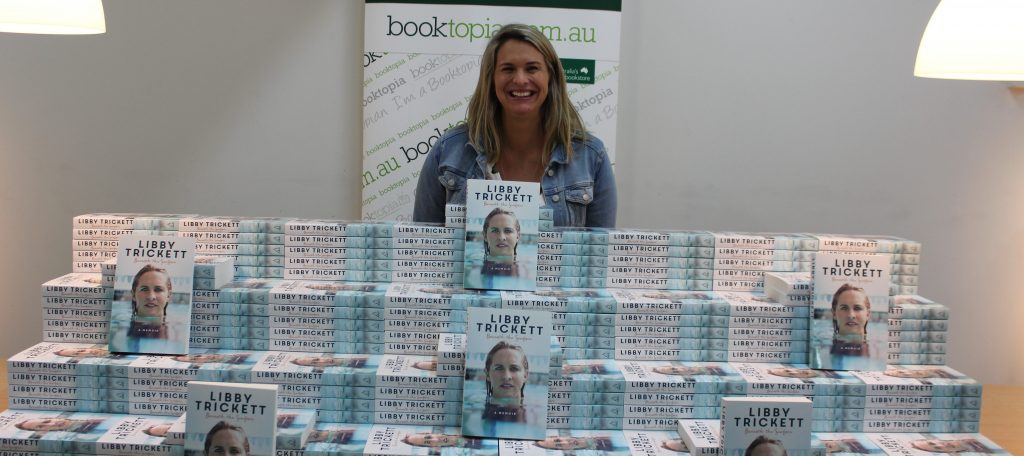 "You do have really high expectations of yourself, and if you don't measure that with patience and understanding that, you know, you're not going to be an elite level business person or an elite level parent at the drop of a hat – maybe not ever – it can be really difficult to make that adjustment," she says.
This realisation paved the way for the pre-existing mental health issues that would only intensify after Libby gave birth to her first daughter. While swim training gave her constant constructive feedback, parenting did not – only judgement, and the feeling that she wasn't living up to some higher standard of love and care.
"Parenthood is easily the best thing I've ever done in my life, it's filled my soul with joy in so many ways, but also it crushes you in a lot of ways," Libby says.
Struggling with parenthood in a way that felt unmanageable and unhealthy, it didn't take long for Libby to realise that she desperately needed help. Beneath the Surface is the story of what happened after she sought it.
Listen to our full chat with Libby below and grab your signed copy of Beneath the Surface before they sell out!
---
---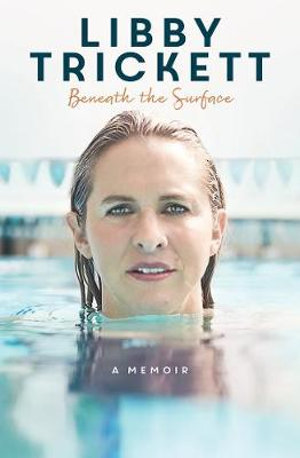 Beneath the Surface
A Memoir
The brave and inspiring memoir of one of Australian Swimming's Golden Girls, whose extraordinary achievements masked her private battles with anxiety and depression.
Australians know Libby Trickett as one of our golden girls of swimming. Winner of multiple Olympic gold medals and setter of world records, Libby wasn't just a champion, she was Australia's girl next door, the humble superstar from suburban Brisbane with the infectious grin and sunny nature. Yet what we saw on the surface - the confidence, competitiveness...
About the Contributor
Olivia Fricot is the Editor of the Booktopian Blog. After finishing a soul-crushing law degree, she decided that life was much better with one's nose in a book and quickly defected to the world of Austen and Woolf. You can usually find her reading (obviously), baking, writing questionable tweets, and completing a Master's degree in English literature. Just don't ask about her thesis. Olivia is on Twitter and Instagram @livfricot - follow at your own risk.
Follow Olivia: Twitter