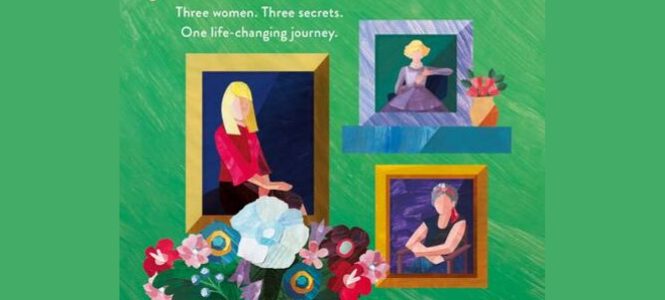 Rachael Johns, an English teacher by trade and a mum 24/7, is the bestselling ABIA-winning author of a number of romance and women's fiction books, including The Art of Keeping Secrets, The Greatest Gift and Lost Without You. Rachael's latest book is Just One Wish, an engrossing and wise novel about ambition, choices and what it means to be a woman (and we have SIGNED COPIES!).
Today, Rachael is on the blog to answer a few questions about her latest book. Read on!
---
Tell us about your latest book, Just One Wish!
RJ: Just One Wish is the story of three generations of women. the youngest, Ged, sometimes feels like a mediator between her mother, Sappho, and grandmother Alice, who couldn't be more different in every way. Sappho rebelled against her unconventional upbringing and her mother's die-hard feminism by marrying young and becoming a devoted homemaker. Alice chose a career over love and is now wondering if she made the right choice. Ged, in theory, these days has the ability to have it all, but can she really?
Where did you get the first spark of inspiration for Just One Wish?
RJ: I was listening to a panel at Perth Writers Week a few years ago and author Lauren Groff was talking about how she never wanted to get married, that it went against everything she always believed, but then she met this amazing man and he proposed. She knew if she said no she would lose him, as marriage was important to him, and so she did what she never thought she'd do and said yes. Best decision of her life! But she got me wondering, what if she'd turned him down and they'd broken up, would she ever regret that? This was the seed that inspired the character of eighty-year-old Alice and from there the other characters and the story developed.
Your book is a story about three generations of women from the same family, Alice, Sappho and Ged. Which of those three characters do you identify with the most and why?
RJ: Ooh, that's a tough question. I'm closest in age to Ged, so I guess I relate to her life experience and cultural influences, but I identify with each of the characters in different ways. There are parts of Sappho in me (not the domestic goddess angle sadly, but the love of cooking for example) and parts of Alice too. I think these women are two extremes and that most women will fall somewhere in the middle. The book is about finding yourself and being true to yourself and what it means to be a woman.
When writing a book, do you start with a plot idea or do you develop your characters first?
RJ: Hah – it changes from book to book. With Just One Wish it was character and theme; with The Patterson Girls a weed sparked the whole novel; and for The Art of Keeping Secrets it was something in the news. But after that first seed, I spend time thinking about my characters – who they are, what they want and what is stopping them achieving that goal – before I start writing. I don't outline my novels, but I do make a few notes and have a vague idea of where the story might go. If I know the end, I feel much more confident about starting but sometimes (thanks to deadlines), I have to begin writing before I know this.

What is the biggest challenge you faced while writing this book?
RJ: I had an idea in my head about how I wanted the book to be but it never quite ends up that way on the page. With Just One Wish, I wanted to explore the issue of feminism a bit more than I actually did. Working out the chronology of key events is always a bit of a struggle for me too – I write first and then always have to fix stuff like that. But in this particular book there was one aspect out of my control – when I started writing, Mars One (the mission to take and settle humans on Mars) was still going ahead and I wrote about this. However by the time it came to editing, the mission had been postponed indefinitely. To me this part of the story was key, so I had to create a fictional mission instead.
If Just One Wish had a theme song, what would it be?
RJ: "I'm Every Woman", the Whitney Houston version.
What is the best piece of writing advice you have ever received?
RJ: You ask all the tough questions! I've been given some great tips over the years, but the one that came to me first today is to "Read even more than you write"! I think this is so important – not only is reading my favourite thing to do, but I learn something from every book. Read widely too – within your genre but also outside of it.
What is the last book you read and loved?
RJ: The Perfect Couple by Elin Hilderbrand. My agent recommended it and I devoured it in a weekend. It was my first of her novels and it definitely won't be the last.
Which books are on your TBR pile right now?
RJ: Oh my goodness, how long do you have? I have TBR mountains scattered ALL over my house. I buy WAY more books that I could ever possibly read and sometimes feel overwhelmed and anxious when deciding what to read next. Currently top of my pile is Us Against You by Fredrik Backman.
And finally, what's up next for you?
RJ: I've got a rural romance (Something To Talk About) out next June, which I'm super excited about, and I'm currently writing what I hope will be my next women's fiction release (Flying The Nest). This novel is about marriage, nest parenting, a long-distance relationship, an island mystery and possibly screen addiction.
Thanks Rachael!
---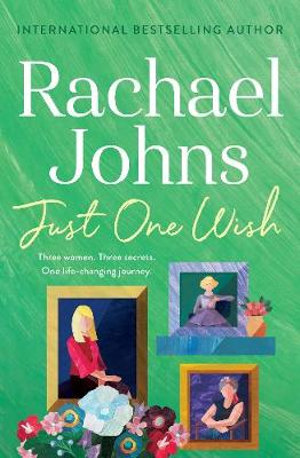 Just One Wish
Signed copies available!
Three women, three secrets, one life-changing journey.
Alice has always been a trailblazer as a scientist, activist and mother. She knew her choices would involve sacrifices, but now, on the eve of her eightieth birthday, she's beginning to wonder if she's sacrificed too much. Alice's daughter, Sappho, rebelled against her unconventional upbringing, choosing to marry young and embrace life as a homemaker, but her status as a domestic goddess has recently taken a surprising turn. Ged has always been the peacemaker between her...
About the Contributor