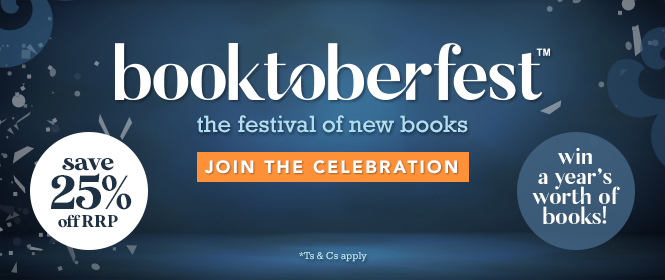 Get excited – Booktoberfest is here!
Booktoberfest is our annual, month-long celebration of the books that will be hitting shelves between now and Christmas! Whether you read books, write them or publish them, this event is for you.
In particular, we'll be celebrating the books that are bound to be big. Think of this as your chance to get stuck into the books that will get everybody talking – books like Elton John's autobiography Me or Heather Morris' novel Cilka's Journey (her follow-up to The Tattooist of Auschwitz).
We have dedicated pages for every major book genre or category out there, from fiction to food & drink to kids, so there's plenty of bookish goodness to explore.
Sounds fun! How can I celebrate Booktoberfest?
First things first:
Check out our Booktoberfest page and you might just find a great new read for yourself (OR get a head start on your Christmas shopping).
We have 25% off RRP for every book that's included in the campaign and (best of all) if you buy anything from our Booktoberfest showcase, you'll go into the draw to win a year's worth of books!*
If you want to show the world the bookish treasures you've found from our page, don't forget to tag us on social media and use the hashtag #Booktoberfest.
Need some book shopping inspiration?
Have a listen to our Booktoberfest podcast, where The Booktopian's editor Olivia Fricot chats with our Book Team (Ben Hunter, Sarah McDuling, Joel Naoum and Shanulisa Prasad) about the books we're most excited about and the ones we think just might be a dark horse in the running …
---
About the Contributor