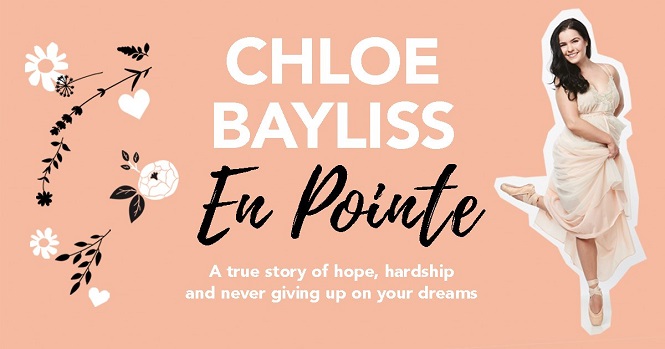 Chloe Bayliss is one of Australia's finest emerging actresses, with numerous credits across stage and screen. She has an extensive background in dance and choreography, having graduated from the National College of Dance with a Diploma of Dance and Performance. Her life as a dancer has taken her all over America and she now extends her knowledge to students and performers throughout Australia by running workshops, teaching and judging dance scholarships. Chloe has also written a memoir, En Pointe – a story about never giving up on your dreams, no matter what life throws at you.
Today, she's on the blog to answer some of our questions about En Pointe. Read on!
---
Tell us about your book, En Pointe!
CB: En Pointe is a YA memoir! It's a true story about an aspiring ballerina who's about to take up a position with an international dance school but is stopped in her tracks by a life threatening illness.
I found old journals, letters and cards from this very difficult time of my life which I have reproduced and reworked to create the world I once lived in.
You've been on quite the journey, both physically AND emotionally. When did you first realise that you wanted to tell your story in a book?
CB: When I was fourteen I left my home town of Port Macquarie to dance full time in Newcastle. At the time I was so excited to be chasing my dream of becoming a professional dancer.
I had the opportunity to return to Port Macquarie in December 2017 to judge a dance scholarship at the school I used to train with. I was a mix of emotions as I walked around the town and remembered the girl I used to be. I couldn't even begin to imagine what was going to happen to me over those coming years. It made me sad to think about the bumpy and scary road I took to try to achieve my dreams. I realised that I would have loved to hear a familiar story when I was so unwell. So I began to write!
You've spent your entire life telling stories through dance and through acting. What was it like to tell a story with words?
CB: Writing felt very familiar to me because I constantly have vivid scenes/images and dialogue running through my head when performing. It was really wonderful to be able to have the time to expand on those thoughts, slow down and really describe exactly what I was thinking through words because sometimes acting and dance don't allow you to tell the audience everything you want them to know.
What is the biggest challenge you faced while writing this book?
CB: The biggest challenge I faced was having to take my mind back to a time that I had tried hard to suppress. At times I would have to stop writing and take a break because some memories would become too much for me to handle.
Also, at times my acting brain would take over and all I wanted to write was scene after scene after scene. I would have to actively stop myself from doing this because I would've ended up with a play instead of a memoir!
What do you hope your readers will discover in En Pointe?
CB: I hope that En Pointe will inspire young people to keep chasing their dreams even when life throws them some pretty tough challenges.
What is your favourite book of all time and why?
CB: HARRY POTTER. What I love about Harry Potter is that you can read the books over and over again and find something new every time. It draws you in and makes you want to escape into the same world the characters are in. You can almost feel the magic coming out of the pages … Or perhaps just everything in my world stops when I read it! Ha ha.
Who do you most admire in the dancing world?
CB: The teachers! A teacher can take a good dancer and make them into a phenomenal dancer with the correct training. I really admire all the hard work they put in to help support, nurture and strengthen a dancers talents. They give everything to their students to help them achieve their goals.
Any tips for aspiring ballerinas out there?
CB: You can have the best technique in the world but if you don't perform, an audience wont want to watch you. Share your love and passion for dance with the world.
Dance is just another form of storytelling, so work on connecting with your audience and practice performing every time you dance. Even in the dance studio. Bring some life to your work and I can guarantee that people wont be able to take their eyes off you. The audience will feel whatever you are feeling if you just let them in. People want to go to the theatre to be moved. They won't remember the dancer who did ten pirouettes. They will remember the dancer who made them feel something special. So dance like you really mean it!
---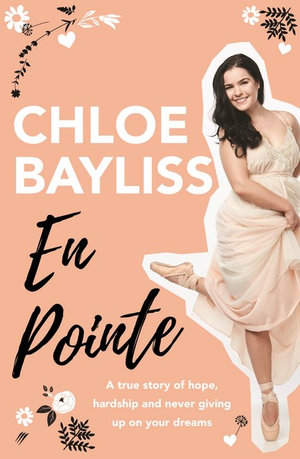 En Pointe
This is a story about never giving up on your dreams, no matter what life throws at you.
Chloe Bayliss was born to perform and thanks to a lot of hard work and determination, she's on her way to being a ballerina. At sixteen, she gets accepted into an international dance school and everything she dreamed of is about to come true. But then overnight a mystery illness takes Chloe from starring in Swan Lake to clinging to life in a hospital bed. Never in her wildest dreams could she have imagined ...
About the Contributor