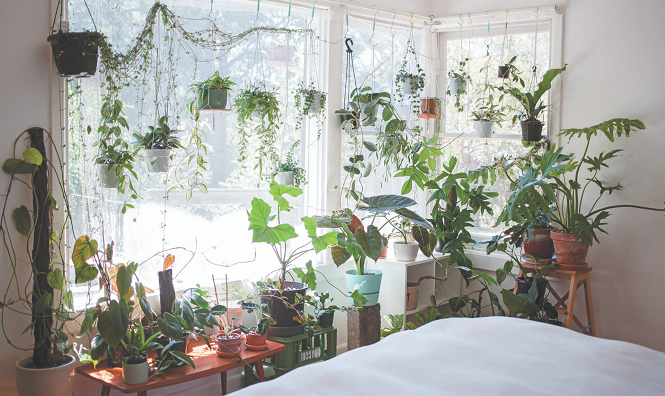 Lauren Camilleri and Sophia Kaplan are the brainchildren behind the Sydney-based interior-design nursery Leaf Supply. They have professional backgrounds in interior architecture and advertising, respectively, and previously authored a book (also called Leaf Supply) in 2018. Their second book, Indoor Jungle, will be out tomorrow!
Today, they're on the blog to share their top tips for getting started with your own indoor plant paradise. Read on!
---
From bedroom walls covered in trailing Pothos to living room corners overflowing with statement foliage, spaces really do come alive with the introduction of plants. In our second book, Indoor Jungle, we delve into the world of plant styling with sections on how to choose your personal approach, and include a step by step guide on how to style the various rooms in your home (or office!). We also keep you up to scratch on plant care and our favourite go-to plants of the moment, while our profiles on incredible plant-filled spaces from around the world offer insight and inspiration to finding your own plant style. So, let's give you a little sneak peek into the bedroom section and our tips on how to best style this particular space.
Bedrooms are perhaps the spaces in our homes in which it is most important for us to feel a sense of relaxation and sanctuary, and are perfect for the introduction of some lush greenery. With their ability to really soften a space and foster a sense of calm, plants work beautifully in our sleeping spaces. Those plants that are particularly good at detoxifying the air such as Pothos (Epipremnum aureum), Spider plants (Chlorophytum comosum) and Snake plant (Sansevieria) are great options to ensure you're breathing easy and getting the best sleep you can.
For a large bedroom, opt for sculptural feature plants in big beautiful pots mixed in with some plants on stands for height variation. To play with scale, you can introduce smaller plants on top of bedside tables or tumbling down the sides of dressers and even some hanging beauties suspended from hooks on the ceiling, or making use of what's to hand and hang along curtain railings.
Even if your bedroom is small, you don't have to sacrifice the lushness. A high shelf above the bed with trailing tropicals is a beautiful option and an amazing feature. Horticulturist Thomas Denning has created this stylish plant wall above the master bed (you can see more of his plant-filled Melbourne apartment in the book).
Here are some tips for making it work in your space …
Make sure all pots have saucers (the deeper the better) to allow any excess from watering to be caught, avoiding wet bedding at all costs.
Ensure the shelves are professionally installed and can take the weight of the potted plants, waking up to a plant falling on your head is the opposite of relaxing!
Create texture and depth to the collection with an interesting selection of greenery rather than just sticking to one type.
Opt for plants that have slightly lower water needs as it can be a little tricky to get up there to water every couple of days. And let's face it, dead plants are not going to create the jungle vibes of your dreams. Species of Pothos, Rhipsalis, Hoya, and Chain of hearts are all great to have in the mix, with the added bonus that they trail beautifully.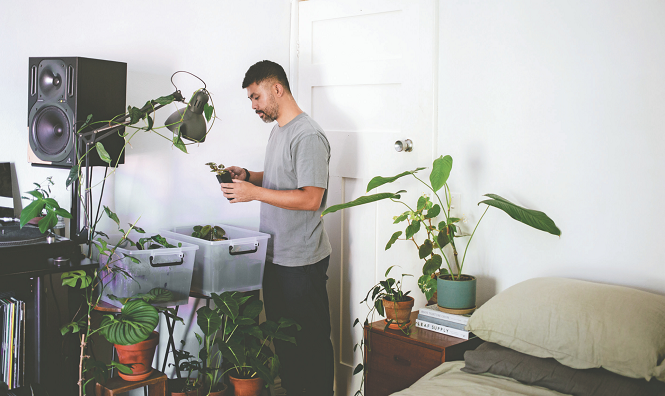 by Lauren Camilleri and Sophia Kaplan of Leaf Supply.
---
Indoor Jungle is out on October 1st – order your copy today!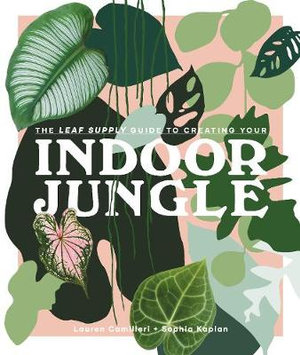 Indoor Jungle
The Leaf Supply Guide to Creating Your Indoor Jungle
This book is a luxurious guide to creating the very densest of jungles in your living room. It's time to finally turn that thumb green.
With this stunningly photographed greenery guide, anyone can master the art of making your living room thrive. When done correctly, curating any decent houseplant can be...
About the Contributor