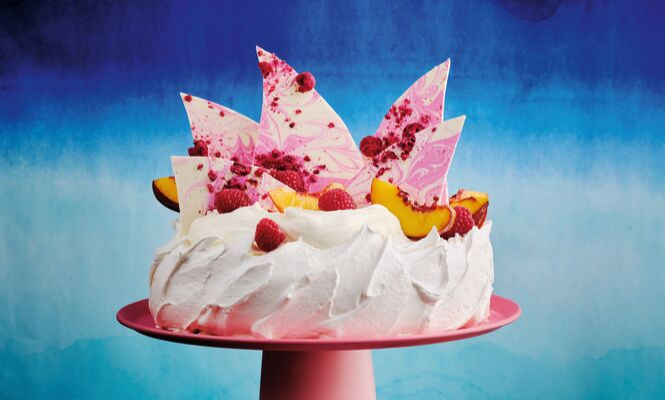 Sydney cake queen Katherine Sabbath is one of the coolest creatives around, loved equally for her cutting-edge cake designs and quirky personal style. Kat is a high school teacher turned cake creative whose unique designs have featured in print internationally, online as well as on TV. She shares it all with her half a million Instagram followers, who hang on every sprinkle.
Katherine's new cookbook, Bake Australia Great, is a mad-cap collection of edible Australiana that will win over anyone with a love for the land of the Great Barrier Reef, Sydney Opera House and Big Banana. Today, you can learn how to make her gorgeous Sydney Opera House pavlova (complete with raspberry white chocolate "sails"). Read on!
---
Sydney Opera House Pav
The Sydney Opera House, with its distinctive white sails, is one of the 20th century's most famous buildings. Designed by Danish architect Jørn Utzon, it opened in 1973 and is among the most popular visitor attractions in Australia. In 2007 the Sydney Opera House was named a UNESCO World Heritage Site.
In this dessert, I've combined the iconic silhouette of the Opera House sails (don't they look smashing in pink?) with our beloved pavlova, which at times can be a structural feat in its own right. So, a bit of architectural elegance meets edible engineering.
Serves 18–20
Pavlova
6 egg whites
1½ cups (330 g) caster sugar
3 teaspoons cornflour
1 teaspoon white vinegar
Preheat the oven to 160°C (320°F) fan forced. Line a large baking tray with baking paper and draw a 20 cm (8 inch) circle on the paper.
Using an electric mixer, whisk the egg whites and sugar on high speed for 15 minutes or until thick and glossy and the sugar has dissolved. Whisk in the cornflour and vinegar until combined.
Spoon the meringue mixture onto the tray in the centre of the circle and smooth the surface. Using an offset spatula, drag the meringue upwards from the bottom into peaks.
Place in the oven and reduce the temperature to 100°C (200°F). Bake for 1 hour 20 minutes or until the outside of the pavlova is crisp and dry. Turn off the oven and leave the pavlova to cool in the oven with the door ajar for at least 6 hours or until cooled completely, preferably overnight.
Spiced Peaches
½ cup (125 ml) water
⅓ cup (75 g) caster sugar
¼ teaspoon ground allspice
4 cardamom pods
1 cinnamon stick
4 peaches, stones removed, thinly sliced
Combine the water, sugar, allspice, cardamom pods and cinnamon stick in a saucepan. Stir over medium–low heat until the sugar has dissolved, then simmer for 8–10 minutes or until slightly thickened.
Place the peach slices in a heatproof bowl and pour in the syrup. Chill in the refrigerator for 1 hour.
Raspberry Swirl White Chocolate
500 g (1 lb 2 oz) good-quality white chocolate, chopped (see tips)
Pink oil-based or powdered chocolate colouring
½ cup (20 g) freeze-dried raspberries
Line a large baking tray with baking paper.
Melt the white chocolate using either the microwave or double-boiler method.
Place ⅓ cup of the melted chocolate in a smaller heatproof bowl and mix in a small amount of pink colouring until the desired shade is reached.
Pour the white chocolate onto the baking tray. Use an offset metal spatula or a metal spoon to spread the chocolate in an even layer over the tray.
Dollop the pink chocolate onto the white chocolate in various places. Working quickly, use a skewer to swirl the chocolate to create a marbled pattern. As soon as you are happy with the pattern, press the freeze-dried raspberries into the chocolate. Give the tray a little shake to help embed the raspberries. Place in the freezer for 1 hour or until completely set.
Carefully snap the set chocolate into sail-like shapes. If the chocolate
has set firm enough, it should snap quite easily.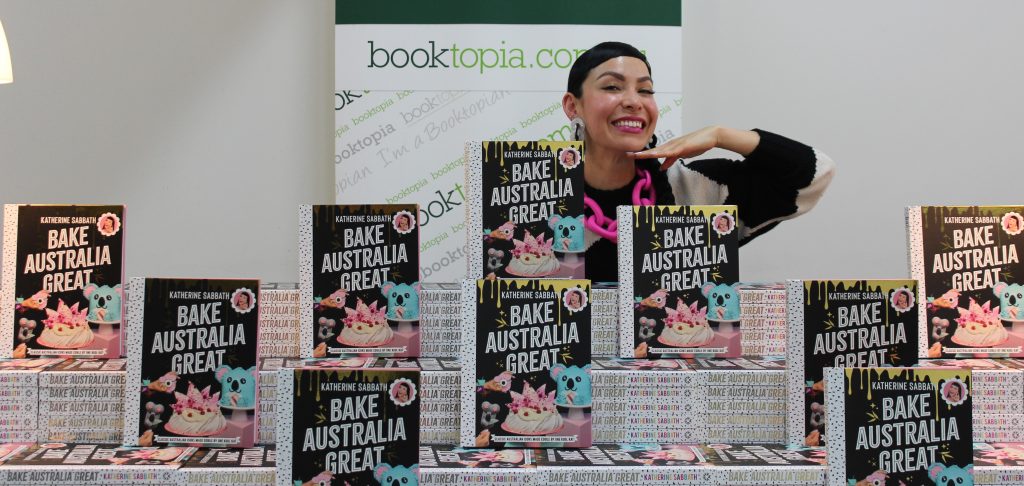 Assembly and Decoration
500 g (1 lb 2 oz) mascarpone cheese
2 teaspoons vanilla bean paste
300 ml (10½ fl oz) single (pure) cream, whipped
1 handful fresh raspberries
Carefully place the pavlova on a cake stand or serving plate.
Combine the mascarpone and vanilla in a bowl, then gently spoon into
the centre of the pavlova.
Top the pavlova with the whipped cream and the drained peaches. Adorn with the chocolate 'sails' to emulate the sails of the Sydney Opera House. Add a handful of fresh raspberries. Serve immediately.
Decorating Tips
If you are using any type of couverture chocolate (my personal favourite), which has a high cocoa butter content, you will need to temper (also known as 'crystallise') the chocolate in order to obtain the best taste, texture and overall results. (See page 245 of Bake Australia Great for tips on working with chocolate.)
You will find freeze-dried raspberries in most health food stores and specialty grocers, or you can buy them online.
You could also top the pavlova with some fresh passionfruit pulp.
Storage
The pavlova is best served as soon as it is decorated. It can be refrigerated for 4 days, but will soften once it absorbs the moisture from the peaches.
---
You'll find this recipe and loads more in Bake Australia Great by Katherine Sabbath (grab yourself a SIGNED COPY while stocks last)!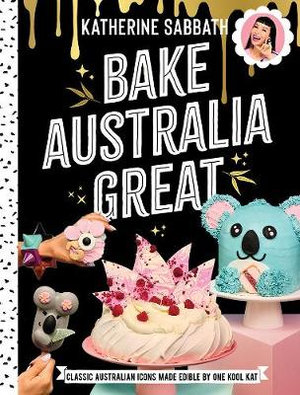 Bake Australia Great
Edible Australiana cookbook from a cake and style queen with a gigantic fanbase.
This mad-cap collection of edible Australiana will win over anyone with a love for the land of the Great Barrier Reef, Sydney Opera House and Big Banana. Style maven Katherine Sabbath's deliciously witty cakes range from kitsch and cute, to stylish and sophisticated...
About the Contributor