Hello again! I'm back again with a theme close to my heart:
GENTLE BOYS
I have three sons. Two of them are great readers, but the third is dyslexic so reading has always been a challenge for him. I wrote the Billie B Brown books ten years ago when he was in grade two so he could access stories with genuine character development that were written in the language of an early reader. Back then, Billie broke the stereotypes of femininity by being "brilliant, brave and bold". She is adventurous and likes playing soccer, but doesn't mind dressing up and playing with dolls, too: your everyday, well-rounded kid, really.
Since then, there have been many brilliant girl characters appear on the scene; cutting their own paths and using their smarts to create their own adventures, with or without the company of boys. But recently I realised I haven't seen as many well-rounded boy characters following in the path of Jack, who is gentle and sensitive, written to counteract the masculine stereotypes of battles, action heroes and toilet jokes. I have no problem at all with any of these themes in kids' books – in fact, I was thankful for books like this to help my own reluctant reader stay engaged – but I believe we do our boys a disservice if we think this is all they are capable of reading.
So today, I've picked three books that celebrate all the ways boys can be kind, gentle and curious!
When Billy Was a Dog
by Kirsty Murray and Karen Blair (Illustrator)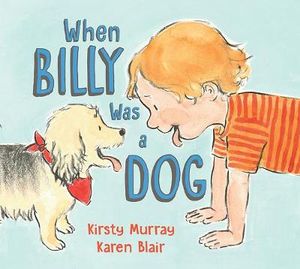 This duo has already published a gorgeous picture book together called Puddle Hunters about the simple joy of interacting with your environment and the lovely slow pace that being fully present with a child can achieve. In When Billy Was A Dog, our main character, Billy, desperately wants a dog of his own and when his parents deny him this, he decides to become one himself.
In a beautiful, gentle way, the author and illustrator show us a family that allows their little boy to fully inhabit his imagination without shaming him, and also teach him how to consider the puppy's feelings when he starts to become too loud and boisterous. There is nothing here that is heavy-handed or didactic, but seeing a little boy being treated with gentleness and empathy, and then teaching these qualities to him when he is ready to learn them for himself, makes this the perfect read aloud for the little person in your life.
Buy it here.
High Five to the Boys: A Celebration of Ace Australian Men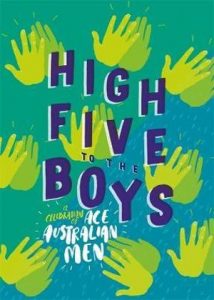 It would be easy to feel cynical about publishing a book for boys in the wake of the extraordinarily successful and timely books Goodnight Stories for Rebel Girls by Elena Favilli and Francesca Cavallo and the Australian follow-up Shout Out To The Girls!, but I was thrilled to see the arrival of High Five To The Boys. This is a wonderfully diverse showcase of admirable Australian men throughout history, from sporting hero Adam Goodes ("Cheer, cheer the sportsmen who play with determination and courage, and use their success on the field to create opportunities for others") to social commentator Waleed Aly ("Here's to the people in the media who aren't afraid to make their voices heard when they see injustice and inequality").
Parents, teachers, children's authors and publishers all have a unique opportunity to shape the way our next generation develops and how children see themselves reflected in our society. To this end it's important to actively seek out good role models in media and leadership, but also to point out people working quietly behind the scenes participating in every day acts of kindness and empathy. All of the men in High Five To The Boys are great role models, but the overriding message is that they are celebrated because of how they have contributed to society and helped others. This book shows there are many ways to be a good man in the world.
Buy it here.
Noah and Blue's Zooniverse: The Speedy Spidersaurus
by Nova Weetman and Chris Kennett (Illustrator)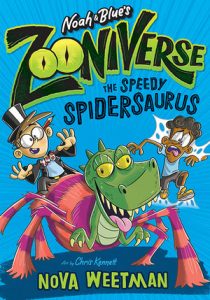 This is a gorgeous new series about the friendship between two boys: Noah, who likes to dress in a top hat, bow-tie and glass-less glasses, and Blue who is meticulous about time, loves spouting facts and doesn't mind snacking on the crusts left around Noah's messy bedroom. Noah has been given a mysterious book by his inventor grandfather, which he activates with a pair of dice, a special pencil and an hourglass hidden in the cover. But of course the Zooniverse comes with rules, the most important being that whatever creature crawls out of the pages that morning must be back inside the covers by nightfall!
Together, Noah and Blue create weird and wonderful mash-up creatures that escape for the day, causing havoc and hilarity. These stories are full of fun and adventure, fast-paced and easy to read, but unlike many of the comparable funny books with male protagonists, they also explore deeper aspects of boyhood, like friendship, family dynamics and school, which is what I especially love about the series. The boys feel unique and authentic, they are not just created for laughs, and they have genuine feelings.
Buy it here.
---
Humour is a great way to release anger and tension, and a wonderful leveller – we all poo no matter what our age, race or religion, and fart jokes are pretty funny in any language, but I've noticed often in the way we interact with boys, humour is sometimes used as a deflection mechanism to avoid sitting with any genuine feeling. We are used to girls expressing a wide range of emotions, but many of us feel uncomfortable seeing boys (or men) cry.
Being fully present with our feelings is difficult at any age, but if we only encourage boys to "laugh it off" then surely we are missing a valuable opportunity to teach them how to articulate feelings of hurt, frustration and shame, before they end up so deeply suppressed they become toxic. As Jess Hill says, in her brilliant book See What You Made Me Do, "Male shame…is built on one unbreakable rule: do not be weak. To be a man is to be strong, powerful and in control. Weakness, vulnerability, dependency: these all break manhood's number one rule. For some men, the merest emotional disturbance – the slightest hint of vulnerability – can be so intolerable they must immediately expel it, usually by finding someone or something else to blame."
Recently, I came across an experiment done by the BBC that involved dressing girl babies in blue and boy babies in pink and watching adults interact with them. The boy babies dressed in pink were handed dolls and soft toys to cuddle, whereas the girl babies dressed in blue were handed building blocks and puzzles. While it was understood that the gendered actions of the adults were detrimental to the babies dressed in pink (the "girls") by depriving them of toys that provided spatial awareness, problem-solving and physical skills, I wonder if it was also considered depriving the babies dressed in blue (the "boys") the opportunity to interact with soft toys and dolls in a gentle, nurturing way could also be detrimental to their emotional growth?
Recently, I went with my sister to watch her six-year-old twin boys perform in The Nutcracker. They were adorable in their miniature tuxedos and ballet shoes alongside all the little girls in their buns and tutus. I watched on in curiosity to see the roles the girl dancers played were of all impeccably behaved, gentle children, whereas the three boy dancers had to act naughty and annoying, running around the exasperated girls, pretending to pull their hair and break their toys.
Even though this is a ballet written over a hundred years ago, it got me thinking of how many of the books and television shows I had grown up with where boys were delegated to this role and wondered what kind of message this might be giving many boys, who would never dream of being so insensitive in real life. Why do we always give roles like this to boys, when it is the opposite of what we want them to be? And like Bart Simpson, they are then rewarded for annoying behaviour and stupidity with laughter.
Sadly, my nephews have now abandoned ballet after being informed by a playmate that it was "something only girls do". They told me this, laughing it off, to show they didn't care, which I can't say didn't break my heart a little. We have come a long way breaking down many of our old-fashioned gender-stereotypes of what it means to be a girl, but maybe we can also begin to consider a wider range of what it means to be a boy?
I would like to believe that all boys are born gentle, sensitive and loving, so why are we so quick to socialise this out of them? I would love to see more boys doing ballet,* dressing-up and playing imaginary games for as long as they want without being told this is something "only girls do". And if we can supply them with books that encourage them to explore emotions and articulate their feelings, hopefully this will go some way to ensure we continue to fill the world with gentle, kind and empathetic men. That's a future that feels good to me!
See you next month!

* Since I wrote this post I have discovered the wonderful #boysdancetoo movement that has sprung up following a stupid comment made on television deriding Prince George for enjoying ballet at school. Hooray!
About the Contributor