Bruce Pascoe's Dark Emu is well and truly the book of the moment; it was announced last night that the groundbreaking work of indigenous history has been chosen as the first book for the new inaugural Parliamentary Book Club.
The Parliamentary Book Club is an initiative masterminded by Books Create Australia and led by Senator Hollie Hughes and Graham Perrett MP, where the Australian public nominates a book for all participating politicians to read which will then be discussed at an event in Parliament House.
Any Australian book written in the last five years was free to be nominated on social media during the two week nomination period, and Dark Emu was the overwhelming winner. Other popular books were No Friend But the Mountains by Behrouz Boochani, Eggshell Skull by Bri Lee, ​Too Much Lip by Melissa Lucashenko and ​Call of the Reed Warbler by Charles Massy.
Bruce Pascoe said, "I'm looking forward to the conversation. Dark Emu analyses the past but it is about the future, how we manage the land, how we care for each other."
The first Parliamentary Book Club will be held in early 2020, where Bruce Pascoe and a representative from his publisher, Magabala Books, will travel to Canberra and join the discussion.
Well done Bruce!
---
---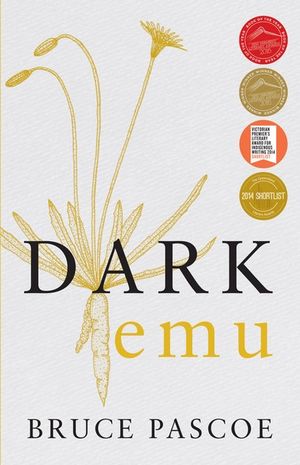 Dark Emu
Aboriginal Australia and the Birth of Agriculture
Dark Emu puts forward an argument for a reconsideration of the hunter-gatherer tag for pre-colonial Aboriginal Australians.
The evidence insists that Aboriginal people right across the continent were using domesticated plants, sowing, harvesting, irrigating, and storing — behaviours inconsistent with the hunter-gatherer tag. Gerritsen and Gammage in their latest books support this premise but Pascoe takes this further and challenges the hunter-gatherer tag as a convenient lie. Almost all the evidence in Dark Emu comes from the records and diaries of the Australian explorers, impeccable sources...
About the Contributor
Olivia Fricot is the Editor of the Booktopian Blog. After finishing a soul-crushing law degree, she decided that life was much better with one's nose in a book and quickly defected to the world of Austen and Woolf. You can usually find her reading (obviously), baking, writing questionable tweets, and completing a Master's degree in English literature. Just don't ask about her thesis. Olivia is on Twitter and Instagram @livfricot - follow at your own risk.
Follow Olivia: Twitter