Today is the release day for Relic, the first book in a brand new YA fantasy trilogy by Booktopia's very own Bronwyn Eley! Relic is full of incredible female characters, so we asked Bronwyn to tell us a little bit about them and why they're so important to her.
Read on!
---
Having strong female characters is one of the most important things to me when I'm writing young adult fiction. That's because it's important to me to be a strong woman in real life.
By "strong" I don't necessarily mean the cut-throat, physically-capable, sword-wielding, tough-as-boots protagonist that you're all probably picturing. I'm talking about women with flaws, women who struggle, women who overcome, women who challenge. Representing real women in my writing is what I mean, and real women are often strong not because they can wield a sword or because they shove their boldness or strength in other people's faces. Women are strong because they have a rainbow of emotions and characteristics – some good, some bad – and can still work day-by-day to be a better person.
Women can be caring, gentle, nurturing, loyal and kind. Women can also be spiteful, cruel, vapid, selfish, manipulative and arrogant. And women can be passionate, determined, intelligent and inspiring. Women can be all of these things, as can men! In my opinion, a strong woman has many of these characteristics, the good and the bad. A strong woman knows when she's been cruel and has the strength to acknowledge it and make amends (where necessary!) for her behaviour.
When I look at all of the main female characters in my novel Relic, I can see both the good and the bad in them. My goal was to try and make them as real as I possibly could, because real women are complex. Real people are complex.
Kaylan, my protagonist, is physically strong and that gives her an extra boost of capability, independence, and control over her own life. She is also mentally and emotionally strong, given what she has to deal with in her family life. She is strong, down to the bone, but throughout the course of Relic that strength is taken away from her piece by piece, day by day. Her physical strength fades to the point where she is unable to defend her own body. Her mind is similarly warped by the Relic, making her question her own reality. If anything has survived by the end of the book, it is her emotional strength. Despite everything that has happened to her, she pushes on. She fights. Even when her mind and body are betraying her and even after she has made some questionable decisions, she keeps going.
I have three main female characters in my novel – Kaylan, Shae and Jesper – and none of them are living the life they want. Two have been forced into a life they would rather run from, and the other chose a life that would help her family. Their stories aren't unique; all three of them are trapped, like most of the citizens of Edriast. So many important choices are taken away from them and I use Kaylan, Shae and Jesper to show how that freedom is lacking. How each of them is suffocating in their own way. How they each desire something different but are unable or unwilling to fight for those desires.
Does this make them weak or strong? You could probably make an argument for both sides, but it's important to remember the bigger picture, which is Edriast itself. This is how everybody lives. You either do what you're told or you suffer the (sometimes deadly) consequences.
Strength often means putting others before yourself, as Kaylan and Jesper both do. But sometimes strength means putting yourself first, and this is something I am looking to explore throughout the series. Each of the women in my trilogy represents a different kind of strength, and I hope that readers will come to respect and admire them as I do.
---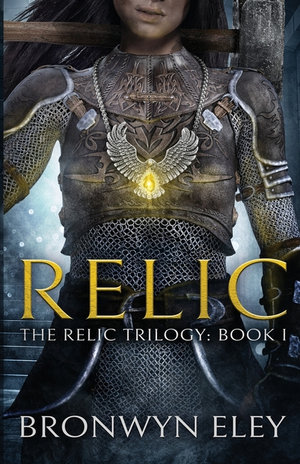 Relic
The Relic Trilogy: Book 1
In the city of Edriast, there is no deadlier duty than to serve as the Shadow.
As the personal servant of the powerful Lord Rennard, the Shadow's life is all but forfeit. Rennard possesses one of five rare and dangerous Relics - a jewel that protects his bloodline, but slowly poisons everyone else in its proximity. When the current Shadow succumbs to its magic, nineteen-year-old blacksmith Kaylan is summoned to take his place.
It's an appointment that will kill her...
About the Contributor
Before entering the exciting world of books, Bronwyn served in the Royal Australian Air Force, travelled extensively and worked (still does!) as a barista on the weekends. Books are her true passion. Bronwyn's debut fantasy novel Relic is coming out in 2019 with indie publishing house Talem Press. They are to publish her entire trilogy called The Relic Trilogy. In her spare time, Bronwyn writes, reads and enjoys keeping fit (which she undoes by eating loads of chocolate) with Martial Arts and personal training. She can't answer what her favourite book is but she has a soft spot for Peter Pan (J.M Barrie), Outlander (Diana Gabaldon), Stardust (Neil Gaiman), The Illuminae Files (Jay Kristoff and Amie Kaufman) and Six of Crows (Leigh Bardugo). Fantasy, sci-fi and YA make up the majority of her bookshelves.
Follow Bronwyn: Twitter