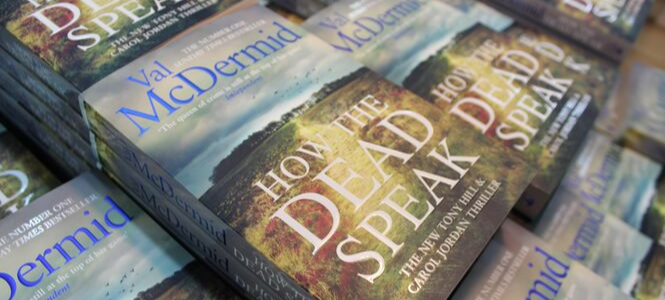 Crime fiction is an ever-changing beast of a genre, and nobody knows this better than the Scottish author Val McDermid.
Often called the queen of crime, Val is a veritable legend in the crime fiction scene and beyond. She recently served as a judge for the 2018 Booker Prize and received multiple awards, including the CWA Gold Dagger, CWA Cartier Diamond Dagger, and the Lambda Literary Foundation Pioneer Award.
Such accolades are the natural consequence of being the author of such excellent bestselling novels as The Wire in the Blood – (which was later adapted into the hit British crime drama series Wire in the Blood) and the Tony Hill and Carol Jordan series. The latest book in this series, How the Dead Speak, was released just last month, and we were lucky enough to have Val McDermid come in to sign some copies of it. She then sat down for a podcast with Ben Hunter and Sarah McDuling, where they talked all about her latest book and just how much the British crime writing scene has changed since she started out.
"When I first started writing, in British crime fiction most of what was available was village mysteries and police procedurals," says Val.
With her lack of knowledge about criminal law and police procedure, these were the kinds of novels she didn't feel entirely comfortable writing. That changed, however, when an American friend sent her a copy of Sara Paretsky's Indemnity Only, a riveting book about Chicago's criminal underbelly and the luckless people who inhabit it. Reading it was what Val describes as a "lightbulb moment."
"The book felt as if the crime was somehow organic. It happened because of the lives people led in Chicago, because of the jobs they did, because of the kinds of communities they had, and that excited me because it wasn't just some random murder bolted on for the sake of a puzzle," says Val.
"And so that just grabbed me and excited me, and I thought, 'This is the kind of book I want to write.'"
Inspired by this novel from across the pond, Val kicked off her crime writing career in 1987 with Report for Murder. It was a resounding success that she followed with many more novels, such as Common Murder and The Mermaids Singing, rising to fame alongside other legendary writers like Ian Rankin and John Harvey.
As such, Val McDermid has been perfectly placed to witness the evolution of crime fiction inside and outside of the UK, and she's also been at the very forefront of that change. Val's early books were often set outside of the metropolitan bubble that so much of British crime fiction resided in, and her commitment to regional stories saw her labelled as a pioneer of "tartan noir", a uniquely Scottish subset of the genre.
"The envelope of crime writing has expanded and become bigger and bigger, and really there's no kind of novel you can't write now within that umbrella of crime fiction," she says.
Spend twenty minutes listening to Val talk about crime fiction and you'll come away with the impression that it's a genre that's always changing, with fresh new blood coming in every year. As the host of the New Blood panel at the Theakston Old Peculier Crime Writing Festival, Val has seen this firsthand and it's a prospect that thrills her to this day.
"The boundaries have just been pushed out further and further, and I think that's been the most exciting change that I've seen," she says.
You can listen to the full podcast with Val McDermid below and buy yourself a signed copy of How the Dead Speak here!*
---
*while stocks last.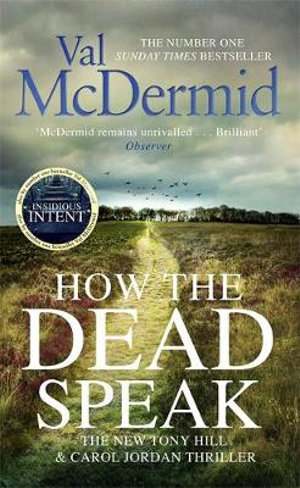 How the Dead Speak
The next heart-pounding thriller from number one bestseller and queen of crime, Val McDermid
After an explosive case that forced Tony Hill and Carol Jordan to reassess everything they thought they knew about right and wrong, both are dealing with the fallout in their own separate ways. While Tony must pay the price for his actions, Carol is conducting investigations into suspected miscarriages of justice.
But when a shocking discovery is made on a construction site, and skeletal remains are found to belong to a killer...
About the Contributor
Olivia Fricot is the Editor of the Booktopian Blog. After finishing a soul-crushing law degree, she decided that life was much better with one's nose in a book and quickly defected to the world of Austen and Woolf. You can usually find her reading (obviously), baking, writing questionable tweets, and completing a Master's degree in English literature. Just don't ask about her thesis. Olivia is on Twitter and Instagram @livfricot - follow at your own risk.
Follow Olivia: Twitter