Did you know that if you leave a review of your most recent book purchase on Booktopia, you could win a $100 gift card?* Because you can!
Rate your recent book purchases (books, eBooks, and audio books are all included) with a review of between 115-350 words and you'll automatically enter the draw. Our panel of book-loving judges will then choose the best three reviews every month and the reviewers will receive a $100 Gift Voucher.
So, what's your verdict on your recent book purchase? Your fellow Booktopians would love to hear what you think!
Make it fun, make it sad, make it dramatic or make it rhyme. The choice is yours, as long as you impress our panel of judges with your unique take on your last read.
Here are some handy tips for writing a good book review:
Hook your readers in with a snappy first sentence that captures exactly how you felt about the book.
Tell us why you loved the book – was it the fantastic writing? The compelling story? The richly drawn characters?
Was there anything really unusual or interesting about how the story was told? Tell us!
Tell us why you think other people might love it too.
Don't just tell us the plot – give us a general idea of where the story goes without revealing any spoilers.
Did it remind you of any other books you've read and loved? Name them!
When you're done, check for any spelling mistakes.
Scroll down to read the three winning reviews for August!
---
Review by An Adult Reader Who Loves This Book
Once there were wizards …
Another BRILLIANT series from Cressida Cowell, author of the amazing How To Train Your Dragon series. Surely it can't happen TWICE?! I'm a twenty-something-year-old reader and I am NOT ashamed to proclaim that I love Cowell's work.
Written in the same flavour and style as HTTYD, The Wizards of Once is full of adventure, full of moments when your eyes can't keep up with the sheer power and pace of the storytelling, full of mystical twists and turns, and full of heart and wisdom. It follows the adventures of Xar, the over-confident boy born to the Wizard tribe … but wielding no magic; and also the story of Wish, the quiet girl born to the Warrior tribe … but with a magical secret. Their tribes are at war, but in one night these two anti-heroes realise something far more sinister … the return of witches.
As usual, Cowell's word-building is outstanding. It's a children's novel, but it's written with flair and gusto, with mystery and wisdom. She captures the peril and melancholy, the thrill and adventure, the sharp wind and deadly woods in each and every scene. And of course, the book is left on an excellent cliff hanger. The story is resolved … but is it? Because surely … it can't happen TWICE? The only reason I am giving it 4/5 stars is because I still cling to How To Train Your Dragon. The storyworld in Wizards, whilst vivid and magical, isn't quite as lovable and quirky as the famed isle of Berk. Nevertheless, I'm pre-ordering every title that follows.
Buy it here.
---
Review by Rach the Reader from Wodonga, Victoria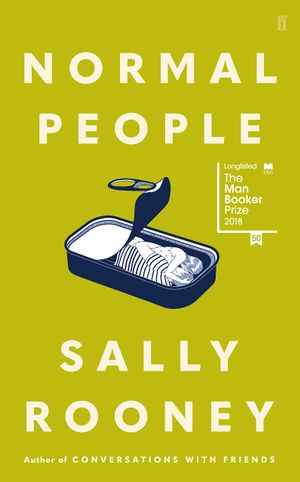 Poignant, intimate, heartbreaking
I read Conversations with Friends and then felt compelled to read this. Rooney is a very talented writer. Her ability to draw character is brilliant. The psychological profiles she creates are believable and reveal her as a gifted writer with a keen power of observation and a knack for plot that exposes the full consequences of a particular psychological outlook.
Damaged people can function in ways that are at once attractive and seductive and also self-destructive and cruel. There is this mixture of victim and antagonist in her characters and this is set against a plot line that explores the ambivalence and uncertainty of modern love. Why is it that two people – apparently suited to each other in so many ways – continually fail to maintain a relationship with each other which could sustain them? What exactly holds two people together?
Normal People tries to explore what 'normal' is and how the definition changes over time and between different people. The environments that make one person feel alienated can make another feel comfortable. What's normal life for one, is another's painful existence.
I loved Normal People – for the writing and also for the power of Rooney's ability to explore dark places and force us to look at things about ourselves most writers are too afraid to pursue.
Buy it here.
---
Review by JoJo
Stunning Tarot Card Deck and Book set
I am sooooo in love with The Bonefire Tarot Card Deck and Book Set. This is the first time I have ever been compelled to write a review. I feel like I've stumbled across something absolutely amazing and need to tell the world about it.
The artwork is absolutely amazing and so unique. If you love cards that have lots of symbols to jog your memory, you will love these cards. I have never seen anything like these before and the book that comes with it is a proper book … not a piddly little thing that flies out of my arthritic hands every time I pick it up.
It's no wonder that Bonefire Tarot was voted in Aeclectic Tarot's Top Ten Decks. The cards are in the tradition of Rider Waite Smith with LOTS of extra symbols. Perfect for beginner, intermediate or advanced readers.
The set comes in a really sturdy flip top box with ribbons attached to the top and bottom. Box measurements are approximately 23cm high, 15cm wide & 5cm deep. The cards are a good quality cardstock measuring 11.8cm high and 8.8cm wide. The book is 192 pages and approximately 22cm high, 14cm wide & nearly 1.5cm deep. The pages are made from good quality paper and the whole book is full of beautiful full colour artwork. The book has a really decent write up on each and every card and one of my favourite things is that it has a list of the symbols contained in each card, written at the end of each write up and a full Glossary of Symbols at the end of the book.
For anyone who hasn't purchased anything from the Booktopia website: I have been purchasing items from them for quite some time now. I have never, ever had a problem. Their prices are fantastic. Postage is super quick and items always arrive in extremely sturdy packaging.
Buy it here.
---
Congratulations everyone!

About the Contributor
Olivia Fricot is the Editor of the Booktopian Blog. After finishing a soul-crushing law degree, she decided that life was much better with one's nose in a book and quickly defected to the world of Austen and Woolf. You can usually find her reading (obviously), baking, writing questionable tweets, and completing a Master's degree in English literature. Just don't ask about her thesis. Olivia is on Twitter and Instagram @livfricot - follow at your own risk.
Follow Olivia: Twitter