Kate Forsyth is one of Australia's most treasured storytellers. On today's edition of What Katie Read, she gives us the rundown on all of the best books she's been reading lately…
---
by Samantha Ellis
Every few months, I like to re-read an old classic that I haven't read for a while. Last year I chose The Tenant of Wildfell Hall by Anne Bronte, a book I had not read since I was a teenager. I was completely blown away by it. In my review of it, I wrote:
"The Tenant of Wildfell Hall was an astonishingly brave novel for a young woman to write in the early part of the 19th century. It's a story about marital abuse, and Helen's courageous action in leaving her husband would have been thought utterly shocking at the time. One of the biographers of the Brontës, May Sinclair, wrote "the slamming of Helen Huntingdon's bedroom door against her husband reverberated through Victorian England" … The Tenant of Wildfell Hall does not flinch away from depicting alcoholism, adultery, domestic violence, or attempted rape. It is clear-eyed and unflinching in its depiction of the realities of 19th century English life."
I've been a fervent fan of Anne Bronte's ever since, and feel she has been unfairly dismissed by many readers & critics who prefer the wild romances of her sisters Charlotte and Emily.
I went to visit Haworth Vicarage while I was in the UK recently, and saw this for sale in the museum shop. I bought it, and began reading it while I was staying in the village where these three extraordinary women writers grew up. I spent the day visiting their cramped home and marvelling at the tiny books they made as children, then tramping on the moors in the fresh heather-scented wind, then snuggled down to read this in the evening. It was perfect.
I would describe Samantha Ellis's book as a bibliomemoir, as it examines her own thoughts and feelings about Anne Bronte and her life and work in a very warm, intimate and natural way. It is like drinking good wine with a dear friend by the fire, talking excitedly about a book and why you love it and what it has taught you about life.
There is no high tone or literary theory here. Samantha Ellis compares the Bronte sisters to the Beatles, for example. (Charlotte is like Paul McCartney, ambitious, accessible and the driving force behind the group's success; Emily is like John Lennon, a mercurial genius; and Anne is like George Harrison, unfairly overlooked and forgotten.)
Each chapter explores a different influence upon Anne's work, such as her mother who died when she was very young, or her brother Patrick whose love affair with the married wife of their employer destroyed Anne's career as a governess. It all, of course, examines her novels The Tenant of Wildfell Hall and Agnes Grey (which I'm ashamed to admit I have not read).
I think this is a wonderful book – intelligent but accessible, intimate yet well-researched and thorough, witty yet extremely poignant, familiar in its content yet fresh and illuminating in its outlook. Read it, then go and discover Anne Bronte's work for yourself (and yes, yes, I plan to read Agnes Grey very soon!)
Buy it here.
---
by Laura Freeman
Laura Freeman was diagnosed with anorexia at the age of fourteen. But this is not a book about her diagnosis and illness. It is instead a story about how books helped her recover her love of food, and that makes it both refreshing and powerful.
It began with her decision to read the entire collection of novels by Charles Dickens. She was struck with the immense pleasure many of his characters take in the consumption of food.
'While I was reading Dickens something changed. I didn't want to be on the outside, looking at pictures, tasting recipes at one remove, seeing the last muffin go to someone else. I began to want to want food. To share it, savour it, to have it without guilt,' she writes.
Gradually Laura began to eat again. As she grew stronger she searched out books that would help her more. She read a collection of memoirs about World War I, an interesting and unexpected choice, and also the diary of Virginia Woolf, who was most likely anorexic herself.
'While Woolf has been the most extraordinary consolation – and no other writer has so helped me make sense of my own mind, nor offered such a rubric for how I might mend it – she is also a writer who frightens me. For long periods she succeeded in reigning in and stabling her galloping horses, tied them, kept them in hay. For years, she managed it. And this from her 1935 diary, January, when she was fifty-two: "I wish I could find some way of composing my mind – It's absurd to let it be ravaged by scenes … On the contrary, it is better to pull on my galoshes & go through the gale to lunch off scrambled eggs & sausages."
That is the remedy to: "I can't fight any longer." That is what I hold tight from Virginia Woolf. Galoshes. Courage. On.'
A more obvious choice was returning to childhood classics such as The Secret Garden (a book that always makes me hungry!), Wind in the Willows, and Harry Potter (which is, of course, brimming over with delightful food-loving scenes.)
I absolutely loved this book. The writing is deft, razor-sharp, and brave, and I added a great many titles to my own to-be-read list.
'What I have found in reading isn't a dictionary of foodstuffs – A is for apple amber, B is for beautiful soup, C is for cheese on toast – but a whole library of reasons to eat, share, live, to want to be well.'
Buy it here.
---
Margaret Atwood
In July, my daughter and I flew to Athens to meet my husband and sons for three weeks in the Greek islands. Her English teacher suggested that she read The Penelopiad by Margaret Atwood in preparation. It's only a slim book, and so I tucked it in her bag. I read it while we were in Crete, my daughter having thrown it aside.
The Penelopiad is essentially the famous story of Odysseus and his long journey home after the fall of Troy, told from the point of view of his wife Penelope and her twelve maids, who were all hanged by her son Telemachus at the end of the saga.
I love retellings of myth and fairytales, and I studied The Odyssey in my first degree, so I was really looking forward to seeing what Margaret Atwood would do with this ancient tale.
It was not quite what I was expecting. Each section is followed by a different poem or song told in the voices of the twelve hanged maids. Margaret Atwood says in her introduction that they 'form a chanting and singing Chorus.' For example, 'The Chorus Line: A Rope-Jumping Rhyme' begins:
we are the maids
the ones you killed
the ones you failed
we danced in air
our bare feet twitched
it was not fair
Another is entitled 'The Chorus Line: Kiddie Mourn'; yet another is called 'The Chorus Line: If I Were A Princess, A Popular Tune' and is structured like a sea shanty:
Then sail, my fine lady, on the billowing wave –
The water below is as dark as the grave
And maybe you'll sink in your little blue boat –
It's hope, and hope only, that keeps us afloat.
One of the maids' chapters is presented as an anthropology lecture, positing 'possibly our rape and subsequent hanging represent the overthrow of a matrilineal moon-cult by an incoming group of usurping patriarchal father-god-worshipping barbarians.'
It is all very clever, and Margaret Atwood is adept at the ventriloquist's craft, though Penelope's own voice – wry and self-conscious – is strangely modern. Each chapter is very short, and basically tells the same story as The Odyssey, but at a remove since Penelope is not present and is only repeating tales she has heard. This, of course, has a distancing and deadening effect … and adds to the artificial quality created by the hanged maids' chorus.
I read it all in a matter of hours, and overall I loved the bravado of it all. I'm not sure anyone but Margaret Atwood would have got away with it. The back-cover blurb describes it as 'playful', and that adjective certainly fits. I am not a fan of satire or parody, and so would have much preferred a more serious attempt to engage with the retelling of this ancient myth. Nonetheless, it was very readable and quite amusing – if one can forgive using the hanging of twelve young women for comic effect.
Buy it here.
---
Philip Freeman
This year I have been endeavouring to read more poetry by women, and as a result have discovered the work of Sappho, the first known woman poet. She lived more than 2,500 years ago, and only a few fragments of her poems remain. She is also well known for her love poems to other women, and Lesbos – the island on which she was born – now provides us with the term 'lesbian' to describe homosexual women.
I bought this book at the iconic Atlantis Bookshop on the Greek island of Santorini while holidaying there with my family in July. It was wonderful to read this engaging and informative book about Sappho and her life and work while being in Greece myself. Philip Freeman does a brilliant job of weaving together the little of what is known about Sappho and the life of women in ancient Greece, as well as some of the interesting ways in which her poetry has survived and been re-discovered. I was particularly happy to discover the book contains every known fragment of her poetry. Perfect reading for a sunny holiday in the Greek islands!
Buy it here.
---
by Stephen Fry
I've loved the Greek myths since I read Roger Lancelyn Green's retellings as a child. I have a beautiful Folio edition of Robert Graves' classic collection, plus a great many other books on the subject – but I was eager to read this version by Stephen Fry, being a huge fan of his warm, intimate, erudite style (of course!).
I read the book whilst in Greece, and its gorgeous blue cover was almost exactly the same colour as the sea outside my window, which added enormously to my pleasure.
The book was just as delightful as I had hoped, and took me on a rollicking rip-snorting journey through these ancient stories of gods and goddesses, and all their lusts and rivalries and jealousies and cruelties. Most of the tales I knew very well; some I had forgotten, and a few I had not encountered before. This would be an excellent introduction to the myths for a teenager, or anyone who would like to know more but does not have the stamina for Robert Graves. In fact, I tossed it to my husband the moment I finished it and he is reading it right now, with the occasional snort of laughter.
Buy it here.
---
by Barbara Kingsolver
The Poisonwood Bible is one of my favourite books, but I have never read this debut novel by Barbara Kingsolver. I found it on the shelves of the yacht in which we were sailing around the Greek islands this summer (I know! Lucky me!)
It tells the story of a young woman named Marietta Greer who grows up poor in rural Kentucky. She works hard and buys herself a car so she can escape, then decides to rename herself: 'I wasn't crazy about anything I had been called up to that point in life, and this seemed like the time to make a clean break. I didn't have any special name in mind, but just wanted a change.' Marietta decides she will call herself after the first place she has to stop i.e. wherever she may be when her petrol tank runs dry.
"I came pretty close to being named after Homer, Illinois, but kept pushing it. I kept my fingers crossed through Sidney, Sadorus, Cerro Gordo, Decatur, and Blue Mound, and coasted into Taylorville on the fumes. And so I am Taylor Greer. I suppose you could say I had some part in choosing this name, but there was enough of destiny in it to satisfy me."
Taylor's voice is tough and pragmatic, yet still clearly that of a naïve young woman. It is richly coloured with homespun Kentucky wisecracks and wisdoms, and rings very true to my uneducated ears.
"'You got anything to eat that costs less than a dollar?' I asked the old guy behind the counter. . . .
'Ketchup,' the grey-hat cowboy said. 'Earl serves up a mean bottle of ketchup, don't you, Earl?' He slid the ketchup bottle down the counter so hard it rammed my cup and spilled out probably five cents' worth of coffee.
'You think being busted is a joke?' I asked him. I slid the bottle back and hit his beer mug dead centre, although it did not spill."
At first, I thought The Bean Trees was going to be a classic road trip novel with romance and redemption found along the way. Much of the early parts of the book are comic, with a range of different colourful and eccentric characters.
However, the story takes a darker tone when Taylor is given a mute and clinging child. It soon becomes clear the child has been badly abused, and Taylor finds herself a reluctant foster mother, struggling to support them both. The introduction of a pair of illegal Guatemalan refugees, Estevan and Esperanza, darkens the story even further. This juxtaposition of comedy and tragedy sits a little uneasily together, as if Barbara Kingsolver set out to write one kind of book then found herself writing something very different.
The crisis and resolution of the story also feels a little forced and unrealistic, as if the author could not see her way out of her plot tangle and so contrived a false adoption so that the little girl – named Turtle – could stay with Taylor. I am no expert on adoption laws, but it seemed highly illegal to me. Though I was so glad that the two weren't separated, I was willing to forgive the implausibility.
The Bean Trees has such a big heart, I'm willing to forgive these minor flaws. And, yes, there is a hint of a very sweet, very sad unfulfilled romance along with the final redemption.
Buy it here.
---
by Naomi Novik
Naomi Novik's Spinning Silver has my vote for one of the best reads of the year. As soon as I finished reading it, I ordered Uprooted, hoping for more of her vivid, spellbinding storytelling magic. I was not disappointed. Uprooted is just as brilliant – I tore through it in a single sitting, unable to put the book down. This is just how I love my fantasy – wondrous, intelligent, compulsive, and rooted deeply into the real (in this case, Polish folklore).
It's impossible to explain the plot without spoiling it, so I'll just let you know that it's about a young woman named Agnieszka who thinks she is very ordinary … until the day she is chosen by the local wizard to go and serve him in his isolated tower at the edge of the malevolent and sentient Wood.
Agnieszka is clumsy and shy, but also fiercely loyal and loving. She wants only to protect her friends and family, but finds herself drawn into a life-or-death struggle with the Wood itself, one which will leave her utterly changed.
Her work reminds me of some of my favourite fantasy writers – Robin McKinley, Juliet Marillier, Katherine Arden, Kim Wilkins and Lois McMaster Bujold. Utterly enchanting!
Buy it here.
---
by Ilka Tampke
I've had this book on my to-be-read shelf for quite a long time, but at last picked it up because I was sharing a stage with Ilka Tampke at the Bendigo Writers' Festival. I'm so glad I did! I loved it.
It's the sequel to Ilka Tampke's earlier debut, entitled Skin in Australia and Daughter of Albion in the US, which sold international rights around the world, was shortlisted for the 2015 Aurealis Award for Best Fantasy Novel, and longlisted for the 2016 Voss. I have not read Skin but I intend to very soon – it did not matter, as the author did a brilliant job of interweaving back story with the current narrative thread.
The book is set in Wales during the Iron Age, during the rebellion of the Celtic tribes against the invading Romans. It tells the story of Ailia, the Kendra of the Albion people (a title that seems to mean some kind of spiritual leader or prophetess). She has been living wild for a year, grieving over the destruction of her village by the Romans, but decides to go and join the rebels, who are lead by a charismatic chieftain named Caradog. It is not long before she falls in love with him, but he is already married and all his focus is on his war with the invaders. Ailia feels adrift, her role as Kendra undermined by the chieftain's advisor and Druid journeyman, Prydd, who does not trust her. She meets a Songman, and comes to believe that her role is to learn to sing as he does, to instruct and inspire and bear witness to history.
Anyone who knows anything about Iron Age Britain will know that the valiant resistance of the local Celtic tribes ended in tragedy. This adds poignancy to the tale, as does Ailia's doomed love for Caradog. The writing is deft and assured, and life in ancient Wales is brought vividly to life. I loved the mix of history and fantasy and folklore, and was reminded of the work of Rosemary Sutcliffe and Marion Zimmer Bradley – a wonderful read!
Buy it here.
---
by Tara Westover
Educated is a powerful memoir about growing up in a religious Mormon family in the mountains of Idaho. Tara Westover's father was a paranoid survivalist who buried guns and food in preparation for the end of the world. Her mother made home remedies from herbs, and used them to try and cure catastrophic injuries and illnesses in her family. Tara never went to school, or to a doctor, and her birth was not registered. She grew up believing her father was the Lord's instrument on earth – her gradual disillusionment is heart-breaking to witness.
The early chapters of the book are both the most poetic and the most powerful. Tara Westover's love for her mountain home shines through every line she writes about it. Slowly her childlike faith in her father and family is eroded. Scenes of violence and emotional abuse are hard to read (or, in my case, listen to as I had bought the audio book).
Eventually Tara begins to educate herself. She borrows books from the library and studies hard enough to be admitted to university. But unsurprisingly she finds it hard to adapt. Her long life of indoctrination is difficult to cast off. The tension between the world she is only just discovering and the skewed beliefs of her family almost break her. Only the kindness of friends and the loyalty of one of her brothers sustain her, as she slowly finds a place in the world for herself.
Memoir is always a slippery thing. The writer carefully selects what to reveal and what to hide, and the reader is privy only to their interpretation of events. In that way, memoir is as close to fiction as it is to non-fiction. This does not trouble me at all; I note it only because there are times when Tara's voice becomes quite cool and detached, and it is clear she is struggling to find a way to express her sense of hurt and betrayal. I'd have liked a little more depth of emotion, to help me understand just how difficult it was for her to cut herself off from home and family, and I'd have liked a stronger celebration of those who helped her along the way, to give me a better sense of how she managed to survive. But these are minor quibbles. In all, a very poignant and sobering life story.
Buy it here.
---
Kate Forsyth wrote her first novel aged seven and has now sold more than a million books worldwide. Her new novel, The Blue Rose, is inspired by the true story of the quest for a blood-red rose, moving between Imperial China and France during the 'Terror' of the French Revolution (we have very limited signed copies – get yours here!). Other novels for adults include Beauty in Thorns, a Pre-Raphaelite reimagining of Sleeping Beauty, Bitter Greens, which won the 2015 American Library Association award for Best Historical Fiction; and The Beast's Garden, a stunning retelling of the Grimms' Beauty and The Beast set in Nazi Germany.
Kate's books for children include the collection of feminist fairy-tale retellings, Vasilisa the Wise & Other Tales of Brave Young Women, illustrated by Lorena Carrington, and the fantasy series The Impossible Quest. Named one of Australia's Favourite 15 Novelists, Kate has a BA in literature, a MA in creative writing and a doctorate in fairy tale studies, and is also an accredited master storyteller with the Australian Guild of Storytellers. She is a direct descendant of Charlotte Waring Atkinson, the author of the first book for children ever published in Australia.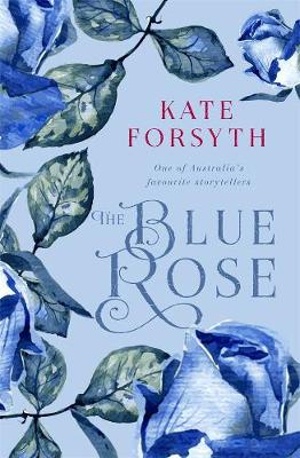 The Blue Rose
Moving between Imperial China and France during the 'Terror' of the French Revolution and inspired by the true story of the quest for a blood-red rose.
Viviane de Faitaud has grown up alone at the Chateau de Belisama-sur-le-Lac in Brittany, for her father, the Marquis de Ravoisier, lives at the court of Louis XVI in Versailles. After a hailstorm destroys the chateau's orchards, gardens and fields an ambitious young Welshman, David Stronach, accepts the commission to plan the chateau's new gardens in the hope of making his name as a landscape designer...
About the Contributor