Annabel Crabb is an Australian political journalist, commentator, and TV host, who is currently the chief online political writer for the ABC. Annabel joined us at Booktopia HQ to chat about the new edition of Quarterly Essay, featuring her essay Men at Work: Australia's Parenthood Trap. This essay deploys political observation, workplace research and her characteristic humour and intelligence to argue that gender equity cannot be achieved until men are as free to leave the workplace (when their lives demand it) as women are to enter it.
Read a Q&A with Annabel about it below, then listen to our podcast (and grab yourself a signed copy of Annabel's Quarterly Essay before we sell out)!
---
Tell us a little about your latest work for Quarterly Essay, Men at Work: Australia's Parenthood Trap.
AC: I've been thinking about this question ever since I wrote The Wife Drought five years ago: "Why is is that while women have changed their lives enormously in the last half-century to move into paid work, men's lives have remained pretty much the same?" This essay has a good look at men, and why they don't take up things like part-time work, flexible work or parental leave at anything like the rate that women do. It's a complicated issue, of course, but I think there are cultural barriers in a lot of workplaces and in the Australian psyche that tell men they shouldn't do this stuff. And that's a form of discrimination that's rarely called out. I think the result is that men miss out on a lot. So do their families.
What is it about the women's work-life balance debate that really motivates you to speak up and write about it?
AC: I guess I've worked in two fields – politics and media – in which I see male parents and female parents having a really different experience. I find it fascinating to observe – and as someone who's really deeply enjoyed the flexibility to change the way I work as my family circumstances change, I feel sorry for anyone who hasn't had the same flexibility. Which includes a lot of men. I know personally I'm a lot happier and much more productive when I can organise my children and my work around each other. It seems like basic common sense. But something in our culture – amazingly – still whispers that this is only a sensible thing for women to do, not for men. That's so weird it just blows my actual mind.
Women's rights in the workplace have advanced so far over the past century – now more than ever, it seems as if women can really have it all. Why do you think that balancing work and parenthood is still primarily seen as a women's issue?
AC: There's a couple of reasons, I think. First – women are paid on average less than men. So in heterosexual relationships it often seems an obvious course of action for the birth mother to take time off to have the baby and then follow it up with extended parental leave; hers is the salary they'll sacrifice. Then once that pattern is established and the mum's really good at all the baby stuff, it's even less likely the dad will take leave because she's better at the parenting stuff.
The truth is, though, there's a lot to be gained for both parents by taking parental leave. Every week a father spends with their baby translates to deeper involvement later in life and a more equal division of domestic labour more generally. Plus, fathers – just like mothers – tend to learn an enormous amount about themselves and about their children when they get a chance to take a break from work. It's quite an amazing part of life, but we still think broadly it's okay for men to miss out on it.
You've written about the issues faced by working women before in The Wife Drought. Do you think any substantial positive change has occurred in Australia since then, or have we backtracked?
AC: Yeah, I'm really encouraged by what's happened since then, actually. I think there's been a lot more research and corporate buy-in into the fact that gender equity in leadership isn't just a "nice" thing to do, but a commercially smart thing. Also, over the last year or two – and I write about this in the essay – there's been some movement on rethinking parental leave to refocus it on all parents rather than just on mothers. There are some big companies achieving some very significant behaviour changes by thinking laterally about this issue and that fills me with hope for the families of tomorrow.
We're seeing many more women occupying positions of power while also raising children (for instance, Jacinda Ardern). How much of an impact do you think the visibility of these women will have on the work-life balance debate?
AC: Yes I think that's changing. Ardern has been a significant leader in this respect but I also think domestically people like Tanya Plibersek, Kelly O'Dwyer and Nicola Roxon have been influential as well. The thing is though, and I can't say this enough, the work to be done in changing our notions of the interaction between having a big job and being a parent is NOT work that only needs to be done by women. Men who have families and powerful jobs need to talk more – and be asked more – about how they manage their lives. Parenthood is a juggle for everyone. Not just mothers with big jobs.
Do you think that the substantial change required to achieve gender equality in this area will come more from within the home or from public government initiatives?
AC: Neither, actually. I think governments can help, but the way that most people learn about patterns of work and life is … at work. We've all seen situations where the HR policy says that anyone's entitled to apply for parental leave or part-time work but everybody thinks actually that's only for women. That happens all the time.
Experience shows that to convince men that it's OK for them to exercise entitlements to flexible work or parental leave, they have to see other people doing it first, and they have to be absolutely confident that it won't affect their promotability or reputation at work. Given the research indicating that millennial fathers want very much to work more flexibly, this is a real opportunity for employers in both the private and public sectors to think about the messages they send to men, and how much more attractive they might be as destination employers if they introduced a genuinely equal offering for men and women.
If Australian society did manage to achieve gender equality with regards to parenthood and the work-life balance, what do you think the social and economic implications of that would be?
AC: Well, first of all it would lead to more productive fathers at work. There is a mountain of research finding that the more flexibility workers have to manage their employment with their family obligations, the happier they are, the healthier they are, the more loyal they are and the more work they can actually do. The more equal the split of labour at home, the more women are freed up to participate in paid work, so that's good for GDP. Plus, I think it would make a lot of kids happy.
What do you hope your readers will take away with them after reading this Quarterly Essay?
AC: Most of all I hope readers might question their own assumptions. Australia is a funny place – we have a lot of very evolved ideas, but also we have pockets of very old-fashioned thinking. Quite notably, about whose job it is to take charge of domestic affairs when a baby is born. Seriously, I would never argue that men and women are identical, but I do think there are men who would like the same access to flexibility that women quite commonly have, and I think it's a crying shame for all involved that they don't get it.
And finally, what's up next for you?
AC: A bath and a glass of wine, I'm hoping.
Thanks Annabel!
---
Listen to our podcast with Annabel about the Quarterly Essay!
---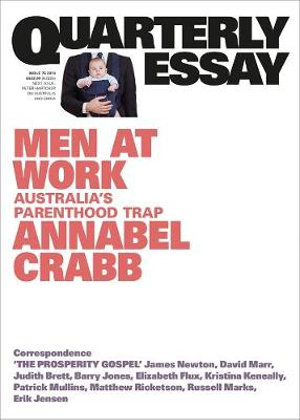 Men at Work: Australia's Parenthood Trap
Quarterly Essay
When New Zealand Prime Minister Jacinda Ardern announced her pregnancy, the headlines raced around the world. But when Scott Morrison and Josh Frydenberg became the first Prime Minister and Treasurer duo since the 1970s to take on those roles while bringing up primary-school-aged children, this detail passed largely without notice. Why do we accept that fathers will be absent? Why do so few men take parental leave in this country?
In the last half-century, women have revolutionised the...
About the Contributor