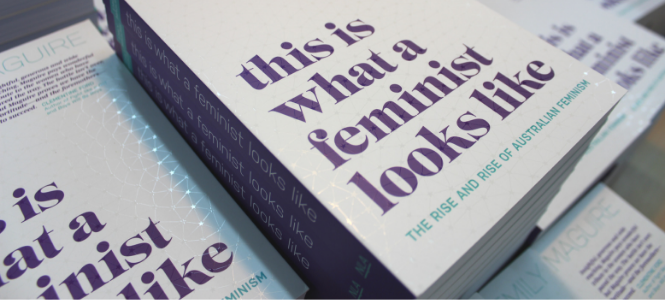 Emily Maguire is the proud author of a Miles Franklin-shortlisted novel and several books on feminism, including the upcoming This is What a Feminist Looks Like.
But growing up in the afterglow of feminism's second wave, the big F word wasn't something that Emily was ever really comfortable with. In her childhood world, feminism existed as a vague sensibility of empowerment – girls could do anything boys could do, but were never taught any specific feminist ideas or history.
Emily certainly didn't know any feminists … or so she thought.
'Feminist' is a label that Emily has now wholeheartedly embraced. More importantly, however, she's come to understand that the fight for women's rights is far from over.
'I did really have this sense that feminism was a good thing, but that it was something from the past and we were done,' says Emily. 'And that's been a 20-30 year journey of discovering how wrong I was and moving through the stages of anger about that and into actually wanting to do something about it.'
It's this which spurred Emily to write This is What a Feminist Looks Like, an introduction to everything that's happened within Australian feminism over the last 200 years. She began when The National Library of Australia invited her to look through their archives and write a book that summarised the history and introduced it to contemporary readers. It was an exhaustive (and exhausting!) task, but one that Emily tackled with enthusiasm.
'It was so fascinating, and I realised that even though I've sort of been active as a feminist for over a decade and I've written two books about feminism and young women, I just knew none of this history, says Emily.
'I became really excited about the idea of telling some of those stories from our history in this moment, when many people are thinking about "What needs to be done now, what's the way forward?"'
Ultimately, This is What a Feminist Looks Like is an examination of our past battles as women, so that we might better understand how we fought to get to where we are today. Emily structures her book around central themes and significant historical events, as well as the people who lived and fought through them – those women who wrote letters, lobbied politicians, ran refuge centres, and so on.
'It took so many people to make every single one of these advances in women's rights, and that became a really important thing for me to think about – how this information, how this history is useful to us now,' says Emily.
'And I think that was the real standout factor – that everybody has a place in this movement, and not everybody can be or wants to be a leader or a public figure, but every one of those leaders and public figures was backed up and supported by this mass of other women who were doing what they could, when they could, and that's what really what made the change happen.'
Emily Maguire came to Booktopia for a book signing, before sitting down for a podcast with Joel Naoum, our non-fiction specialist. Listen below and pre-order yourself a signed copy of This is What a Feminist Looks Like!
---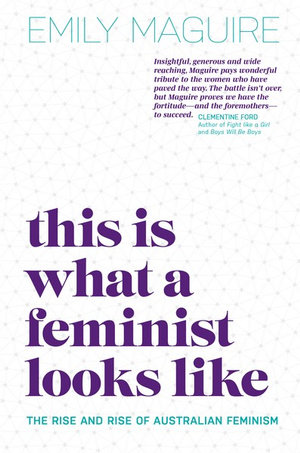 This is What a Feminist Looks Like
The rise and rise of Australian feminism
Women must quit their jobs when they marry.
They are barred from trade unions and universities.
Their husbands can legally rape them.
And they are not allowed to vote.
This could be the reality in Australia today — if it weren't for the many women who, over more than a century of activism, fought for change. In this passionate and timely account, Emily Maguire charts a course through the history of Australian feminism ...
About the Contributor
Olivia Fricot is the Editor of the Booktopian Blog. After finishing a soul-crushing law degree, she decided that life was much better with one's nose in a book and quickly defected to the world of Austen and Woolf. You can usually find her reading (obviously), baking, writing questionable tweets, and completing a Master's degree in English literature. Just don't ask about her thesis. Olivia is on Twitter and Instagram @livfricot - follow at your own risk.
Follow Olivia: Twitter