As Booktopia's social media coordinator, Bronwyn Eley usually spends more time behind the camera at a Booktopia book signing than in front of it, but now she's slipping into the role of published author for the very first time.
Her debut novel Relic is the first book in a trilogy, and it's an epic YA fantasy story full of dark magic, rebellion, and (best of all) a host of strong and complex female characters.
It follows Kaylan Rove, a young blacksmith in training who is selected for the deadliest job in the city of Edriast: to be the Shadow, the personal servant of Lord Rennard. Rennard is the guardian of one of the five Relics, mysterious magical stones that protect the guardian by slowly poisoning anyone unlucky enough to be held in close proximity to it for too long. It means that Kaylan's selection as the Shadow is effectively a death sentence, but to protect her family from Rennard's wrath should she fight back, she submits to her fate.
But rebellion is coming, whether Kaylan likes it or not, and before long she must decide for herself what part she will play in the oncoming battle.
It's a thrilling story where nothing is ever black and white, and one which is driven by the depth and complexity of its characters. After signing a big pile of her books, Bronwyn sat down with Sarah McDuling and myself for a good long chat about Relic, in which we immediately got into what makes characters like Lord Rennard so compelling.
"Sometimes I enjoy living in the grey, and Lord Rennard is definitely grey," says Bronwyn.
It's Kaylan, however, who is the book's standout. She is brave and resilient, with a will of steel and a heart of gold that she opens up to whoever needs it (sometimes even to Rennard). She also takes immense pride in her work as a blacksmith, something which was crucial to the role Bronwyn wanted her to play in the story.
"One of the main reasons I made her a blacksmith is because I always say that if I ever got trapped back in time (because I think about these things!), I would like to be a blacksmith," says Bronwyn, who actually did a short blacksmith course for her writing research.
But the main reason for Kaylan's profession actually came out of the idea of the Relic – how do you best convey the effects of a magical artefact that poisons anyone who hasn't claimed its allegiance?
"I thought, when I was trying to create what my main character would be like, 'What kind of person do we need to have as a protagonist that would suit telling this story?'" Bronwyn says. "I needed someone mentally strong and physically strong, so that the effects of the Relic, when they start to take hold of her, are really quite prominent."
You can hear more about Relic, the stories that inspired it, and what's in store for Kaylan over the next two books in our podcast with Bronwyn – have a listen below and buy yourself a signed copy before they sell out!
---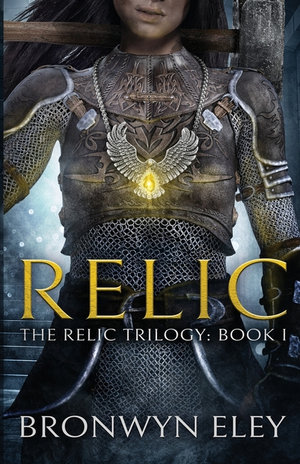 Relic
The Relic Trilogy: Book 1
In the city of Edriast, there is no deadlier duty than to serve as the Shadow.
As the personal servant of the powerful Lord Rennard, the Shadow's life is all but forfeit. Rennard possesses one of five rare and dangerous Relics - a jewel that protects his bloodline, but slowly poisons everyone else in its proximity. When the current Shadow succumbs to its magic, nineteen-year-old blacksmith Kaylan is summoned to take his place.
It's an appointment that will kill her...
About the Contributor
Olivia Fricot is the Editor of the Booktopian Blog. After finishing a soul-crushing law degree, she decided that life was much better with one's nose in a book and quickly defected to the world of Austen and Woolf. You can usually find her reading (obviously), baking, writing questionable tweets, and completing a Master's degree in English literature. Just don't ask about her thesis. Olivia is on Twitter and Instagram @livfricot - follow at your own risk.
Follow Olivia: Twitter