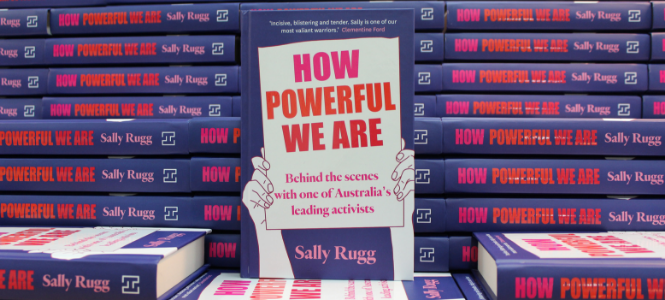 Sally Rugg may be young, but she's got the kind of resume that most people can only dream of.
One of Australia's most prominent LGBTIQA rights activists, Sally worked tirelessly for five years as the Campaign Director for the marriage equality campaign at GetUp (and was instrumental in bringing about the Yes vote in the 2017 postal survey). Now the Executive Director for change.org, Sally is counted amongst the Top 15 Women Championing Human Rights by Amnesty International and was named one of Australia's Most Influential LGBTIQ people by Cosmopolitan magazine.
With these incredible achievements under her belt, Sally has now turned her talents to the page. She is the debut author of How Powerful We Are, a personal and impassioned inside look at the human rights campaign that changed Australia forever.
One thing that is incredibly important to Sally, and which is central to the book, is the idea that human rights are not something to be bestowed upon the powerless by the powerful. Sally wants to get people thinking about human rights as something that must be demanded upon and fought for – so that we can realise just how powerful we really are.
"It's really important to me that we as a society as much as possible can understand how change actually happens, so that we can understand this incredible thing we did together," says Sally.
"Change doesn't happen because the powerful suddenly have a change of heart and decide to afford rights to the marginalised and oppressed. Change happens because we make it happen, because we fight for it."
How Powerful We Are is as much a celebration of the work that has already been done as it is a rallying cry for how we can replicate the monumental effort of the 2017 marriage equality campaign and make much-needed changes in other areas in the future.
Sally Rugg came to Booktopia last week for a book signing and to sit down for a chat with Joel Naoum and myself, in which we talked about the marriage equality campaign, the mental strain of campaigning, and which issue this veritable wonder woman is taking on next.
Have a listen and buy yourself a signed copy of How Powerful We Are!*
*only while stocks last.
How Powerful We Are
One of Australia's leading activists takes you behind the scenes of one of Australia's biggest campaigns to show how we can use our voice to champion what we believe in
Even if you're not an activist (yet), at a time when the news is written for clicks and elections are foight with three-word slogans, it's crucial to preserve some record of events that isn't 'fake news' or political spin. In part, this book is my attempt to counter the re-writing of how Australia achieved one of the most significant social changes in a generation...
About the Contributor
Olivia Fricot is the Editor of the Booktopian Blog. After finishing a soul-crushing law degree, she decided that life was much better with one's nose in a book and quickly defected to the world of Austen and Woolf. You can usually find her reading (obviously), baking, writing questionable tweets, and completing a Master's degree in English literature. Just don't ask about her thesis. Olivia is on Twitter and Instagram @livfricot - follow at your own risk.
Follow Olivia: Twitter