Dr Jesse Blackadder is an award-winning author of seven novels for adults and children, most recently Storm. This book is the second book in the Dream Riders series – an exciting new middle-grade series about horses, friendship, and being true to yourself, co-written with Laura Bloom. Jesse is also an emerging screenwriter, an inspiring public speaker and a creative writing teacher and youth literacy advocate. She's fascinated by adventurous women, extreme landscapes, unusual creatures and chilly places.
Today, Jesse's on the blog to answer our Ten Terrifying Questions!
---
1. To begin with, why don't you tell us a little bit about yourself – where were you born? Raised? Schooled?
I popped into the world in a Darlinghurst hospital that no longer exists, grew up in Sydney not too far from the harbour and went to a Catholic convent school with nuns who were both scary and inspiring, and who gave me a great education.
2. What did you want to be when you were twelve, eighteen and thirty? And why?
Age 12: I was absolutely certain I was going to be a vet, and already had a volunteer job working Saturday mornings in a local vet clinic. I was obsessed with animals. I had started my first novel, but never thought this meant I would be a writer (clearly needed more imagination).
Age 18: Still mad about animals and thinking I would be a vet after my gap year (which involved studying arts). I had the marks to enrol in vet science, but by then I was also toying with professional musician, motor bike adventurer, or journalist as possible careers. I was interested in writing but didn't know how it could be a career.
Age 30: I had finished writing my first novel and knew I wanted to make a life as an author… though I was pretty interested in saving the planet as well, and working with an organisation called Landcare Australia.
3. What strongly held belief did you have when you were younger that you do not have now?
That I was going to be a vet. And that sometimes I was actually a dog in a human body.
4. What are three works of art – book or painting or piece of music, etc – that you can now say had a great effect on you and influenced your own development as a writer?
I loved Enid Blyton's Famous Five books, particularly George the tomboy and her dog Timmy, who were the main characters as far as I was concerned. I loved that George was brave, adventurous, and a girl. I basically wanted to be her.
I adored pony books – some of my favourites were My Friend Flicka, The Black Stallion and The Silver Brumby. They were all stories about wild horses. The silver brumby always stayed wild – in the other two books, the horses were tamed by children who loved them.
5. Considering the innumerable artistic avenues open to you, why did you choose to write a children's book?
It's about my favourite thing to do. I go back to the feeling of being eleven years old and swept away by a great story – so swept away that you read under the desk at school (and get into trouble with the teacher) and under the covers at night at home with a torch (and get into trouble from Mum).
6. Please tell us about your latest book…
Frankie and Storm are the first two books in the Dream Riders series that I worked on with author Laura Bloom – stories about horses, friendship and being true to yourself. They've grown out of the horse books I loved as a kid – those about the powerful bond that can grow between a horse and a young person. Four young teens – Frankie, Storm, Kai and Violet – star in the Dream Riders series, and each book focuses on one of the characters and their horse – with an exciting story that spans the whole series.
7. What do you hope kids will take away with them after reading your book?
Horses are extraordinary creatures, not just the playthings of human beings. Approaching them with love and respect can open up a whole new world of friendship between horse and human. And your friendship with a horse will show you a great deal about who you are.
8. Who do you most admire in the realm of writing and why?
Jackie French, Alison Lester, Susanne Gervay, Kate Forsyth, Tristan Bancks, Morris Gleitzman – the list goes on. They're all authors who can create stories that sweep you away and make you forget where you are.
9. Many artists set themselves very ambitious goals. What are yours?
World domination.
10. What advice do you have for aspiring writers?
Take yourself seriously, no matter how young you are. I wish I had thought more seriously of myself as an author at the age of 12, the age of 18 and the age of 30.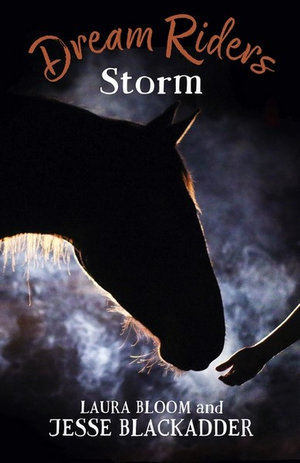 Storm
Dream Riders: Book 2
Without a saddle or bridle, all that's left is the truth. Dream Riders is an exciting new middle-grade series about horses, friendship and being true to yourself.
Living in a remote reach of The Pocket, twelve-year-old Storm is a hippy home-schooler Medievalist who knows almost nothing about the modern world. After taking out the archery prize at the local show, Storm spots the horse of her dreams, Morning Mist, on the jousting field. Inspired by Frankie's demonstration of natural horsemanship, the headstrong Storm immediately decides to join the Dream Riders and buy Morning Mist with her prize money...
About the Contributor