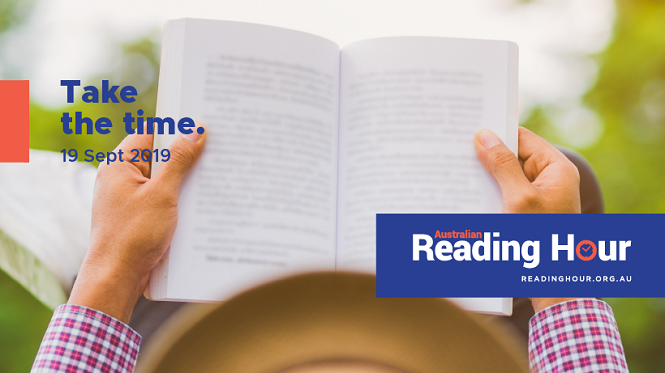 What will you be doing on Thursday, September 19? Working? Minding the kids? Doing your weekly shop?
What if you took an hour out of your day to read a book?
Australian Reading Hour is a nation-wide event that encourages you to stop what you're doing for one hour and pick up a book to read. This year, it will be held on September 19 and the aim is to get as many Australians reading as possible!
In these busy times of ours, an hour can be worth its weight in gold and the idea of giving one up for a book can seem like too much of an indulgence. But hear me out!
Reading has all kinds of amazing benefits for your mental wellbeing. Did you know that:
Reading has been shown to reduce stress in adults by 68% – way more than many other leisure activities.
Fiction readers usually have a heightened sense of empathy.
Reading daily to your kids can help ensure that they're well ahead when they start school.
Reading for pleasure is one of the most important indicators of a child's future success.
Pretty cool, right?
(And if you need any more convincing, allow my colleague Sarah to assist you with this post about why you should read more!)
This year, Australian Reading Hour also has some incredible ambassadors supporting the cause, some of whom are releasing special Australian Reading Hour books:
It's going to be an awesome event and I hope to see many of you taking the pledge to read – don't forget to use the hashtags #readinghour and #takethetime if you decide to join in with all of the fun on social media!
---
Listen below to our podcast from 2018 on why we choose to read!
About the Contributor
Olivia Fricot is the Editor of the Booktopian Blog. After finishing a soul-crushing law degree, she decided that life was much better with one's nose in a book and quickly defected to the world of Austen and Woolf. You can usually find her reading (obviously), baking, writing questionable tweets, and completing a Master's degree in English literature. Just don't ask about her thesis. Olivia is on Twitter and Instagram @livfricot - follow at your own risk.
Follow Olivia: Twitter