The winners of the 2019 RuBY Awards, Australia's premier contest for romance writing, have finally been revealed!
Celebrating the very best work from our home-grown romance authors, Romance Writers of Australia unveiled the winning books and authors at the annual RWA conference in Melbourne over the weekend.
The five award categories this year were Contemporary Romance, Romantic Suspense, Historical, Speculative Fiction (including sci-fi, paranormal, and fantasy), and Romantic Elements (including women's fiction). One Romance Book of the Year was awarded for each category, with the winners judged by a panel of Australian romance readers and writers.
Check out the winners below!
---
Contemporary romance
On the Right Track by Penelope Janu
When the diminutive but fiery Golden Saunders falls from her horse and smashes her leg irreparably, and her racing family is disgraced by a corruption scandal, she thinks she's hit rock bottom.
Then the enigmatic Tor Amundsen, United Nations diplomat (read: spy), arrives on the scene and proves her wrong. His investigation into her family pulls her back into a world she had escaped, and the branch of the family she has tried to avoid at all costs. Golden wants no part of it. Men have pushed her around her whole life. The last thing she needs is an arrogant, irritatingly handsome man telling her what to do. But it turns out Tor has a way with animals, children and, well, Golden…
Buy it here.
---
Historical romance
The Devilish Duke by Maddison Michaels
Devlin Markham, the notorious "Devil Duke" of Huntington, needs a woman. And not just any woman. If he can't woo one of the most eccentric bluestockings of the Ton within the month, he can kiss his hard-earned fortune goodbye. But he's always thought love a wasted emotion and marriage an inconvenience at best. And oddly enough, Lady Sophie Wolcott seems unmoved by his charm…
When Sophie learns her beloved orphanage is in imminent danger, she will do anything to save it. Even marry a ruthless rake who takes what he wants in business and pleasure. A man who's everything she's always feared most-but whom she reluctantly begins yearning for. Then Sophie becomes the target of a killer lurking from the dark shadows of Devlin's past. And they find not only their lives in jeopardy but their very hearts.
Buy it here.
---
Romantic elements
Tangled Vines by Megan Mayfair
Amelia O'Sullivan is a photographer who has always viewed herself through the wrong lens. When her marriage publicly crashes around her, she flees to the safety of her aunt's country property to pick up the pieces. Can she adjust her focus to what she really wants from her life?
Born into a wealthy and powerful family, Frederick Doyle may seem like a man who has it all, but behind the scenes, a bitter business feud threatens an irrevocable family split. As he fights for control of the winery he'd built from the ground up, he finds a supportive ally in Amelia and becomes increasingly beguiled by her creative spirit…
---
Speculative romance
Cursed by Keri Arthur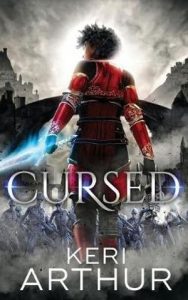 For nearly a thousand years, the firstborn son of every Cannamore king has drawn the sword, and the land and her people have indeed prospered. Princess Nyx Bel-Hannon is neither male nor firstborn, but it's her hand that draws the sword rather than her twin brother's. Her reward: imprisonment.
But a deep darkness now spreads across the kingdom, and her borders are threatened by creatures capable of magic powerful enough to destroy mountains and split the land asunder. Without the true heir to wield the sword, Cannamore risks annihilation. The king and crown prince want nothing more than to be permanently rid of Nyx, but cannot afford her blood on their hands. Instead, they give her to a fractious warlord in the hope he will do what they dare not…
Buy it here.
---
Romantic suspense
Undercover Fighter by Aislinn Kearns
Wyatt: Tough. Honorable. Secretive. The man Wyatt used to be is gone. Now, his only focus is to find out what happened to his younger brother. His search leads him to McCready's door; a powerful man who organizes fights that are illegal… and deadly. As he's sucked further into McCready's world he meets Kat, who is sexy, distrustful, and may just be spying on him for McCready.
Kat once lived a normal life—one she hopes she can return to one day. But that was before she traded her life to repay her sister's debt. Now she spends her days and nights doing whatever McCready orders her to. She can't risk her potential freedom, not even to help Wyatt, no matter how tempted she might be.
But McCready has his own plans for Kat and Wyatt, plans that force them into an unlikely alliance. As their mutual attraction heats up, they must learn to trust each other to survive. Because McCready is not a man to be trifled with, and those that betray him have a tendency to end up dead…
---
Other RuBY Award Winners!
Harlequin First Nations Fellowship: Melaleuca by Angie Martin
The Valerie Parv Award for an unpublished romance novel: Meeting in the Middle by Nette Neville
The Lynn Wilding Meritorious award for service to RWA: Danielle Line
Honorary life membership: Amy Andrews
The Roma in Media Award (ROMA): Lauren Sams for 'The New Romantics' (Elle magazine)
Emerald Award: Not in a Billion Years by Bronwyn Hall
Emerald Pro: Tropic Storm by Stella Quinn
---
Find out more about Romance Writers of Australia here!
About the Contributor
Olivia Fricot is the Editor of the Booktopian Blog. After finishing a soul-crushing law degree, she decided that life was much better with one's nose in a book and quickly defected to the world of Austen and Woolf. You can usually find her reading (obviously), baking, writing questionable tweets, and completing a Master's degree in English literature. Just don't ask about her thesis. Olivia is on Twitter and Instagram @livfricot - follow at your own risk.
Follow Olivia: Twitter