Morning all!
It's been a week of peculiar highs and lows for the literary world. We celebrated Love Your Bookshop Day and the phenomenal success of another writers' festival (here's looking at you Bendigo), but we also lost one of our most beloved international authors with the passing of Toni Morrison.
Read on for this week's bookish news breakdown…
Toni Morrison passes away
Last week, the death of the revered novelist, essayist, editor, Nobel laureate, and professor emeritus Toni Morrison at age 88 was announced by her U.S. publisher Knopf.
The author of 11 novels, Morrison was a veritable icon of black fiction whose novels dealt with life, love, motherhood, and the legacy of slavery and racism in America. Some of her most treasured novels include The Bluest Eye, Sula, Song of Solomon, and Beloved (a novel that is widely considered to be her masterpiece).
She received the National Book Critics Circle Award in 1977 (for Song of Solomon), the Pulitzer Prize for Fiction in 1988 (for Beloved), and was the first black woman to win the Nobel Prize in Literature in 1993. In 2012, she received the Presidential Medal of Freedom by then President Barack Obama.
You can read more about the life of Toni Morrison here.
---
Bendigo Writers Festival enjoys record-breaking success
Hot on the heels of the phenomenal numbers recorded by Byron Writers Festival last week comes Bendigo Writers Festival, which wrapped up just two days ago. The 3-day literary festival enjoyed a record-breaking 5,700 visitors and a 30% increase in box office sales.
David Lloyd, of Capital Venues and Events (the festival's organiser), said, "The breakdown of our figures has also revealed that 60 per cent of those who attended were from the Greater Bendigo community. It's a great endorsement to see such strong local support and commitment for the event."
Over 150 writers, speakers, and commentators attended the writers festival, including Clementine Ford, Kate Forsyth, Benjamin Law, Bri Lee, and more, and if Twitter is anything to go by everyone had a fabulous time – check it out!
---
2019 Blak & Bright festival program announced
Blak & Bright is a Melbourne-based writers' festival showcasing the amazing literary talent of First Nations writers. It was first established in 2016 and returns this year for a big celebration of First Nations songs, essays, oral stories, novels, plays, and poetry.
This year's festival will feature over 60 writers, speakers, and activists, such as Claire G. Coleman, Tony Birch, Nayuka Gorrie, Jannali Jones, Evelyn Araluen, and many more. There will be sessions on Blak poetry, young adult fiction, speculative fiction, traditional languages, and more, as well as a publisher pitching session for Blak writers and a concert at Melbourne Museum.
The Blak & Bright festival is on from 5-8 September in Melbourne – you can find more information and buy tickets here!
---
Film rights to The Girl on the Page acquired by Causeway Films
Former Booktopian John Purcell's biting novel about the U.K. publishing scene, The Girl on the Page, is set to become the girl on the big screen. Causeway Films, the Sydney-based production company behind such films as The Babadook, The Nightingale, and Cargo, has just acquired the film rights to the novel.
The Girl on the Page tells the story of a hotshot young book editor, Amy Winston, who is tasked with collecting the latest novel from legendary literary author Helen Owen and ends up biting off far more than she can chew.
Causeway Films producers Kristina Ceyton and Samantha Jennings said, "Rarely do we come across a novel that so brilliantly balances humour with depth, that features compelling and smart yet flawed and complex female characters across generations, and that tells a story as entertaining as it is relevant. We're excited to be bringing this story to the screen."
This is such exciting news – now please cast Jodie Comer as Amy, Helen Mirren as Helen, Sir Ian McKellan as Malcolm and Olivia Colman as Julia!
---
Other interesting tidbits…
---
Before you go… you might want to know that our very own social media whiz, Bronwyn Eley, has written a YA fantasy novel called Relic!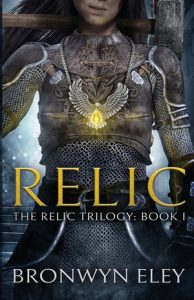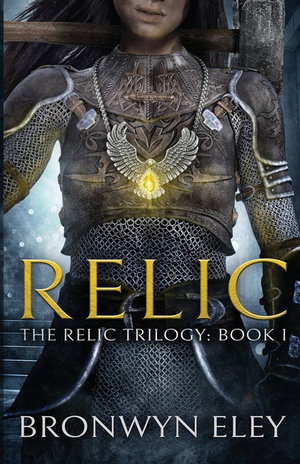 In the city of Edriast, there is no deadlier duty than to serve as the Shadow.
As the personal servant of the powerful Lord Rennard, the Shadow's life is all but forfeit. Rennard possesses one of five rare and dangerous Relics – a jewel that protects his bloodline, but slowly poisons everyone else in its proximity. When the current Shadow succumbs to its magic, nineteen-year-old blacksmith Kaylan is summoned to take his place.
It's an appointment that will kill her.
As the time Kaylan has left ebbs away, hope begins to fade… That is, until she discovers a plot to destroy all five bloodlines in possession of the Relics. A rebel force plans to put an end to Rennard's rule and Kaylan suddenly finds herself embroiled in a cause that might just be worth fighting for. But no cause is without its costs…
You can pre-order a signed copy of Relic here!