Kate Forsyth is one of Australia's most treasured storytellers. On today's edition of What Katie Read, she gives us the rundown on all of the best books she's been reading lately…
---
by Cait Duggan
An utterly riveting tale of magic, danger and witch-hunts in 17th century Scotland that grips you by the throat and won't let go.
The story is set in sixteenth century Scotland, one of my favourite times and places. King James I sits on the throne, and has a dark, disturbing interest in witchcraft and Satanism (Shakespeare wrote Macbeth during his reign, knowing it would appeal to him).
Iona Balfour and her sister Ishbel were raised by their aunt Grizel, but their life is destroyed when Grizel is accused of witchcraft and executed. Just before she dies, Grizel gives Iona an urgent task – she must carry the family heirloom, a bloodstone, to safety. Iona hesitates, but the witch-hunters are now on her trail. Helped by her sister, Iona escapes but the road ahead of her is filled with danger, betrayal and death.
No-one and nothing is as it seems. Iona must discover of her own magical potential and that of the bloodstone she carries if she is to survive.
This is just the kind of historical fantasy I most enjoy – deeply rooted in the real, with a strong sense of place, and a flawed and realistic heroine to cheer for. It is clear Cait Duggan has done her research, but she carries it lightly. I particularly loved the use of witchcraft in the book. Iona has to struggle to understand her powers and nothing comes easily.
The book is also beautifully & limpidly written – Cait Duggan's prose is as swift and smooth and dangerous as a Highland river.
Buy it here.
---
by Bri Lee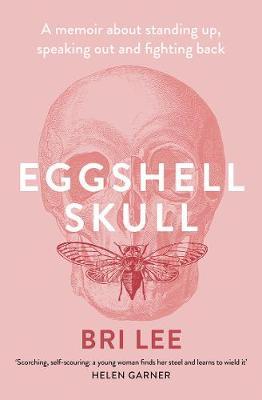 A poised and well-calibrated memoir of a young woman who decides to face her childhood abuser and the courts, despite her inside knowledge of the ordeal that awaits her. The title comes from a legal term that means that, if someone lashes out against someone else and they die because their skull is eggshell-thin, then the attacker is still the cause of their death and so therefore guilty.
Bri Lee is a lawyer. When she was a little girl, one of her brother's friends assaulted her on a trampoline in their suburban back garden. She never told anyone. The memory haunted her, however. Shame and self-loathing caused a long struggle with eating disorders and self-harm. When she began to work as a judge's associate in the Queensland District Court, the number of sexual assault cases that came before the bench triggered her memories. Shame turned to anger and to resolve. Even though she knew the difficulty of getting a conviction so long after the event, she at last decided to pursue justice. Eggshell Skull is the story of her journey, and it's fierce and powerful and very moving.
Buy it here.
---
by Trent Dalton
By Sea & Stars tells the stories of some of the people whose lives were changed forever by the intrepid journey of the First Fleet from England to Australia in the late 18th century. This is not a textbook, filled with dry facts & explanations, but rather a collection of vividly drawn character sketches & vignettes, drawn from diaries, letters and court records, and inspired by the true stories of the convicts, soldiers and local Eora people whose lives were so dramatically altered.
The First Fleet was comprised of eleven ships, carrying 1420 people in total. Of these, 778 were convicts. The fleet departed Portsmouth on 13 May 1787 and landed in 'Sydney Cove' on 26 January 1788 – eight months and thirteen days later.
The book starts with the crime of a nine-year-old chimney sweep named John Hudson who stole a linen shirt, five silk stockings, two aprons and a pistol and so was sentenced to transportation to Botany Bay. He spent three long years on a floating prison hulk moored on the Thames before the Fleet at last set sail. At twelve, he was the youngest convict on board.
Another story brought to life is that of Lieutenant Ralph Clark, who hated serving on the voyage and missed his dear wife Alicia terribly. He called the female convicts 'damned whores', but ended up having an affair with 17-year-old Mary Branham, who later gave birth to a daughter named Alicia.
The Fleet's safe landing in Australia triggered 'an impulsive night of unbridled passion between landed sailors and female convicts'. This is explained away as the 'purging of eight months of collective fear and tension'. I was interested by this, and would have liked a more thoughtful appraisal of the event. Were the female convicts willing partners in this impulsive unbridled passion?
Similarly, I was troubled by Trent Dalton's side-stepping of the biggest issue at the heart of the story of the First Fleet – an event now called 'Invasion Day' by many people. I would have liked to have known so much more about the lives of the local Eora people, and how the arrival of the First Fleet impacted them.
Trent Dalton's writing is lyrical and evocative, and he does a great job of breathing life into the historical record. The book was originally written as a series of articles for The Australian newspaper, and this is both an advantage & a disadvantage. It's very readable, and I whizzed through it in less than an hour. However, it does feel rather lightweight & flimsy, and I was left wanting more.
Nonetheless, By Sea & Stars is a great introduction to the epic journey of the First Fleet & really illuminates the human stories behind the history.
Buy it here.
---
by Frances Hardinge
Frances Hardinge is my favourite writer for children in the world. Her books are so clever, so imaginative, so powerful and so fresh. I wish I could write like her. She reminds me of all the great fantasy writers of the past – Diana Wynne Jones, Joan Aiken, Susan Cooper, Alan Garner, Lucy Boston.
I am wary of writing a plot precis of this wonderful book, because it doesn't give you any true idea of just how marvellously eerie and magical this book is.
In brief, Triss wakes up one morning feeling strange. She's been sick, her mother tells her. But that doesn't explain the strange gaps in her memory, the strange things that happen around her, or why her little sister is frightened of her. Slowly Triss comes to realise there is something very wrong …
The plot is fabulously twisty and full of surprises, the characters are complex and alive, and Frances Hardinge's writing is just marvellous. Children's fantasy at its absolute best!
Buy it here.
---
by Vicki Laveau-Harvie
This dark, confronting memoir won the 2019 Stella Prize for its terse poetic prose and its unflinching look at dysfunctional family dynamics. Its subject matter makes it a difficult read, and I suspect it's one that is likely to divide people.
Vicki grew up in Canada but now lives in Australia. Her parents still live in the family home in cold, remote Alberta. Her mother has fallen and broken her hip. Vicki and her sister travel back to Canada to help, only to find her father isolated and half-starved, and their family house filled with rubbish. It is the first time Vicki has returned home in years. She is estranged from her parents, and both hates and fears her mother. There is a sense that things have happened in the past that Vicki cannot, or will not, talk about. She skirts the topic, hinting at but never describing, acts of malice and deliberate cruelty, that leave the reader curious and unsatisfied (or, at least, left me that way.)
I felt so much of the back story was left untold, and Vicki's decision to leave her sister to deal with the majority of her parents' care seemed unkind. If we had known more about what her mother had done to cause such hate, this decision might have seemed more like a triumph than a betrayal. Most of the people in Vicki's memoir are only described in terms of their relation to her i.e. my mother, my father, my sister, my husband. This too drains away any sense of the personal or intimate.
The book's greatest strength is the writing, which is lyrical and intense:
"When winter comes, summer is the memory that keeps people going, the remembrance of the long slanting dusk, peonies massed along the path, blossoms as big as balloons, crimson satin petals deepening to the black of dried blood in the waning light."

And I loved this description of the difference between Vicki and her sister (though to me it seemed as if Vicki was carrying plenty of rage too):
"Scratch me and you get grief. It will well up surreptitiously and slip away down any declivity, perhaps undermining the foundations but keeping a low profile and trying not to inconvenience anybody. Scratch my sister… you'll get rage, a geyser of it, like hitting oil after drilling dry, hot rock for months and it suddenly, shockingly, plumes up into the sky, black and viscous, coating everything as it falls to earth. Take care when you scratch."
Buy it here.
---
by Leah Kaminsky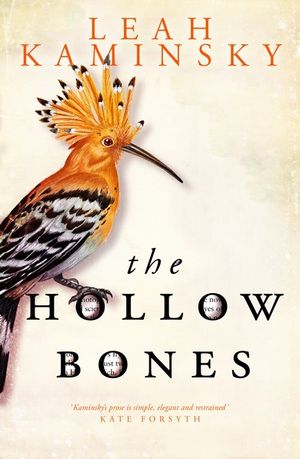 Books set during World War II are immensely popular at the moment, and I read a great many of them because it is one of my favourite periods in history. The Hollow Bones by Leah Kaminsky is one of the most unusual I've read. Inspired by the true story of the 1938 expedition to Tibet by the German zoologist Ernst Schäfer, it is not a conventional historical adventure story but a slow, melancholy magic realist novel that reflects on the nature of complicity and the very purpose of life.
Ernst Schäfer's expedition to Tibet was funded by Heinrich Himmler, head of the sinister Schutzstaffel (SS), who wished to find proof that the Germans were descended from an ancient warrior race. Schäfer does not care who funds his research, as long as he gets to pursue his passion for hunting and collecting. His loving wife Herta is not so sure. She has a disabled sister who is kept hidden for fear the authorities will think their bloodline is tainted; no SS officer could marry unless his wife could prove the purity of their blood.
The novel moves back and forth between the points of view of Herta and Ernst, with a series of poignant scenes that show the difficulty of remaining morally uncorrupted in a world ruled by Nazis. Then another narrative thread emerges, one that is most unexpected and unique: the voice of a baby panda which was shot and stuffed by Ernst Schäfer and is kept in the Philadelphia Museum of National History. The baby panda tells his story in short, stilted sentences that are sometimes childish and sometimes profound:
"I trouble them; my Death makes them feel uncomfortable. But how is my Eternal Life any worse than Crocodile whose skin covers President's feet, or Cow whose hide is worn by Small around her middle? I command more respect than the Animal Parts they wear, carry, eat; at least my life has not been anonymously erased."
At first, I was not sure of the intrusion of the voice of this sentient stuffed animal, particularly when the cub refers to seeing the Writer (i.e. Leah Kaminsky herself) visiting the museum:
"Writer came once and visited me every day for an entire week they called Fellowship … Writer reads to me sometimes and apologises, calling herself a voyeur. Her heart is heavy because I was torn away and preserved, but her hand pushes Magic Stick furiously across the blank page because I am here. She tells me I am the true Storyteller … My Visitors are like her Readers, she says, each one claiming ownership over the interpretation of the story I tell."
This authorial intrusion into a work of fiction took me aback. At first I did not like the self-conscious tone, the awkwardness of the device. 'What a fickle, grumpy woman Writer can be,' the panda says. But I admired Leah Kaminsky's boldness in making such an unusual narrative choice, and in the end it became one of my favourite parts of the novel. It gave the book such moral gravity and such freshness of tone. And I've continued thinking about the book long after I turned the last page.
Buy it here.
---
by Charlotte Higgins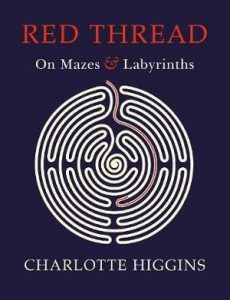 I've been dipping in and out of this fascinating book on mazes and labyrinths for quite a while now, sometimes reading pages and pages, sometimes only a few lines. That is because this book does not have standard-sized chapters and a strong taut narrative thread, but is instead a winding, convoluted exploration of the meaning of labyrinths through history, myth, art, psychology and literature.
It begins with her own visit to the Palace of Knossos on the island of Crete as a child, a place that I have just been. According to the myth, King Minos ordered the construction of a labyrinth at Knossos to house his wife's monstrous illegitimate child, the Minotaur. Born with a man's body and a bull's head, he feeds in the darkness on the blood of sacrificed youths and maidens. One day, a prince named Theseus comes to Knossos. The Minotaur's half-sister, Ariadne, gives him a sword and a spool of red thread so that Theseus can kill the monster and escape the labyrinth. It's a myth with a great many layers of meaning and interpretation, and one that I am now working on myself in a novel-in-progress called The Crimson Thread.
Like Charlotte Higgins, I have always been fascinated by mazes and labyrinths, and by the Minotaur story. I loved this book, which ranges from Dante to Freud to Picasso, and it sparked many new ideas for me. A truly intriguing and informative book.
Buy it here.
---
Kate Forsyth wrote her first novel aged seven and has now sold more than a million books worldwide. Her new novel, The Blue Rose, is inspired by the true story of the quest for a blood-red rose, moving between Imperial China and France during the 'Terror' of the French Revolution (we have very limited signed copies – get yours here!). Other novels for adults include Beauty in Thorns, a Pre-Raphaelite reimagining of Sleeping Beauty, Bitter Greens, which won the 2015 American Library Association award for Best Historical Fiction; and The Beast's Garden, a stunning retelling of the Grimms' Beauty and The Beast set in Nazi Germany.
Kate's books for children include the collection of feminist fairy-tale retellings, Vasilisa the Wise & Other Tales of Brave Young Women, illustrated by Lorena Carrington, and the fantasy series The Impossible Quest. Named one of Australia's Favourite 15 Novelists, Kate has a BA in literature, a MA in creative writing and a doctorate in fairy tale studies, and is also an accredited master storyteller with the Australian Guild of Storytellers. She is a direct descendant of Charlotte Waring Atkinson, the author of the first book for children ever published in Australia.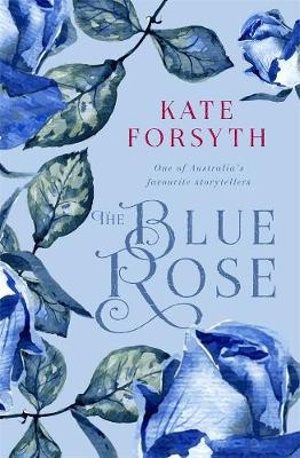 The Blue Rose
Moving between Imperial China and France during the 'Terror' of the French Revolution and inspired by the true story of the quest for a blood-red rose.
Viviane de Faitaud has grown up alone at the Chateau de Belisama-sur-le-Lac in Brittany, for her father, the Marquis de Ravoisier, lives at the court of Louis XVI in Versailles. After a hailstorm destroys the chateau's orchards, gardens and fields an ambitious young Welshman, David Stronach, accepts the commission to plan the chateau's new gardens in the hope of making his name as a landscape designer...
About the Contributor