Paullina Simons is a writer who needs practically no introduction. She's the author of the bestselling Bronze Horseman series, the epic wartime love story of Tatiana and Alexander that earned the undying adoration of readers across the world, as well as numerous other romance books and even a The Bronze Horseman-inspired cookbook.
Now, Paullina is returning with a brand new trilogy – The End of Forever.
While the Bronze Horseman books were released over a number of years, Paullina is releasing all of the novels in the End of Forever trilogy in just one year! April brought us The Tiger Catcher, A Beggar's Kingdom was released just last month, and the final book in the series, Inexpressible Island, will be hitting shelves in mid-November.
In true Paullina Simons form, this series tells the story of two people who fall in love but are torn apart by secrets and forces beyond their control. The Tiger Catcher introduced us to Julian, a young man living a carefree life in Los Angeles. His fateful encounter with a young woman named Josephine awakens within him a desire for something more, and when she is taken from him he is determined to get her back – even if it means reaching through time itself.
For the first time, Paullina is experimenting with some fantastical elements of sci-fi and time travel in the tradition of other books like The Time Traveler's Wife and the Outlander series. It's a bold new frontier for this beloved author of romantic historical fiction, but Paullina points out that her fantastical story is grounded in the very real love between Julian and Josephine. What's more, the finished books of the new series have remained closer to her original vision than anything else she's written before – it was a story that rushed almost fully formed into her head.
"The whole story was born to me – it's never happened to me before. It's never happened to me with any of my books," Paullina says. "I would get a glimpse of things – a naked body in the snow, a soldier and his beloved walking through war-torn Leningrad – but I never, ever before had this thing that came to me all at once. And because of that I knew that this is how it had to be."
"I never, ever before had this thing that came to me all at once. And because of that I knew that this is how it had to be."
Now that two out of three of the books are out, Paullina's had time to sit back and take in the reactions of her readers to the new series. Most of them have come along for the ride with enthusiasm, though she's certainly managed to shock a few of them. On top of that, it's also the very first time that Paullina has written a story entirely from a male perspective (Julian's), which also surprised her readers. But she is firm in her conviction that this is very much Julian's story.
"It's their love story but it is his quest, and she remains a mystery to him as she does to us because that's the way she's supposed to be. She's supposed to be a mystery that's revealed to us."
Paullina Simons visited Booktopia earlier this week for a book signing (signed copies of A Beggar's Kingdom are still available!) and then sat down for a chat with Ben Hunter and myself all about the new series – listen below!
---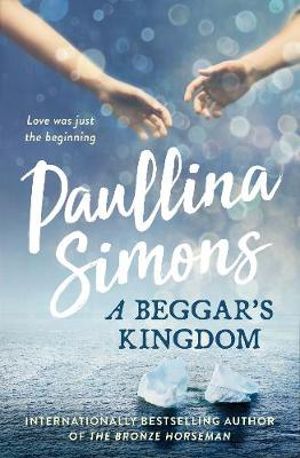 A Beggar's Kingdom
The End of Forever: Book 2
Is there a fate beyond the fates? Julian has failed Josephine once. Despite grave danger and impossible odds, he is determined to do the unimaginable and try again to save the woman he loves.
What follows is a love story like no other as the doomed lovers embark on an incredible adventure across time and space. Racing through history and against the merciless clock, they face countless dangers and deadly enemies...
About the Contributor
Olivia Fricot is the Editor of the Booktopian Blog. After finishing a soul-crushing law degree, she decided that life was much better with one's nose in a book and quickly defected to the world of Austen and Woolf. You can usually find her reading (obviously), baking, writing questionable tweets, and completing a Master's degree in English literature. Just don't ask about her thesis. Olivia is on Twitter and Instagram @livfricot - follow at your own risk.
Follow Olivia: Twitter