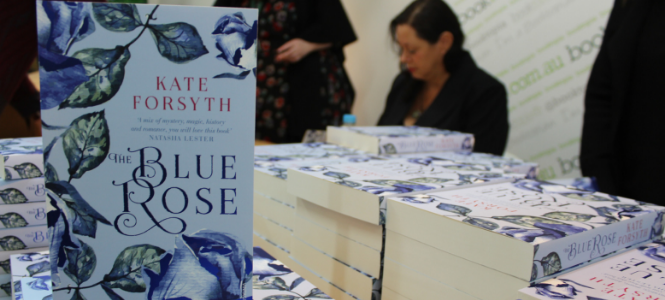 It's no exaggeration to say that Kate Forsyth is one of Australia's most beloved storytellers.
She's been enchanting readers across the world for decades with novels like Bitter Greens and Beauty in Thorns that breathe new life into fairytales and past eras. Now, Kate Forsyth has called upon the bloody chaos of the French Revolution as the backdrop for her latest tale of star-crossed love, The Blue Rose.
This book is the story of a forbidden love between a Welsh gardener named David and Viviane, the daughter of a French Marquis, who are torn apart by birth, duty, and vicious circumstance. Caught up in the French Revolution, Viviane finds herself in the troubled service of Queen Marie-Antoinette herself while David makes his way to Imperial China in search of the legendary blood red rose, both dreaming of finding their way back to each other.
It's an epic love story that spans oceans, one that Kate Forsyth was itching to write because of her burning interest in French history.
"I've always been fascinated by the French Revolution, ever since I read The Scarlet Pimpernel when I was a teenager," she says.
Kate may have been quite well-read in French history, but the beauty of novel-writing research is that one always finds interesting little facts that end up playing a much larger role in the story. This is how Kate was inspired to write The Blue Rose: by discovering that the blood red rose did not exist in Europe before the 1790's, a fact that seemed almost unbelievable.
"Surely the first red rose was not introduced to Europe in 1789? What about all those pictures of red roses? What about the War of the Roses, the Yorks and the Lancasters? What about all those paintings I'd seen?" she says.
The more Kate read, the more historical details fell spectacularly into place for her story. For instance, the introduction of the blood red rose in Europe from China coincided perfectly with the French Revolution, thanks to an English delegation that was sent to China to open up trade routes between the two countries for tea. That expedition also included a gardener named David Stronach.
"I've always been fascinated by the French Revolution, ever since I read The Scarlet Pimpernel when I was a teenager."
It was a story that became impossible not to write, and Kate loved exploring the possibilities, filling the gaps in history with her own compelling story.
"Sometimes when I'm writing a book, it's as if the story knows itself and I just have to be patient as the story reveals itself to me. It's almost as if the whole universe bends itself around me and my needs in the book. I'm constantly making extraordinary serendipitous discoveries that are crucial in me discovering my story," says Kate.
"This gives me a great deal of faith. I've learned to just trust myself and my story, and know that any problems that I have will in time be solved, the answer will come to me. I just have to be open and receptive to listening for that answer."
Kate Forsyth signed a big pile of copies of her new book before sitting down for a podcast with us that became something of a masterclass in evocative storytelling – give it a listen below and order yourself a signed copy of The Blue Rose before we sell out!
---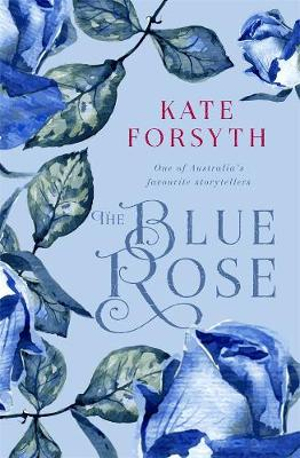 The Blue Rose
Moving between Imperial China and France during the 'Terror' of the French Revolution and inspired by the true story of the quest for a blood-red rose.
Viviane de Faitaud has grown up alone at the Chateau de Belisama-sur-le-Lac in Brittany, for her father, the Marquis de Ravoisier, lives at the court of Louis XVI in Versailles. After a hailstorm destroys the chateau's orchards, gardens and fields an ambitious young Welshman, David Stronach, accepts the commission to plan the chateau's new gardens in the hope of making his name as a landscape designer...
About the Contributor
Olivia Fricot is the Editor of the Booktopian Blog. After finishing a soul-crushing law degree, she decided that life was much better with one's nose in a book and quickly defected to the world of Austen and Woolf. You can usually find her reading (obviously), baking, writing questionable tweets, and completing a Master's degree in English literature. Just don't ask about her thesis. Olivia is on Twitter and Instagram @livfricot - follow at your own risk.
Follow Olivia: Twitter