Melissa Lucashenko has won the 2019 Miles Franklin Literary Award for her novel Too Much Lip, a gritty, fast-paced, and darkly funny journey into a fictional small town in Bundjalung country, where a troublesome young woman named Kerry Salter returns to her family home when her pop falls ill.
The Chair of the judging panel, Richard Neville (State Library of NSW's Mitchell Librarian) said, "Too Much Lip is driven by personal experience, historical injustice, anger and what in Indigenous vernacular could be described as 'deadly Blak' humour. Lucashenko weaves a (sometimes) fabulous tale with the very real politics of cultural survival to offer a story of hope and redemption for all Australians."
The winner of the $60,000 prize was crowned from a shortlist of six titles, each finely attuned to contemporary Australian undercurrents and anxieties around the climate crisis, grief, trauma, and intolerance.
Melissa Lucashenko is an Aboriginal author of the Bundjalung people from northern coastal New South Wales, who was previously longlisted for the Miles Franklin in 2014 for her novel Mullumbimby. She joins previous Miles Franklin winners Patrick White, Ruth Park, Tom Keneally, Peter Carey, Tim Winton, Alexis Wright and Michele de Kretser.
Melissa Lucashenko said of her win, "It's kind of terrifying. I only recently realised that I could be doing so much more in my writing and now this goes and happens. I have no idea what to do next, other than keep plugging away at my civilising mission to mainstream Australia."
---
Find out more about the Miles Franklin Literary Award winner here.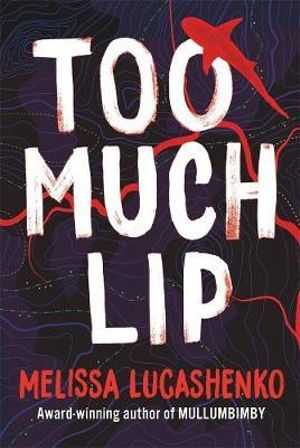 Too Much Lip
Too much lip, her old problem from way back. And the older she got, the harder it seemed to get to swallow her opinions. The avalanche of bullshit in the world would drown her if she let it; the least she could do was raise her voice in anger.
Wise-cracking Kerry Salter has spent a lifetime avoiding two things – her hometown and prison. But now her Pop is dying and she's an inch away from the lockup, so she heads south on a stolen Harley. Kerry plans to spend twenty-four hours, tops, over the border. She quickly discovers, though, that Bundjalung country has a funny way of grabbing on to people...
About the Contributor
Olivia Fricot is the Editor of the Booktopian Blog. After finishing a soul-crushing law degree, she decided that life was much better with one's nose in a book and quickly defected to the world of Austen and Woolf. You can usually find her reading (obviously), baking, writing questionable tweets, and completing a Master's degree in English literature. Just don't ask about her thesis. Olivia is on Twitter and Instagram @livfricot - follow at your own risk.
Follow Olivia: Twitter