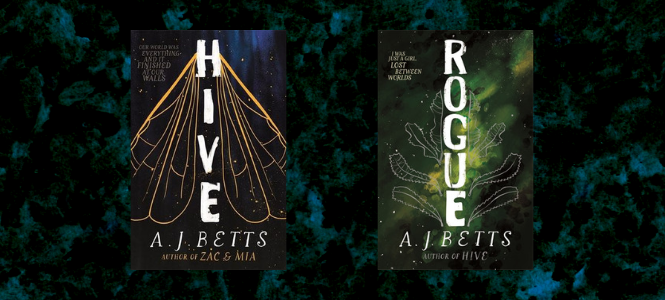 A.J. Betts is a Fremantle-based author, speaker, teacher, and cyclist wh originally hails from Queensland. She graduated with a PhD in the topic of Wonder at ECU in 2019 and teaches English part-time at the Perth Children's Hospital.
A.J. is the author of the young adult novels Wavelength, Shutterspeed, and Zac & Mia. Her latest work is a two-book speculative fiction series comprising of Hive (which was recently shortlisted for the INKYs) and Rogue.
Today, she's on the blog to answer some of our burning questions!
---
Tell us a little bit about your new book, Rogue!
AB: Rogue is the second and final book in the Hive/Rogue duology. Where Hive is set in an enclosed underwater society (in which the people don't realise they're underwater as they believe it's the world), Rogue continues the story in a future terrestrial Australia. The main character is Hayley, a fifteen-year-old beekeeper whose life changes after she discovers a drip of water coming from the ceiling and comes to question the rules and 'truths' she's grown up with.
When we first meet Hayley in Hive, she's scared and uncertain, but curious enough to overcome her fears and uncover the truth about her world. What can we expect to see from Hayley in Rogue?
AB: Hayley is a dynamo! She learns so much about the terrestrial world, and uses her curiosity and problem-solving skills to survive the mysterious and sometimes dangerous situations she finds herself in. When she comes to realise how big the world really is, there's not much that can stop her. She's also kind and compassionate, and willing to sacrifice a lot for those she cares about.
Where did you get the first spark of inspiration for the world of Hive and Rogue?
AB: The idea first occurred to me on a rainy day back in 2005 as I was driving through an underground tunnel in Perth. I noticed a drip of water falling from the ceiling and it made me wonder how strange it would be if I didn't know where it came from. I had an image of a teenage girl holding up a hand and wondering – not realising there was anything else beyond the ceiling and walls. After a lot of brainstorming and research, I developed the structure of an underwater, hexagonal city that is completely self-sustainable. Once I knew how Hive would end, I knew I couldn't end it there! I had to write the sequel.
Were there any other authors or books that inspired this series?
AB: When I'm writing, I try to avoid reading books that might be similar. However, I was conscious of a few influences that were unavoidable. First, the film The Truman Show, which I love! Secondly, The Handmaid's Tale by Margaret Atwood, which has similarly strict rules (but not so much gender-based). Lastly, the story Alice in Wonderland, which affected the way I wrote Hayley's adventures in Rogue.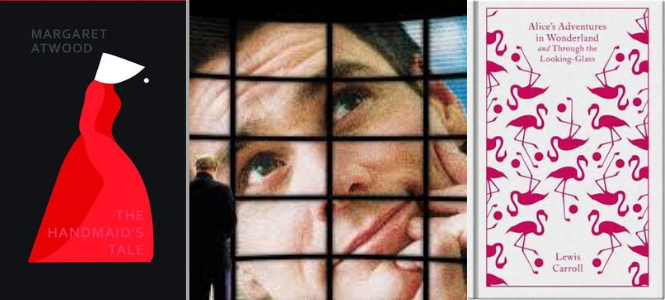 Hive was named a notable book by the CBCA and was longlisted for the INKYs. How does it feel to see people (especially teenagers) responding so positively to this series?
AB: It's now been shortlisted for the INKYs! ☺ It's really special to have my work enjoyed and recognised by teenagers in this way. Hive was shortlisted for the Indie Book Awards and the ABIAs, which are also special as these are voted for by the booksellers who do a wonderful job of sharing my stories with young readers.
If Rogue had a theme song, what would it be?
AB: Asta's song 'I Need Answers'. Or her song 'Escape'. They're both pretty apt.
Do you have any unusual writing and/or reading habits?
A: I'm good at making up stories in my head but unfortunately not very good at sitting still, so I have to 'bribe' myself by going to cafes. If I buy a coffee and muffin, I must sit down for two hours. If I'm at home, it's too easy to jump up and do something else.
Which books do you have on your TBR pile right now?
AB: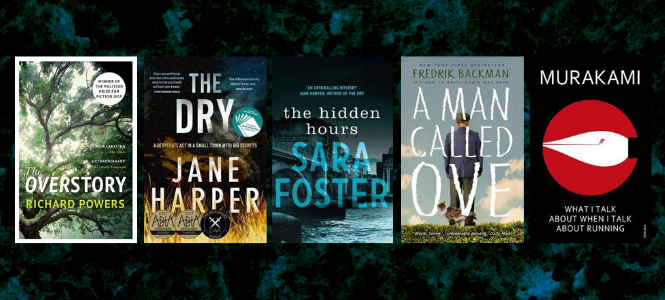 What book do you most often recommend/give as a gift?
AB: Lately I've been recommending Lenny's Book of Everything by Karen Foxlee, and Amelia Westlake by Erin Gough. I also recommend Solitude by Michael Harris a lot.
Finally, what's up next for you? Are you writing anything new?
AB: At this stage I'm having a long-awaited break from writing. Instead I'm spending my time promoting Hive and Rogue. I plan to start my next book in October. It'll be a realistic young adult novel featuring a teenage band.
Thanks A.J.!
AB: Thank you! ☺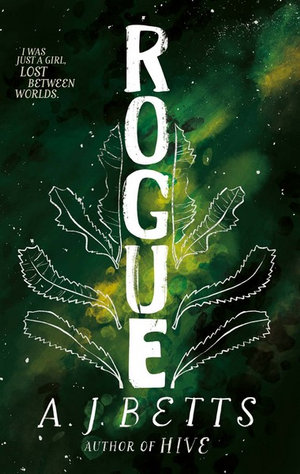 Rogue
The Vault: Book 2
There was no going back; there was no choice, anymore. I'd chosen out and this was it: hot-cold, dry-wet, bright-dark and lonely.
Hayley has gone rogue. She's left everything she's ever known - her friends, her bees, her whole world - all because her curiosity was too big to fit within the walls of the underwater home she was forced to flee.
But what is this new world she's come to? Has Hayley finally found where she can belong? Or will she have to keep running?
About the Contributor
Olivia Fricot is the Editor of the Booktopian Blog. After finishing a soul-crushing law degree, she decided that life was much better with one's nose in a book and quickly defected to the world of Austen and Woolf. You can usually find her reading (obviously), baking, writing questionable tweets, and completing a Master's degree in English literature. Just don't ask about her thesis. Olivia is on Twitter and Instagram @livfricot - follow at your own risk.
Follow Olivia: Twitter