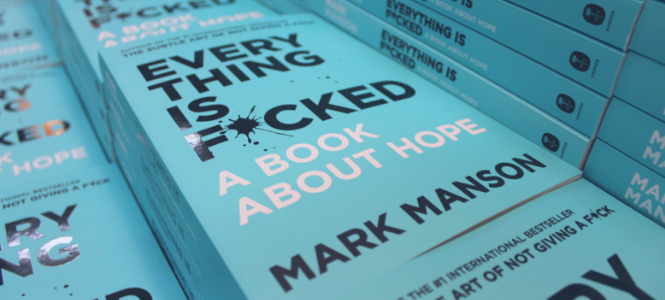 In 2016, Mark Manson published The Subtle Art of Not Giving a F*ck and introduced the world to his unique take on life: that when life gives you lemons, you don't make lemonade but instead learn how to live with the lemons. Three years later, you almost can't take a train ride in Sydney without seeing a fellow passenger reading The Subtle Art. It's a book that's taken the world by storm, and Mark's hugely anticipated follow-up book, Everything is F*cked, is out now.
It's labelled as a counterintuitive guide to the problems of hope, which seems pessimistic and yet weirdly fitting for our times. We were lucky enough to have Mark Manson visit Booktopia to sign some copies of his latest book, and when we sat down for a podcast we decided to ask him about it.
"The world seems to have hit this fever pitch at the moment, and everybody, regardless of your politics or your beliefs, seems to be looking for hope," says Mark.
It's this hope that, according to Mark, is the problem. He argues that our hope drives us to want a better future, but we tend to invest way too much of ourselves into this idealised future and can potentially sacrifice the hopes of others in the process.
"The more people invest in these visions of what they think a better future is, the more possible collateral damage happens in our society."
It's an interesting argument, and one that is sure to get people talking. Our dependence on hope comes from our dependence on emotion, and Mark's book delves deep into the idea of the feeling brain vs the thinking brain, asking readers to visualise their consciousness as a clown car.
"Our typical assumption is that our thinking brain is driving our car, and the feeling brain is the obnoxious passenger screaming out the window," says Mark. Turns out that this is far from true – research suggests that it's actually the other way around.
"Our feeling brains are driving the car and our thinking brains are in the passenger seat, and at best they're like the navigator, they have a map, they're the ones that have a vague sense of where to go. But if the feeling brain doesn't want to drive there, we don't drive there."
It's a fascinating premise – have a listen to the full podcast below (and don't forget to grab yourself a signed copy of Everything is F*cked before they sell out!).
---
---
This book would be a great gift for Dad this Father's Day – check out our Gift Guide!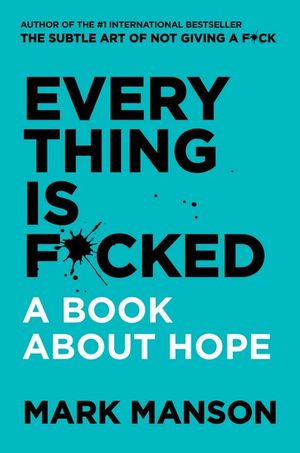 Everything is F*cked
From the author of the international mega-bestseller The Subtle Art of Not Giving A F*ck comes a counterintuitive guide to the problems of hope.
We live in an interesting time. Materially, everything is the best it's ever been—we are freer, healthier and wealthier than any people in human history. Yet, somehow everything seems to be irreparably and horribly f*cked—the planet is warming, governments are failing, economies are collapsing, and everyone is perpetually offended on Twitter. At this moment in history, when we have access to technology, education and communication our ancestors couldn't even dream of, so many of us come back to an overriding feeling of hopelessness...
About the Contributor
Olivia Fricot is the Editor of the Booktopian Blog. After finishing a soul-crushing law degree, she decided that life was much better with one's nose in a book and quickly defected to the world of Austen and Woolf. You can usually find her reading (obviously), baking, writing questionable tweets, and completing a Master's degree in English literature. Just don't ask about her thesis. Olivia is on Twitter and Instagram @livfricot - follow at your own risk.
Follow Olivia: Twitter