Ripping off the seal and diving straight into the Dolly Doctor section of Dolly Magazine was a veritable rite of passage for many a teenage girl (myself included).
While many of us read it for a laugh, it was secretly the first port of call for lots of girls wanting answers to all the questions about sex and periods that they were far too mortified to actually ask anyone – all you had to do was write in your anonymous question and the Dolly Doctor would answer!
Dolly may now be out of print, but one former Dolly Doctor, Dr Melissa Kang, has teamed up with author and TV/radio presenter Yumi Stynes to write a one-stop-shop resource for the weird and messy world of reproductive health for teens.
Welcome to Your Period! is the result – an easy, no-dumb-questions guide to handling your period that aims to dispel all of the anxieties that you (or someone you know) might feel about getting it.
Complete with adorable illustrations by Jenny Latham, Welcome to Your Period! covers all the bases and then some – there are chapters on dealing with your first period, handling period cramps, bodily hygiene, and so much more. It's the perfect book for pre-teens, but also for parents and caregivers who may need a little help with explaining the process to their own kids.
Writing the book together was a dream for both Yumi and Dr Kang, who both share a passion for women's health issues.
"When Yumi suggested a book on periods, I thought 'this is kind of like a dream come true' because I wrote for Dolly Magazine for 23 years, so I'm talking thousands and thousands of questions, many of which were about periods," says Dr Kang. "I always wished there was a way to bring a lot of that material together. When you write an answer for Dolly Magazine you're very word limited, there's no opportunity for illustration, so it was just brilliant."
Yumi was similarly amazed. "I was so thrilled to meet the original, longest serving Dolly Doctor!" she says.
One of the most important considerations that Yumi and Dr Kang had while writing this book was packaging accurate scientific information in a way that would be digestible for a younger audience, achieving the perfect balance between being fun and informative. It was also important to both of them that Welcome to Your Period! featured a diverse range of contributors who could speak to lots of different experiences, and so the book contains plenty of first-hand accounts from disabled people, trans men, people from different ethnic backgrounds, autistic people, and more.
"All those experiences are really, really relevant, and it's tempting to think that it's only able-bodied women who menstruate but it's not, it's a whole bunch of other people as well. So it was really beautiful to open that up and bust it open to see what that experience is like," says Yumi. "The gloriousness of capturing these stories is that everyone was really excited to talk about it too!"
Yumi Stynes and Dr Melissa Kang visited Booktopia this week to sign copies of Welcome to Your Period! and then to sit down for a podcast with Sarah McDuling all about the book – listen below and grab a signed copy here before they sell out!
---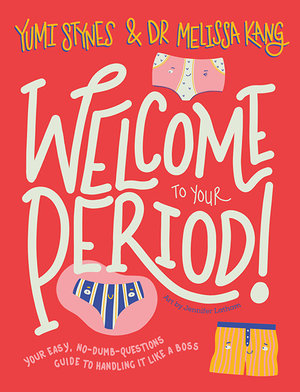 Welcome to Your Period!
Getting your period for the first time can be mortifying, weird and messy – and asking questions about it can feel even worse. But it doesn't have to be like that!
This little book is packed with honest advice on all the things you need to know: from what cramps feel like to whether you can feel it coming out, to what you should do if your pad leaks onto your clothes. Welcome To Your Period includes case studies, first-person accounts and questions from real teens (and answers from real experts – us!) so you can manage your period like a boss...
About the Contributor
Olivia Fricot is the Editor of the Booktopian Blog. After finishing a soul-crushing law degree, she decided that life was much better with one's nose in a book and quickly defected to the world of Austen and Woolf. You can usually find her reading (obviously), baking, writing questionable tweets, and completing a Master's degree in English literature. Just don't ask about her thesis. Olivia is on Twitter and Instagram @livfricot - follow at your own risk.
Follow Olivia: Twitter