I remember first hearing about this book a few years ago and thinking that it sounded like pure gold. Garth Nix + angels + a fantasy world inspired by 17th century France? Okay, yes please and thank you! Like many readers around the world, I knew that Angel Mage was going to set my brain on fire in the greatest possible way. And sure enough, it did precisely that. Actually, it sort of burst into my brain like a dazzling fireworks display. I really can't wait to read it all over again!
This is a Garth Nix book so, of course, the world building is next level. I really need to pause for a minute and pay homage to the absolutely gorgeous names of people and places in this sumptuous fantasy world. Garth Nix has an amazing ability to find names that are so lyrical and lovely you can't resist saying them out loud. Case in point: Sabriel, Lirael, Clariel, etc.
In Angel Mage, however, it feels like Nix has let his imagination run riot and, as a result, readers are gifted with a dizzying array of mellifluous angel names like Palleniel, Foraziel, and Mazrathiel, to name a few. And the place names are equally lush – for example Sarance, Ystara, Cadenz and Lutace. We also have an utterly compelling (and beautifully named) cast of characters with the complex central figure of Liliath, A.K.A. the Maid of Ellanda, and four lovable heroes – Simeon, Agnez, Dorotea, and Henri – who must band together to defeat evil in a wonderfully Three Musketeers-esque fashion.
Angel Mage presents readers with a beautifully imagined and carefully crafted fantasy world that feels real. I believe in Sarance the same way I believe in the Old Kingdom. To be clear, I'm not insane. I know these places don't actually exist outside the pages of books. But they feel real – tangible and credible in a peculiar way. Sarance is reminiscent of 17th Century France (complete with musketeers and cardinals) and yet it has a unique vibe all of its own. This isn't a historical fantasy by any stretch of the imagination. It's high fantasy with a sprinkling of French flavour. And it's amazing!
Okay, now for the magic… the magic system at work here is just so cool. This is a world in which angels are terrifying unseen beings with specific powers. They can be summoned by use of specially crafted icons and, when summoned, must obey the will of the summoner. The religious tone of the magic system blends so beautifully with the setting. It's like reading The Three Musketeers except with way more magic and also SCARY ANGELS!
Angel Mage is a standalone novel and, without question, the story here is magnificently told and satisfyingly concluded. That said, it feels like there is scope for some more stories set in this world. I sincerely hope Garth Nix has a few more angelic tales like this one taking shape somewhere in that powerful imagination of his because I definitely want to revisit this world again someday (multiple re-reads of Angel Mage notwithstanding).
A splendid high fantasy full of adventure, pistols, swashbuckling, angels and heroes, Angel Mage reads like a stirring opera building towards a dramatic crescendo. At the same time, it also reads a bit like your favourite classic adventure novel. This is a breathtaking story about love and power, obsession and passion. In other words… pure gold!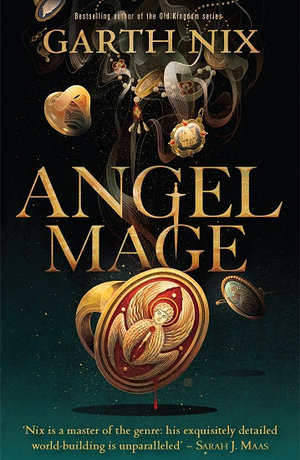 Angel Mage
The icon-maker and angel-summoner Liliath, long-believed dead, has woken from her century-long sleep to pick up the threads of a plan that has already destroyed one kingdom and may yet destroy another. To succeed, Liliath must bring together Agnez the musketeer; Simeon the doctor; Dorotea the mage; and Henri, one of the Cardinal's clerks, and take them into utmost danger ...
Set in an alternate 17th century where angels can be summoned (and controlled) by those with a talent for magic, Angel Mage is an action-packed story of angels, heroes, gunpowder and high magic.
About the Contributor
Sarah McDuling is Booktopia's Category Manager for Children's and Young Adult Books. She has been in the bookselling game for almost a decade and a dedicated booklover since birth (potentially longer). At her happiest when reading a book, Sarah also enjoys talking/writing/tweeting about books. In her spare time, she often likes to buy a lot of books and take photographs of books. You can follow her on Twitter and Instragram @sarahmcduling
Follow Sarah: Twitter