In need of a new pick for your next book club meeting? Aussie author Sophie Green has just the thing – she's back with a brand new novel called The Shelly Bay Ladies Swimming Circle!
Her previous novel The Inaugural Meeting of the Fairvale Ladies Book Club was well and truly a breakout hit. Set in the remote Northern Territory during the '70s, it was the story of five women who found strength and solace in the book club they formed together. It was cosy, genuinely heartwarming, and empathetic (in other words: perfect book club material), and Sophie's latest novel promises to be just as good.
Shelly Bay follows the same sort of structure that made Fairvale Ladies so beloved: four women find friendship and common ground through their love of swimming. It's a definite change of scenery for this author, but one that hits a note much closer to home – Sophie practically grew up in the water.
"Shelly Bay has been inspired more by my lived experience, because I've grown up in Sydney near the water and so I'm fortunate that I did grow up near the water and swim from day dot basically," she says.
The result is a novel that's quintessentially Australian, filled with moments and places that readers everywhere are bound to recognise in their own memories.
"I love to write about our natural world, I think that Australians respond to stories about the natural world and I also think it's important to put that in stories (at least for me)," Sophie says. "As a writer, it's a good challenge to try and capture that and capture that feeling of being in the natural world."
With The Shelly Bay Ladies Swimming Circle, it's not just a place that Sophie is evoking – it's also a time. The book is set in 1982, when Paul Hogan dominated our TV screens and The Man From Snowy River dominated our box office. We're experiencing a bit of an '80s and '90s resurgence in Aussie fiction of late (Felicity McLean's dreamy The Van Apfel Girls Are Gone comes to mind), and nostalgia can be a powerful tool for any writer.
"That movie (The Man From Snowy River) had such a huge impact. So it's just fun for me, really, to go looking for those things as well and just have little moments that readers might respond to," says Sophie.
Sophie came in to Booktopia's offices to sign some copies of The Shelly Bay Ladies Swimming Circle and to sit down for a podcast with Ben Hunter and myself. We talked all things Shelly Bay, as well as Sophie's life in publishing and her ardent love of country music (she runs a blog about it on the side!).
Listen to our podcast with Sophie Green below and grab yourself a signed copy of The Shelly Bay Ladies Swimming Circle before they run out!
---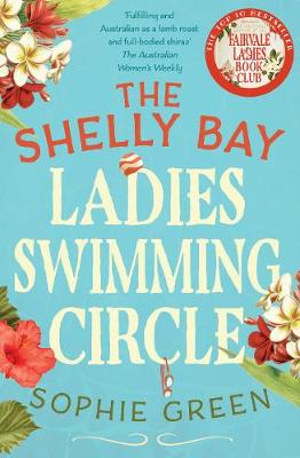 The Shelly Bay Ladies Swimming Circle
It's the summer of 1982. The Man from Snowy River is a box office hit and Paul Hogan is on the TV.
In a seaside suburb of NSW, housewife Theresa Howard takes up swimming. She wants to get fit; she also wants a few precious minutes to herself. So at sunrise each day she strikes out past the waves. From the same beach, the widowed Marie swims. With her husband gone, bathing is the one constant in her new life. After finding herself in a desperate situation, 25-year-old Leanne only has herself to rely on. She became a nurse to help others, even as she resists help herself. Elaine has recently moved from England. Far from home without her adult sons, her closest friend is a gin bottle.
In the waters of Shelly Bay, these four women find each other...
About the Contributor
Olivia Fricot is the Editor of the Booktopian Blog. After finishing a soul-crushing law degree, she decided that life was much better with one's nose in a book and quickly defected to the world of Austen and Woolf. You can usually find her reading (obviously), baking, writing questionable tweets, and completing a Master's degree in English literature. Just don't ask about her thesis. Olivia is on Twitter and Instagram @livfricot - follow at your own risk.
Follow Olivia: Twitter