Get ready to climb, because the Treehouse series is reaching unprecedented new heights! Andy Griffiths and Terry Denton's bestselling series for kids has a brand new book coming next week – The 117-Storey Treehouse – and it promises more fun than all of the previous books combined.
This time around, you'll find lots of awesome things, like an Underpants Museum, a level dedicated entirely to tiny horses, a giant-fighting-robot arena, and loads more. The Treehouse series is truly a children's publishing phenomenon like no other – together, Andy and Terry have sold over a million Treehouse books to Aussie kids (how amazing is that?).
Andy Griffiths visited Booktopia earlier this week for a mammoth book signing session… which means we have lots and lots of copies of The 117-Story Treehouse for all of the kids who are mega-fans out there!
Pre-order a signed copy (while stocks last!) and take a look at a few of the illustrations from the latest book below.
What's this? A penguin-powered flying treehouse tour bus of course!
A couple of giant robots fight it out in the arena!
A beach and a zoo all in one? Who knows, but it looks like fun!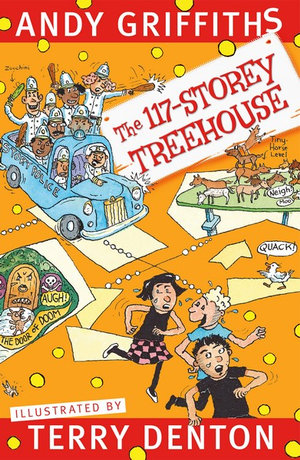 The 117-Storey Treehouse
Andy and Terry's treehouse now has 13 new storeys, including a tiny-horse level, a pyjama-party room, an Underpants Museum, a photo-bombing booth, a waiting room, a Door of Doom, a circus, a giant-robot-fighting arena, a traffic school, a water-ski park filled with flesh-eating piranhas and a treehouse visitor centre with a 24-hour information desk, a penguin-powered flying treehouse tour bus and a gift shop.
Well, what are you waiting for? Come on up!
About the Contributor
Olivia Fricot is the Editor of the Booktopian Blog. After finishing a soul-crushing law degree, she decided that life was much better with one's nose in a book and quickly defected to the world of Austen and Woolf. You can usually find her reading (obviously), baking, writing questionable tweets, and completing a Master's degree in English literature. Just don't ask about her thesis. Olivia is on Twitter and Instagram @livfricot - follow at your own risk.
Follow Olivia: Twitter