You have probably heard about Whisper Network. Reese Witherspoon has chosen it for her book club and there have been loads of rave reviews, proclaiming it to be one of the best thrillers of the year. Often when there is so much buzz surrounding a new book, I experience a contrary reluctance to read it (don't ask me why this happens). Perhaps it's because, on some level, I'm always certain that the book in question won't live up to the hype.
Well, in the case of Whisper Network, I can attest that the hype is 100% warranted!
Whisper Network is a timely novel that hits upon a lot of very topical issues. The subject matter of this book alone was bound to catch people's attention. With the prominence of the #MeToo movement, it feels as though the world has been waiting for a book like this. Part drama and part thriller with plenty of mystery and suspense, Whisper Network strikes that perfect balance between being topical and entertaining. Packed full of complex issues, horrifying truths, and nuanced social commentary, it also happens to be a deeply engrossing and highly addictive read!
The basic premise of Whisper Network hinges on four women who work at the same company. When the CEO of the company unexpectedly dies, Ardie, Grace, Sloane, and Rosalita are all concerned about who will replace him. What follows is a fascinating whodunnit which not only provides an intriguing mystery but also gives readers a wonderful portrayal of female friendship, as well as a disturbing exploration of all the many different types of sexual harassment faced by women in the workplace.
Reputations can be built or destroyed by whispers, lies, secrets, and rumours. How are people supposed to know what to believe and where to place their trust? Whisper Network has extracts from depositions and police interviews woven through the story, giving things an unshakeable air of truth. This particular story may be fiction, but unfortunately so much of what happens in this book is depressingly true.
From the description, it may sound like this is a book written for women, but in fact, this is a book for everyone! This story is packed full of moments that will resonate deeply with its readers. And if you happen to be one of the few people on the planet who can't personally relate to any of the characters in this book then a) Congratulations, you are living a charmed life! and b) This book will potentially blow your mind and show you a whole new point of view you might never have considered before!
---
Whisper Network is out now.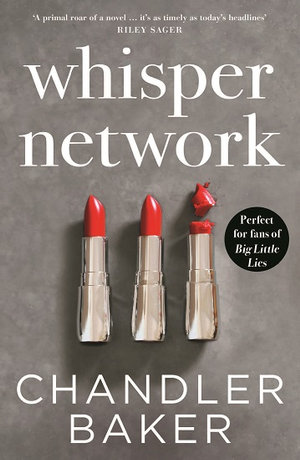 Whisper Network
Sloane, Ardie, Grace, and Rosalita have worked at Truviv, Inc. for years. The sudden death of Truviv's CEO means their boss, Ames, will likely take over the entire company. Each of the women has a different relationship with Ames, who has always been surrounded by whispers about how he treats women. Those whispers have been ignored, swept under the rug, hidden away by those in charge.
But the world has changed, and the women are watching this promotion differently. This time, when they find out Ames is making an inappropriate move on a colleague, they aren't willing to let it go. This time, they've decided enough is enough...
About the Contributor
Sarah McDuling is Booktopia's Category Manager for Children's and Young Adult Books. She has been in the bookselling game for almost a decade and a dedicated booklover since birth (potentially longer). At her happiest when reading a book, Sarah also enjoys talking/writing/tweeting about books. In her spare time, she often likes to buy a lot of books and take photographs of books. You can follow her on Twitter and Instragram @sarahmcduling
Follow Sarah: Twitter