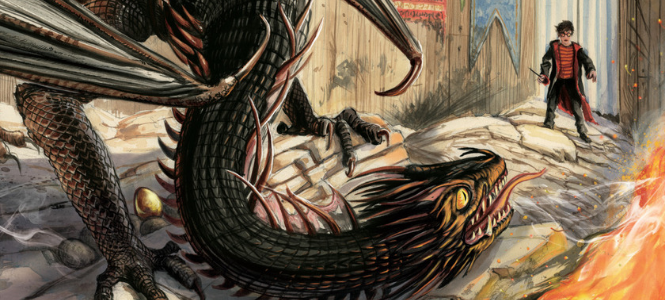 Jim Kay's illustrated edition of Harry Potter and the Goblet of Fire has been a long time in the making, but come October it will finally be here!
I'm really excited about this book. Goblet of Fire has to be my favourite book of the series – it really sets the tone for how the rest of the story pans out. It's the tipping point of the whole story arc, the bit where things get truly grim, the stakes get even higher, and the characters are tested beyond their limits.
I haven't given in to temptation and bought one of the illustrated editions yet, but Goblet of Fire looks so magical and wondrous that I might just have to start… check out some of Jim Kay's illustrations below!
---
They had only gone a few paces when Hermione's bandy-legged ginger cat, Crookshanks, came pelting out of the garden, bottle-brush tail held high in the air, chasing what looked like a muddy potato on legs.
In this illustration, you can see the exterior of The Burrow in all of its higgledy-piggledy glory. To the right, you'll see Molly Weasley standing in the window, no doubt cooking up that legendary pre-Quidditch World Cup lunch (does anyone else get hungry when they read that scene?).
The addition of Crookshanks peering into the water trough in search of the gnome that's sneakily hiding above him is such a perfect touch!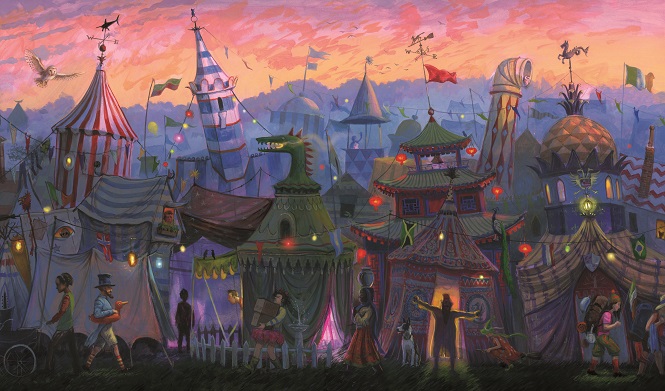 "Always the same," said Mr. Weasley, smiling. "We can't resist showing off when we get together."
The Wizarding World really has a flair for the dramatic, as shown in this gorgeous panorama of the camping ground at the Quidditch World Cup.
If you look closely, you can see a dragon-shaped chimney, a fountain, a little girl on a broomstick… and is that Archie in his nightgown at the entrance to that tent?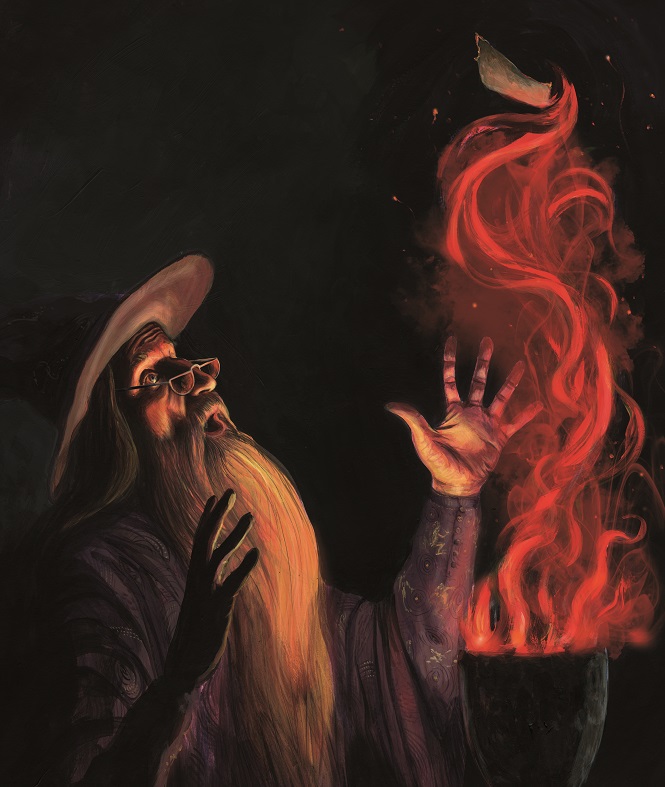 The flames inside the goblet turned suddenly red again. Sparks began to fly from it. Next moment, a tongue of flame shot into the air, a charred piece of parchment fluttered out of it – the whole room gasped.
This illustration of Dumbledore pulling the names of the Triwizard Champions is just incredible – I love the detailing on his robes.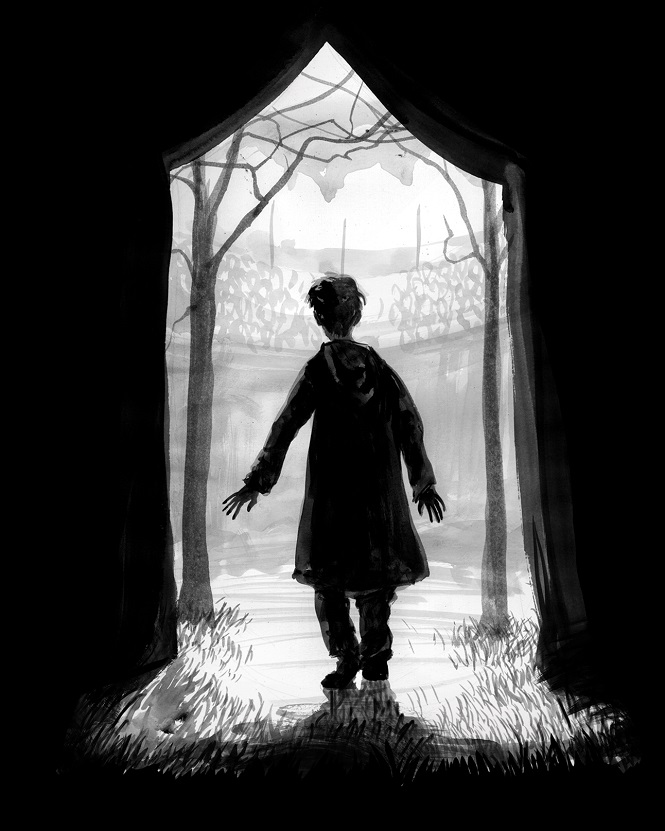 He saw everything in front of him as though it was a very highly coloured dream. There were hundreds and hundreds of faces staring down at him from stands that had been magicked there since he'd last stood on this spot.
This black-and-white illustration really captures Harry's panic as he goes into the first task for the Triwizard Tournament. It'll be a nice contrast to the riotously colourful pages depicting Harry's fight with the Hungarian Horntail that are sure to follow!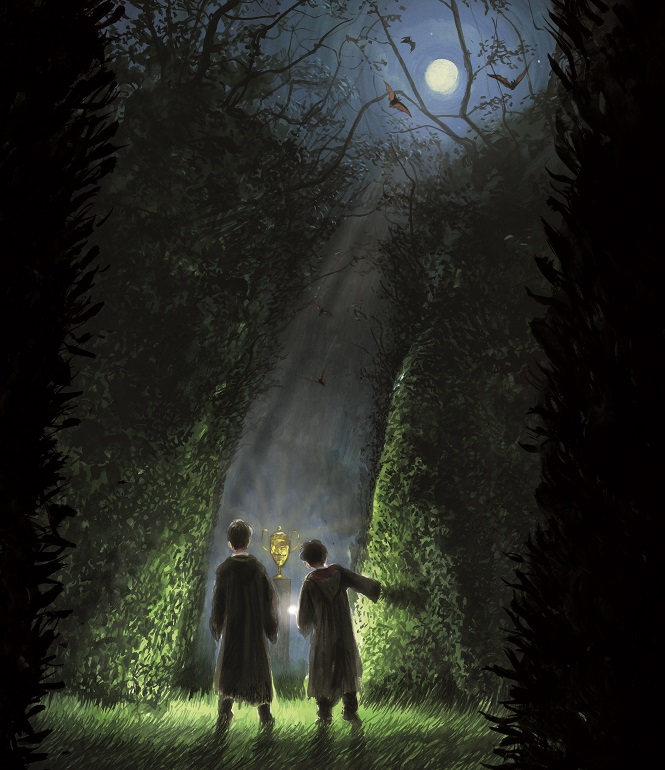 He grabbed Harry's arm below the shoulder and helped Harry limp toward the plinth where the cup stood. When they had reached it, they both held a hand out over one of the cup's gleaming handles.
"On three, right?" said Harry. "One – two – three –"
Jim Kay has really knocked it out of the park with this one – the way that the hedges loom crookedly over Harry and Cedric as they gaze at the glowing Triwizard Cup is so ominous. Chills!
---
That's all we have so far! The illustrated edition of Harry Potter and the Goblet of Fire will be released on 8 October, 2019, so make sure you pre-order your copy soon!
You can also check out the rest of the illustrated editions here.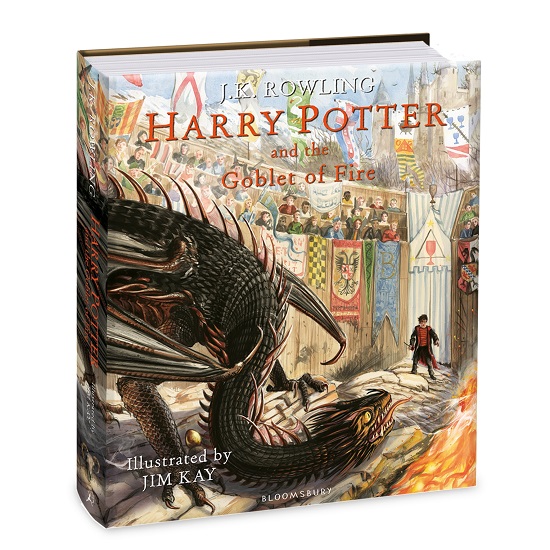 Harry Potter and the Goblet of Fire
Illustrated Edition
An extraordinary creative achievement by two extraordinary talents, Jim Kay's inspired reimagining of J.K. Rowling's classic series has captured a devoted following worldwide.
This stunning new fully illustrated edition of Harry Potter and the Goblet of Fire brings more breathtaking scenes and unforgettable characters to life - including Cedric Diggory, Fleur Delacour and Mad-Eye Moody. With paint, pencil and pixels, Kay conjures the wizarding world as we have never seen it before...
About the Contributor
Olivia Fricot is the Editor of the Booktopian Blog. After finishing a soul-crushing law degree, she decided that life was much better with one's nose in a book and quickly defected to the world of Austen and Woolf. You can usually find her reading (obviously), baking, writing questionable tweets, and completing a Master's degree in English literature. Just don't ask about her thesis. Olivia is on Twitter and Instagram @livfricot - follow at your own risk.
Follow Olivia: Twitter