Before I read Sweet Sorrow, David Nicholls (of One Day and Starter for Ten fame) was just one author on the long list of authors that I am yet to read. I clearly underestimated him, because Sweet Sorrow is the kind of book that is so clever about the way it reels you in and breaks your heart that I immediately want to read everything else he's ever written.
Sweet Sorrow is set in a dreary English village in 1997, where sixteen-year-old Charlie is in a funk. He lives with his divorced father, whose deepening depression and alcoholism is threatening to engulf him, and there's no promise of a fulfilling future life on the horizon. Charlie flunked his own GCSE exams in a heartbreaking act of self-sabotage and so resigns himself to a life of drudgery.
And then he meets Fran… beautiful, talented Fran Fisher, who will be playing Juliet in an amateur theatre production of Romeo and Juliet. Completely smitten, Charlie tethers himself to the production and is cast as Benvolio, distracting himself from reality with the promise of love and sex. It's a promise that will change him forever as it leads to something quite unexpected: a discovery of the wonder of language and life as only Shakespeare can word it.
If you're worried that this all sounds a bit too 500 Days of Summer-ish and that this book is merely the story of a lonely, misunderstood boy who falls in love with a manic pixie dream girl, let me quickly debase you of that notion. There is real sincerity in this first love story. The relationship between Charlie and Fran is sweetly imperfect and captured with an air of wistfulness and affection that is set off by the addition of Shakespeare's most famous play as a plot point. It's a choice that could have gone awry with mawkishness, but David Nicholls pulls it off beautifully. He perfectly portrays the adolescent tendency towards love that borders on worship and punctures it with witty asides from Charlie himself, who narrates the book as an older man.
In this way, Sweet Sorrow is a bemused ode to first love, but also an ode to the formative powers of art. As teenagers, we often turn desperately to art in order to know ourselves and make ourselves known to others as an effortlessly cool cultural connoisseur, staking our personalities on the films we watch, the books we read, and the bands we listen to. Sometimes it can go the other way, and to stake your claim to a method of artistic expression is to proclaim your belief in your own superiority, making you a target for ridicule. Nicholls captures all of this with Charlie's story and it's wonderfully done – I laughed and winced in recognition so many times.
Sweet Sorrow was such a lovely, unexpected surprise. It's funny and bittersweet, but above all it's an astute exploration of how first love can leave a mark on you like nothing else (except maybe art).
---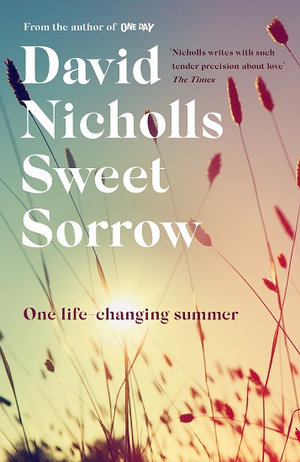 Sweet Sorrow
One life-changing summer, Charlie meets Fran...
In 1997, Charlie Lewis is the kind of boy you don't remember in the school photograph. His exams have not gone well. At home he is looking after his father, when surely it should be the other way round, and if he thinks about the future at all, it is with a kind of dread.
Then Fran Fisher bursts into his life and despite himself, Charlie begins to hope...
About the Contributor
Olivia Fricot is the Editor of the Booktopian Blog. After finishing a soul-crushing law degree, she decided that life was much better with one's nose in a book and quickly defected to the world of Austen and Woolf. You can usually find her reading (obviously), baking, writing questionable tweets, and completing a Master's degree in English literature. Just don't ask about her thesis. Olivia is on Twitter and Instagram @livfricot - follow at your own risk.
Follow Olivia: Twitter