I picked up Sorcery of Thorns intending to idly flip through the first couple of pages and then decide where to place it in my TBR pile. And then the opening sentence grabbed hold of my imagination to such a degree that I literally couldn't stop reading.
"Night fell as death rode into the Great Library of Summershall."
I mean come on! After an opening sentence like that, of course I was hooked. I simply had to find out why death was riding into the library!
Set in a fascinating world in which libraries store dangerous grimoires full of dark power and books have a tendency to transform into deadly demonic beasts, Sorcery of Thorns is one of the most absorbing fantasies I have read all year. The world building is amazing, the characters are intriguing, the dialogue is droll and charming (so much quality banter!) – plus between the stunning cover art and the beautiful map, this hardcover edition is absolutely gorgeous!
If Naomi Novik's Uprooted were to have a baby with Howl's Moving Castle by Dianna Wynne Jones, I think the result would be something very similar to this book. A wonderful blend of fantasy, horror, romance, suspense, action, and gentle humour – I don't know what more I could possibly ask for? This book pretty much ticks all my favourite boxes.
The story follows a headstrong, sword-wielding apprentice librarian named Elisabeth Scrivener and an eccentric (possible evil?) sorcerer named Nathaniel Thorn, who comes complete with a white streak in his hair and a tragic past. Elisabeth and Nathaniel have very little in common but must team up to prevent a catastrophic evil from being summoned into the world.
This is a book about books – my favourite kind! A deep love of books and libraries comes through very clearly in the writing. The author has created a world in which books are brought to life as wondrous and often dangerous creatures. In this world, libraries function more like high security prisons built to contain and protect the world's most dangerous books/weapons.
Containing a beguiling mix of gothic horror and lighthearted charm, I thoroughly enjoyed Sorcery of Thorns and would recommend it to anyone who enjoys gaslamp fantasy and especially anyone who loves books (and secretly thinks they might be magical).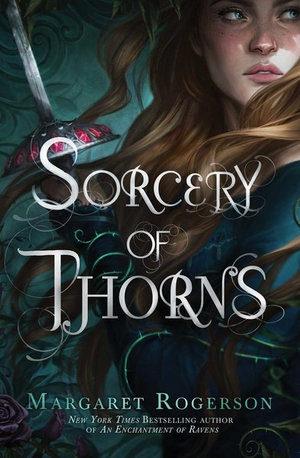 Sorcery of Thorns
From the New York Times bestselling author of An Enchantment of Ravens comes an imaginative fantasy about an apprentice at a magical library who must battle a powerful sorcerer to save her kingdom.
All sorcerers are evil. Elisabeth has known that as long as she has known anything. Raised as a foundling in one of Austermeer's Great Libraries, Elisabeth has grown up among the tools of sorcery magical grimoires that whisper on shelves and rattle beneath iron chains. If provoked, they transform into grotesque monsters of ink and leather. She hopes to become a warden, charged with protecting the kingdom from their power. Then an act of sabotage releases the library's most dangerous grimoire...
About the Contributor
Sarah McDuling is Booktopia's Category Manager for Children's and Young Adult Books. She has been in the bookselling game for almost a decade and a dedicated booklover since birth (potentially longer). At her happiest when reading a book, Sarah also enjoys talking/writing/tweeting about books. In her spare time, she often likes to buy a lot of books and take photographs of books. You can follow her on Twitter and Instragram @sarahmcduling
Follow Sarah: Twitter