Karen Foxlee is the author of Horatio Squeak. She spent most of her adult life working as a registered nurse while pursuing her secret dream of becoming a writer. Her young adult novels The Anatomy of Wings and The Midnight Dress as well as her books for younger readers, Ophelia and the Marvellous Boy, A Most Magical Girl, and Lenny's Book of Everything have been published locally and internationally to much acclaim.
Horatio Squeak is Karen's debut picture book, and today she's on the blog to answer a few of our questions about it – scroll down to see what she had to say!
---
Tell us about your latest book, Horatio Squeak!
KF: Horatio Squeak is a picture book about a little mouse who gets invited to a rather unusual party. The story was one I made up years ago on a long car trip with my toddler daughter. It's about speaking up when you know something is wrong even when you are trying to fit in. It's beautifully illustrated by Evie Barrow.
Horatio Squeak is your picture book debut. What's it like to write a picture book compared to a children's novel?
KF: It's a real task to create a story in such a small amount of words. Also, it had to rhyme! I found I really loved the experience though. It's completely different but I had so much fun with it and found the rhyming part quite calming.
How did it feel to see Evie Barrow bring your characters to life with her illustrations?
KF: I think that was the most amazing part. I loved seeing those first sketches come through. What a wonderful thing to see your ideas realised in illustration! I cried!
Horatio Squeak is a book about a timid little mouse who finds the courage to speak up for himself and for others. Were there any other children's book characters that inspired you to create Horatio?
KF: There are so many wonderful picture books about courage and speaking up. I don't really believe I was thinking of any of them when I was making up that rhyming story for my daughter all those years ago though. I just knew I wanted to write an entertaining story with a little bit of tension and a message of kindness and speaking up. I hope I achieved that.
What is your favourite children's book and why?
KF: I have too many to name. Today I'll say it's Northern Lights by Phillip Pullman. It is perfectly constructed, terrifying and filled with wonders, with a brave female child lead. I adore it.
Who do you most admire in the writing world?
KF: Again, the list could go on forever. Recently I read Helena Fox's How it Feels to Float and it is an incredibly beautiful story that touches upon friendship, love, loss and mental illness. I really admire her for writing it.
What book do you most often recommend/give as a gift to kids?
KF: Lately, I've been at everyone to read the second Jaclyn Moriarty book set in the Kingdoms and Empires, The Slightly Alarming Tale of the Whispering Wars. Also, I'm reading Emily Rodda's His Name Was Walter with my daughter at the moment and I think that will be one that I recommend for a long time. It is a brilliant read aloud.
Do you have any unusual writing and/or reading habits?
KF: I'm currently writing two novels at once which I've never attempted before. I'm sure it won't end well! As for reading, nothing really unusual, I'm just very slow.
What do you hope readers will discover in Horatio Squeak?
KF: Above all, I hope that young readers have fun with the story. I hope they discover a little mouse who feels rather timid and weak on his way to a party but comes back feeling a little stronger and braver because of his actions.
Thanks Karen!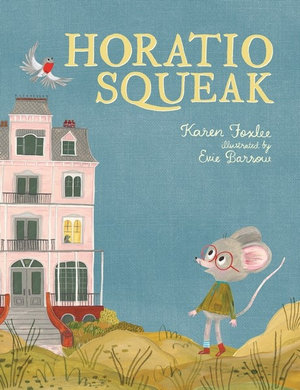 Horatio Squeak
When tiny Horatio Squeak is invited to a mysterious party at the top of the stairs, he finds himself in the unexpected company of kittens with dreadfully bright teeth and dreadfully sharp claws.
Despite their intimidating appearance, the kittens are welcoming hosts who seem to enjoy Horatio's company. But when they spot a bird in the window, they cannot resist the urge to catch it. As Horatio watches on with horror, he finds the courage to speak out and save the scared bird. With his newfound bravery, Horatio returns home feeling stronger and not nearly so small...
About the Contributor
Olivia Fricot is the Editor of the Booktopian Blog. After finishing a soul-crushing law degree, she decided that life was much better with one's nose in a book and quickly defected to the world of Austen and Woolf. You can usually find her reading (obviously), baking, writing questionable tweets, and completing a Master's degree in English literature. Just don't ask about her thesis. Olivia is on Twitter and Instagram @livfricot - follow at your own risk.
Follow Olivia: Twitter