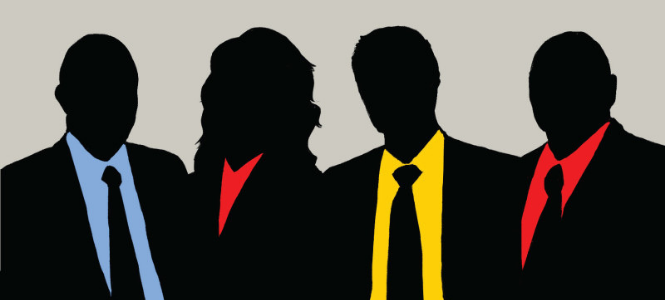 Daniel Ziffer is a journalist who covered the Hayne Royal Commission for ABC radio, TV, and online, and who later wrote a book about his experiences – A Wunch of Bankers. He was formerly the long-time senior producer of Mornings with Jon Faine, at ABC Radio Melbourne, and has worked on air and in production at Macquarie Radio, as a freelance foreign correspondent based in New York City, a journalist at The Age, and as a magazine editor.
We asked Daniel a few questions about his new book – scroll down to see what he had to say!
---
Tell us about your book, A Wunch of Bankers.
DZ: A thriller? A dispiriting look at regulation failing to keep power in check? A parade of eye-opening stories about people caught in the jaws of a corporate machine? Sadly, all three. My book zooms in and out of the commission that captured the attention of Australia, showing the lies, decisions and impact of the dark side of banking and finance.
You covered the Hayne Royal Commission for ABC News. What was it like to see it unfold firsthand?
DZ: Covering each day of the hearings was a mixture of intense shock and stupefying boredom. That's not uncommon in court cases – and that's exactly what the commission was. As the testimony unfolded, you could hear an executive say something and know: that's going to be big. And it was! After so many similar inquiries in recent years, we never expected so much attention on this one, but when the scar was opened, no-one could look away.
The blurb of your book says that journalism can only ever give you a glimpse inside the complex issues at hand. Did you feel that you had more freedom writing a book about the Royal Commission as opposed to writing a news article?
DZ: On a two-minute TV report, you can't feel the intricate detail or get more than a sense of the larger picture – where the testimony of witnesses, exhibits of evidence and real-world experience align and conflict. Writing A Wunch of Bankers allowed me to take what was presented at the commission and weave it into what I hope is an entertaining, highly-readable and illuminating look at the problems exposed.
The findings of the Royal Commission are grim, but was there anything you discovered while you were writing this book that truly shocked you?
DZ: The shocks kept coming, all year. They were in the answers given from the box, but also in the clinically-noted minutes of meetings, rarely aired before now. There, in detail, you see the outline of decisions made by senior executives to dud customers, mislead regulators and take what they could get. It's all there.
What was the biggest challenge you faced while writing this book? Did you get any pushback from people involved in the Royal Commission?
DZ: Writing a book, whilst holding down a full-time reporting job and having small children, requires a very supportive spouse. I've had a lot of experience of working at all hours of day and night for newspapers, radio, online and TV: now I have even more!
Between "alternative facts" and the recent federal raids on journalists' homes and workplaces, it seems that we live in an uncertain time for journalism. How do you see journalists adapting to this?
DZ: Governments and journalists are never going to be great friends, because journalists ask hard questions of the most powerful institutions. They hold them to account. But when you look at countries that have strong governments and a weak culture of supporting journalism, you always find yourself asking: Would I really want to live there? Journalism helps keep us strong, and free. Sources need to adapt, as well as journalists. Go old-school.
If you have anything really exciting to tell me, send me a letter c/o ABC Melbourne, GPO Box 9994, Melbourne VIC 3000 with your contact details.
What is the best piece of journalistic advice you have ever received?
DZ: Don't write the report before you've left the office.
What's the one thing that you want your readers to take away from this book?
DZ: I enjoyed that. I'm going to tell a friend to read that. (And also, if you've got a mortgage, I'm going to call my institution to check if I'm getting the best interest rate).
Thanks Daniel!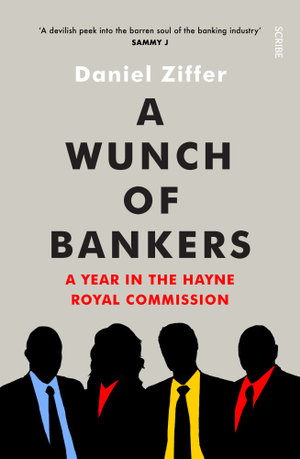 A Wunch of Bankers
A Year in the Hayne Royal Commission
For Dan Ziffer and his Australia-wide audience, it was a complicated, galling, and gasp-inducing year at the Royal Commission into Misconduct in the Banking, Superannuation and Financial Services Industry.
It wasn't just its exhaustive rounds of hearings around the country - Melbourne, Brisbane, Darwin, and Sydney - on topics from farming finance to financial planning. It wasn't even the long list of scandals exposed to a horrified nation - charging fees to dead people, blatant conflicts of interest, and taking $1 billion from customers in fees that banks were never entitled to...
About the Contributor
Olivia Fricot is the Editor of the Booktopian Blog. After finishing a soul-crushing law degree, she decided that life was much better with one's nose in a book and quickly defected to the world of Austen and Woolf. You can usually find her reading (obviously), baking, writing questionable tweets, and completing a Master's degree in English literature. Just don't ask about her thesis. Olivia is on Twitter and Instagram @livfricot - follow at your own risk.
Follow Olivia: Twitter