Kerry McGinnis is the author of two volumes of memoir, Pieces of Blue and Heart Country, and the bestselling novels The Waddi Tree, Wildhorse Creek, Mallee Sky, Tracking North, Out of Alice, Secrets of the Springs, and The Heartwood Hotel.
Kerry's latest book, The Roadhouse, is the Pick of the Month for Penguin Random House's Love Between the Pages book club. Today she's on the blog to answer some questions about the book – scroll down!
---
Tell us a little bit about your book, The Roadhouse!
KM: The Roadhouse is the story of a family who have drifted apart through misunderstanding. Charlie doubts that she is loved while Molly, due to past experiences, is unable to express her feelings. It takes a tragedy to bring them together and their secrets into the open.
The Roadhouse is an outback mystery story. What's your favourite way of approaching a mystery story?
KM: I usually start my books with the protagonist, then find a setting for her (background plays a big part in my novels) before working out possible problems for the heroine and then the vehicle (plot) by which these can be explored and resolved. So I don't actually start to write a murder mystery, it happens because it suits the character I have invented.
Where do you find the inspiration for your books?
KM: I find a name or a title that appeals to me. Then I have to discover where the story should be set, or in the case of the title, what it could mean. Is that inspiration? It's just the way I work.
What is the biggest writing challenge you have ever faced?
KM: Getting my first piece published somewhere that would pay me! It's a problem all writers have. After that it's a matter of trying to make each piece of work better than the last and gaining confidence in your ability. Without this it is hard to evaluate the worth of your own work.
If you could describe the main theme of The Roadhouse in a couple of words, what would you say?
KM: Belief in oneself. Charlie starts with the lifelong assumption that she is second best. It takes Mike's love, and some prompting from Ute to change her into the capable woman we find at the end of the book.
Do you have any unusual writing and/or reading habits?
KM: Not really. I read a lot, 4 to 5 books a week. I read in bed, at the table, on coffee breaks. And I get restless unless I write something every day. Except Sunday which is my house cleaning, socialising time.
What is your favourite literary quote?
KM: I have a weakness for Rhett Butler's "Frankly my dear, I don't give a damn." Scarlet O'Hara would've tried any man and that's a great conversation stopper.
If you were planning a literary dinner party, which three authors (dead or alive) would you invite?
A: Robin Hobb, Mary Stewart, Kate Morton, although Robert Goddard would be a temptation for the wonderful twists he manages in his stories. He and Kate could have discussed their deft use of language, Mary her poetical descriptive phrases while Robin could enlarge upon her imaginative view of the different. I could listen all night!
What book do you most often recommend/give as a gift?
KM: Anything that I have read and enjoyed.
What is the best piece of writing advice that you have ever received?
KM: Keep it brief. Padding annoys readers, as does the use of clever words when a simple one does the same job and balances the sentence as well.
Thanks Kerry!
---
Read an extract of The Roadhouse here!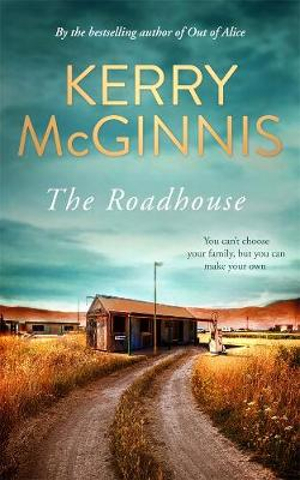 The Roadhouse
When aspiring actress Charlie Carver learns that her cousin Annabelle has died, she immediately leaves Melbourne to fly home to the remote family roadhouse east of Alice Springs. It has been years since her last visit and her relationship with her mother, Molly, is strained but Charlie is determined to patch up their differences.
The reunion, however, is interrupted when Molly suffers a heart attack. With her mother airlifted out for life-saving surgery, Charlie is left to take the reins of the struggling family business, alongside friends old and new, including the captivating local stockman Mike. The authorities declare Annabelle to have taken her own life, but when a woman's body turns up at an abandoned mine site, Charlie begins to wonder what else is being covered up, and why...
About the Contributor
Olivia Fricot is the Editor of the Booktopian Blog. After finishing a soul-crushing law degree, she decided that life was much better with one's nose in a book and quickly defected to the world of Austen and Woolf. You can usually find her reading (obviously), baking, writing questionable tweets, and completing a Master's degree in English literature. Just don't ask about her thesis. Olivia is on Twitter and Instagram @livfricot - follow at your own risk.
Follow Olivia: Twitter