Having only recently discovered the genius that is Juliet Marillier, I have to say it was an absolute privilege to receive an advanced reading copy of The Harp of Kings – the first in her new series.
Today, I am a solid Marillier fan – her storytelling is rich and her writing beautiful. She is truly a queen of the fantasy genre. After reading her book Daughter of the Forest, I was ready for another breathtaking and soul-consuming adventure. The Harp of Kings definitely delivered!
The story follows eighteen-year-old Liobhan – singer, expert whistle player and elite warrior of Swan Island. She and her brother Brocc are in the midst of their training when they are sought out by their superiors to join a mission that involves posing as travelling minstrels. As both Brocc and Liobhan are skilled in this department, they get the gig, despite still being students.
Their mission: to retrieve a precious harp. Who took it, and why, is a mystery, but without the harp the upcoming royal coronation cannot go ahead.
When Liobhan, Brocc and their unlikable fellow student Dau reach their destination, they are faced with endless challenges. Dau, a typically opinionated man, is required to play a mute for the duration of the mission. Liobhan and Brocc are no longer brother and sister, merely minstrels travelling together. The crowned Prince is a loathsome man, causing issues for the team at every turn. And then there is the magic of the Otherworld and the fair folk that linger there, who have their own plans…
Chapters jump between Liobhan, Brocc and Dau, and I was completely swept up in their stories, rooting for each of them to succeed. Their challenges are all unique and Marillier expertly builds up the expectations and tension around each of them.
What I love most about Juliet Marillier's style is the pace. Her books feel like you are sitting around a campfire being told an epic tale from long ago. I became completely lost in this world and am utterly desperate to find out what is going to happen next!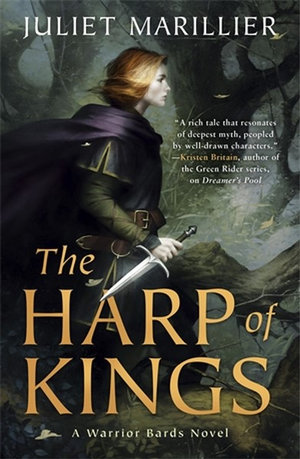 The Harp of Kings
Eighteen-year-old Liobhan is a powerful singer and an expert whistle player. Her brother has a voice to melt the hardest heart, and is a rare talent on the harp. They are both training for the elite warrior band on Swan Island when they are asked to join a mission that requires posing as travelling minstrels.
Their task is to find and retrieve a precious harp, an ancient symbol of kingship, which has mysteriously vanished. If the instrument is not played at the upcoming coronation, the candidate will not be accepted. Faced with plotting courtiers, secretive druids, an insightful storyteller and a boorish Crown Prince, Liobhan soon realises an Otherworld power may be meddling in the affairs of the kingdom. When ambition clashes with conscience, Liobhan must make a bold decision and a heartbreaking choice...
About the Contributor
Before entering the exciting world of books, Bronwyn served in the Royal Australian Air Force, travelled extensively and worked (still does!) as a barista on the weekends. Books are her true passion. Bronwyn's debut fantasy novel Relic is coming out in 2019 with indie publishing house Talem Press. They are to publish her entire trilogy called The Relic Trilogy. In her spare time, Bronwyn writes, reads and enjoys keeping fit (which she undoes by eating loads of chocolate) with Martial Arts and personal training. She can't answer what her favourite book is but she has a soft spot for Peter Pan (J.M Barrie), Outlander (Diana Gabaldon), Stardust (Neil Gaiman), The Illuminae Files (Jay Kristoff and Amie Kaufman) and Six of Crows (Leigh Bardugo). Fantasy, sci-fi and YA make up the majority of her bookshelves.
Follow Bronwyn: Twitter