June was certainly a busy month for us Booktopians, but somehow in the midst of all the chaos we still found plenty of time to read some wonderful books.
In this month's edition of The Best Books We Read, you'll find that we've been reading lots of excellent fiction (including a couple of exciting pre-orders), some young adult fantasy novels, and one or two fascinating non-fiction books. Scroll down to see what Booktopians have been reading and loving lately!
---
Olivia Fricot – Senior Content Producer
Sweet Sorrow by David Nicholls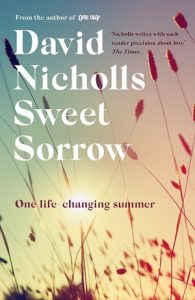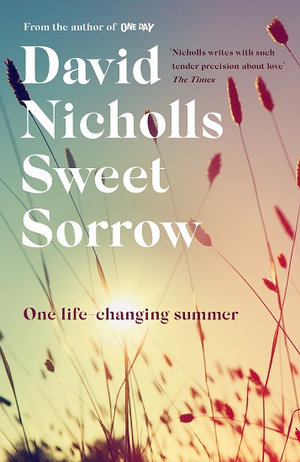 Why I Loved It: Sweet Sorrow, the latest book by David Nicholls, is a story of first love told with sincerity, warmth, and a little bit of wry humour. 16 year old Charlie, with his dysfunctional family and abysmal grades, has barely made it out of high school alive. With the rest of his life looming over him, Charlie spends his summer in quest of a girl named Fran. Fran is pretty, sophisticated, and cool in the way that only a precocious teenager can be, and Charlie is instantly smitten – so much so that he gets roped into an amateur theatre company's production of Romeo and Juliet in which she is playing the lead. This story of a boy discovering life, love, and Shakespeare for the first time is genuinely as lovely and heartbreaking as its title suggests.
Synopsis: In 1997, Charlie Lewis is the kind of boy you don't remember in the school photograph. His exams have not gone well. At home he is looking after his father, when surely it should be the other way round, and if he thinks about the future at all, it is with a kind of dread. Then Fran Fisher bursts into his life and despite himself, Charlie begins to hope.
---
Jo Lewin – Head of Trade Books
The Dutch House by Ann Patchett
Why I Loved It: We're not supposed to judge books by their cover, but as soon as I saw the arresting jacket of The Dutch House I was in love. Maeve stares out of the cover's painting with an intensity that belies her years and we soon learn that her character will jump out of the pages with the same fervour. The story follows the seemingly idyllic childhood of Danny Conroy and his sister Maeve in suburban Pennsylvania. Their father is wealthy but self-made and endeavours to give his family everything he never had, including the lavish but faintly ridiculous 'Dutch House'. But in a style that echoes Philip Roth's American Pastoral, Patchett draws aside the curtain to reveal a family where tension bubbles under the surface. First their mother leaves them, then an unassuming but formidable new woman enters the scene, starting a chain of events that will echo through the rest of their lives.
Synopsis: A masterpiece from the Orange Prize-winning, New York Times number one bestselling author of Commonwealth and Bel Canto: a story of love, family, sacrifice, and the power of place. Told with Ann Patchett's inimitable blend of wit and heartbreak, The Dutch House is a story of family, betrayal, love, responsibility and sacrifice; of the powerful bonds of place and time that magnetise and repel us for our whole lives, and the lives of those who survive us.
---
Ben Hunter – Fiction Category Manager
The Subjects by Sarah Hopkins
Why I Loved It: Strange, intense and frighteningly intelligent, The Subjects has flavours of The Natural Way of Things but with a wholly different focus and delivery. After a mysterious courtroom intervention, the repeat offending, highly medicated sixteen-year-old Daniel is taken for a long drive into the interior. His destination is not a jail and not to a psych unit either. It's a kind of boarding school for 'gifted delinquents' with weekly counseling sessions, no heavy psychotic drugs, and high-tech, laissez-faire classrooms where the content is incredibly advanced. A massive and expensive experiment is going on, but who's running it and what are they trying to find out? As the truth slowly comes into focus, this novel asks pertinent questions of readers and the society we're a part of. This is deliciously clever reading with a dark and urgent pull. Prepare to stay up all night!
Synopsis: Daniel is a sixteen-year-old drug dealer and he's going to jail. Then, suddenly, he's not. A courtroom intervention. A long car ride to a big country house. Other 'gifted delinquents': the elusive, devastating Rachel, and Alex, so tightly wound he seems about to shatter. So where are they? It's not a school, despite the 'lessons' with the headsets and changing images. It's not a psych unit – not if the absence of medication means anything. It's not a jail, because Daniel's free to leave. Or that's what they tell him…
---
Joel Naoum – Non-Fiction Category Manager
Fake by Stephanie Wood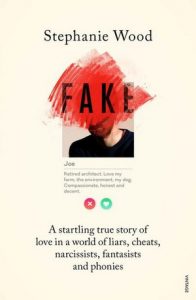 Why I Loved It: As soon as I heard about this book, I was intensely curious about it. It's based on an article that went viral in 2017 about Stephanie Wood's experience being catfished by a manipulative narcissist. The lies he told to keep her on the hook were bizarre and, in some cases, totally unnecessary. But they kept coming until she was able to figure out what the real story was. The man she thought was a multi-millionaire with a harbourside apartment was more than likely bankrupt and of no fixed address. This book extends the original story with some in-depth reporting about the lengths this man goes to keep women (and there were multiple women!) going for years. It's also much bigger than that, as it explores the world of online romance, how romance makes us crazy, and how predators use online dating as a way to manipulate and control people. It's a fascinating story, and well worth a read.
Synopsis: Women the world over are brought up to hope, even expect, to find the man of their dreams, marry and live happily ever after. When Stephanie Wood meets a sweet, sophisticated man who owns land and businesses, she embarks on an exhilarating romance with him. He seems compassionate, truthful and loving. He talks about the future with her. She falls in love. She also becomes increasingly beset by anxiety at the lavish three-act plays he offers her in the form of excuses for frequent cancellations and no-shows. She begins to wonder, who is this man?
---
Sarah McDuling – Kids & YA Category Manager
Sorcery of Thorns by Margaret Rogerson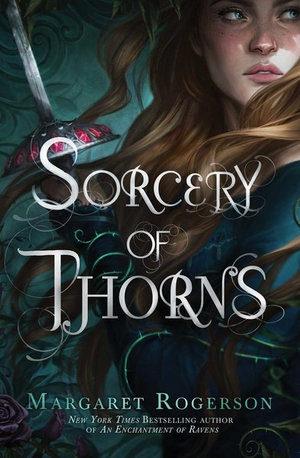 Why I Loved It: Set is a fascinating world in which libraries store dangerous grimoires full of dark power and books have a tendency to transform into deadly demonic beasts, Sorcery of Thorns is one of the most absorbing fantasies I have read all year. If Naomi Novik's Uprooted were to have a baby with Howl's Moving Castle by Dianna Wynne Jones I think the result would be something very similar to this book. It has a wonderful blend of fantasy, romance, suspense and action – the story follows a headstrong, sword-wielding librarian and a highly eccentric sorcerer with a tragic history as they attempt to prevent a catastrophically evil force from being summoned into the world. Full of charm and wit (with loads of quality banter), this is recommended for fans of gaslamp fantasy and anyone who likes magical books about books.
(Read Sarah's full review here!)
Synopsis: All sorcerers are evil. Elisabeth has known that as long as she has known anything. Raised as a foundling in one of Austermeer's Great Libraries, Elisabeth has grown up among the tools of sorcery magical grimoires that whisper on shelves and rattle beneath iron chains. If provoked, they transform into grotesque monsters of ink and leather. She hopes to become a warden, charged with protecting the kingdom from their power. Then an act of sabotage releases the library's most dangerous grimoire…
---
Bronwyn Eley – Social Media Coordinator
Dev1at3 by Jay Kristoff
Why I Loved It: Dev1at3 (or Deviate) is a wild adventure filled with humour and heartbreak. Get ready for an onslaught of madness and mayhem – the chase scenes, the long stretches of desert, the killing, the riots… Dev1at3 is full to the brim with that mad storm of emotions that only Jay Kristoff knows how to deliver.
(Read Bron's full review here!)
Synopsis: Lemon Fresh has seen better days. After the climactic battle in Babel, she finds herself separated from Ezekiel and Cricket in the wastelands. Lemon's abilities to manipulate electricity mark her as a deviate, and deadly corporate operatives are hunting her to use as a weapon in the war between BioMaas Incorporated and Daedelus Technologies. Instead, Lemon finds herself falling in with a group of fellow deviates-a band of teenagers with astonishing abilities, led by an enigmatic figure known as the Major, who may hold the secrets to Lemon's past.
---
Rob O'Hearn – Academic & Professional Category Manager
Out Of Our Minds by Felipe Ferandez-Armesto
Why I Loved It: Historians know that the human story is more than that of a species reacting to material concerns. Instead, it is a chronology of ideas being dreamt and dealt. Visionary creative ideas are unique to our kind of animal, and as we create our 'isms' we put into action innovations and developments that have far-reaching effects. In this book, renowned historian Fernandez-Armesto writes about how our idiosyncratic thinking makes history in a fascinating read that weaves together many strands of psychology, sociology, biology, and technology. A rich, deep brick of brain food perfect for winter reading, this book will leave you with a new perspective on our endeavours and our time.
Synopsis: Traversing the realms of science, politics, religion, culture, philosophy and history, Felipe Fernandez-Armesto reveals the thrilling and disquieting tales of our imaginative leaps from the first Homo sapiens to the pioneers of the digital age. Through ground-breaking insights in cognitive science, he explores how and why we have ideas in the first place, providing a tantalising glimpse into who we are and what we might yet accomplish. A magisterial paean to the human imagination from a wonderfully elegant thinker, Out of Our Minds is a unique history of our species.
About the Contributor
Olivia Fricot is the Editor of the Booktopian Blog. After finishing a soul-crushing law degree, she decided that life was much better with one's nose in a book and quickly defected to the world of Austen and Woolf. You can usually find her reading (obviously), baking, writing questionable tweets, and completing a Master's degree in English literature. Just don't ask about her thesis. Olivia is on Twitter and Instagram @livfricot - follow at your own risk.
Follow Olivia: Twitter