Tara June Winch is the Wiradjuri author of Swallow the Air and After the Carnage. She was born in Australia in 1983 and is currently based in France.
Tara was named a Sydney Morning Herald Best Young Australian Novelist, has won numerous literary awards, and was mentored by Nobel Prize winner Wole Soyinka as part of the prestigious Rolex Mentor and Protégé Arts Initiative in 2008. Her latest novel is The Yield, a powerful reclaiming of Indigenous language, storytelling and identity.
Today, Tara answers the Ten Terrifying Questions!
---
1. To begin with why don't you tell us a little bit about yourself – where were you born? Raised? Schooled?
Born in Wollongong, raised in Woonona East, schooled there and everywhere.
2. What did you want to be when you were twelve, eighteen and thirty? And why?
At twelve I'm certain I wanted to be a teacher, I had the sticker collection ready! At eighteen a Buddhist monk and a writer. At thirty I wanted to finish my second book so I could really call myself a writer.
3. What strongly held belief did you have at eighteen that you do not have now?
I thought that people weren't really interested in being my friend, so I disappeared easily. I'm trying to be someone that stays in contact with other people now.
4. What were three works of art – book or painting or piece of music, etc – you can now say, had a great effect on you and influenced your own development as a writer?
The entire album of Charcoal Lane by Archie Roach. Wole Soyinka's Art, Dialogue, and Outrage, and seeing Picasso's Guernica just recently in Madrid: that artwork and that experience will propel me a few more books I reckon, just like Neruda's "I'm Explaining a Few Things" has in the past.
5. Considering the innumerable artistic avenues open to you, why did you choose to write a novel?
I can't do much else very well. And why not the pen? It's as good a tool as any other. I'm just grateful I get to share the things I make.
6. Please tell us about your latest novel…
It's called The Yield and it's my love letter to the past and the future of Australia. I said what I really wanted to say for my grandparents, my parents, my siblings and my daughter equally. That's something to me and I just hope it translates to something for everyone.
7. What do you hope people take away with them after reading your work?
Empathy rather than apathy. Action rather than idleness.
8. Whom do you most admire in the realm of writing and why?
Uncle Tony Birch is a legend. I listened to him speak in London in 2014 about writing when I thought I'd completely given up on The Yield. Just before I left London we visited the British Museum and he asked me to take photos of our peoples belongings – there under glass. He told me to get my shit together and write. I did, I hope. To admire him is an understatement.
9. Many artists set themselves very ambitious goals. What are yours?
Sell some books. We all just want to get by and be understood.
10. What advice do you give aspiring writers?
You can read it, but better to undergo it.
Thank you!
---
You can order a signed copy of The Yield by Tara June Winch here (while stocks last).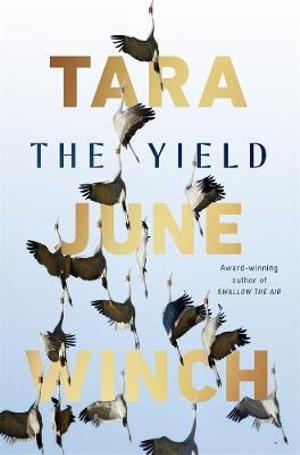 The Yield
The yield in English is the reaping, the things that man can take from the land. In the language of the Wiradjuri yield is the things you give to, the movement, the space between things- baayanha.
Knowing that he will soon die, Albert 'Poppy' Gondiwindi takes pen to paper. His life has been spent on the banks of the Murrumby River at Prosperous House, on Massacre Plains. Albert is determined to pass on the language of his people and everything that was ever remembered. He finds the words on the wind.
August Gondiwindi has been living on the other side of the world for ten years when she learns of her grandfather's death. She returns home for his burial, wracked with grief and burdened with all...
About the Contributor
Olivia Fricot is the Editor of the Booktopian Blog. After finishing a soul-crushing law degree, she decided that life was much better with one's nose in a book and quickly defected to the world of Austen and Woolf. You can usually find her reading (obviously), baking, writing questionable tweets, and completing a Master's degree in English literature. Just don't ask about her thesis. Olivia is on Twitter and Instagram @livfricot - follow at your own risk.
Follow Olivia: Twitter